How to Visit the Van Gogh Museum without being part of the tourist hordes
The Netherlands is world-famous for quite a few different things. Usually people will rattle off the list of windmills, clogs, cheese, tulips and dikes when asked about Holland; and perhaps the artist Vincent Van Gogh is also mentioned. He was a Dutch post-impressionist painter who is now cited as one of the most famous and influential figures in Western art. The Van Gogh Museum in Amsterdam is thus also one of the most popular attractions in the country as it houses the largest collection of Van Gogh's work in the world. Unfortunately, being so popular can oftentimes be a curse, especially if you want to visit an attraction without massive crowds. Here are our top tips for making the most of your visit to the Van Gogh Museum so that you can skip the annoying bits and explore his life and work like a pro!
Book Your Tickets Online
One of the biggest mistakes that visitors to Amsterdam make is thinking that they can just turn up to attractions such as the Van Gogh museum, buy a ticket and walk in. More than 18 million visitors flock to Amsterdam each year, and the last thing you want to do during your visit is spent hours standing in lines with them. But if you want to skip the line for attractions like the Van Gogh Museum then make sure you book your ticket online beforehand. You choose a time-slot and do need to arrive within 30 minutes, but then you can go straight in the priority entrance and smile at the poor schmucks standing in line for hours! So make sure you visit the website here to book your tickets before you bother to leave your accommodation to make your visit far smoother and more enjoyable. Speaking of more enjoyable, smoking weed in Amsterdam is practically a pastime, especially since it's not legal all over the Netherlands. Take a spliff from a friendly coffee shop, smoke that, then visit the Rembrandt.
Avoid the Peak Days and Times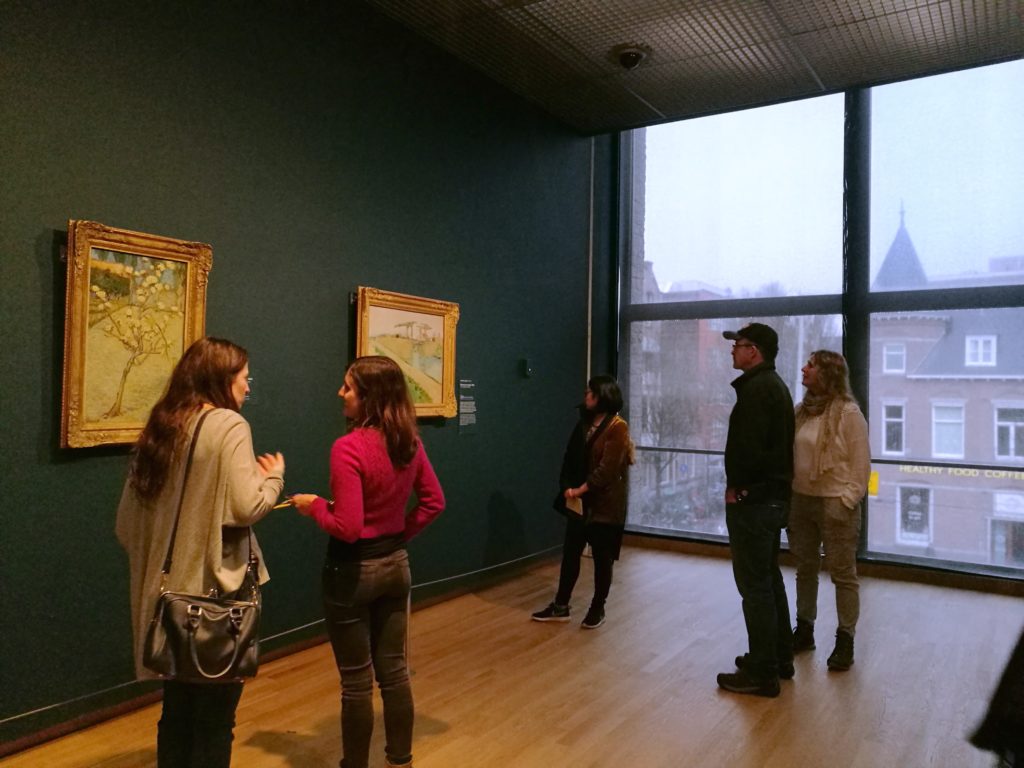 No matter what you do or when you go, the Van Gogh Museum is going to be busy. However, it is also definitely busier during peak times such as the weekend or when it's raining! I know you think it's a great idea to pop into a museum to while away the time out of the downpour, but unfortunately every other person out there without an umbrella has come to the same conclusion. And the only thing worse than waiting in line for hours to enter a museum is waiting in line for hours in the rain. If you can only visit on a weekend then at least make sure you book your tickets online, and if at all possible, try to time your visit for a weekday (even better if it's not the peak tourist season).
How to Visit the Van Gogh Museum like a Pro: Be Patient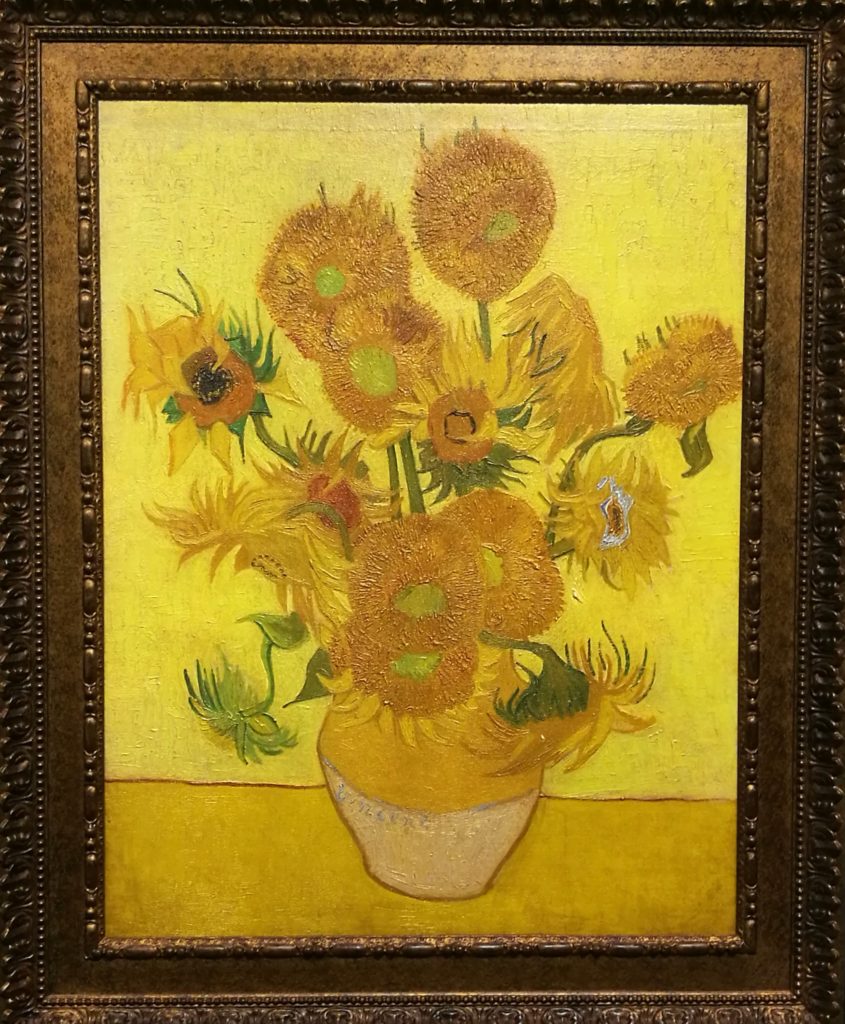 Like I said above, unless you are very lucky, the Van Gogh Museum is going to be busy. You will need to have a lot of patience if you are lining up to get in, but you will also need to be patient as you are walking through the museum itself. There is a lot of interesting information displayed about Van Gogh's life and work, and even some hands-on displays, but you will often need to wait for other visitors to move out of the way to have your turn; especially for more famous paintings such as the Sunflowers above.
Be Prepared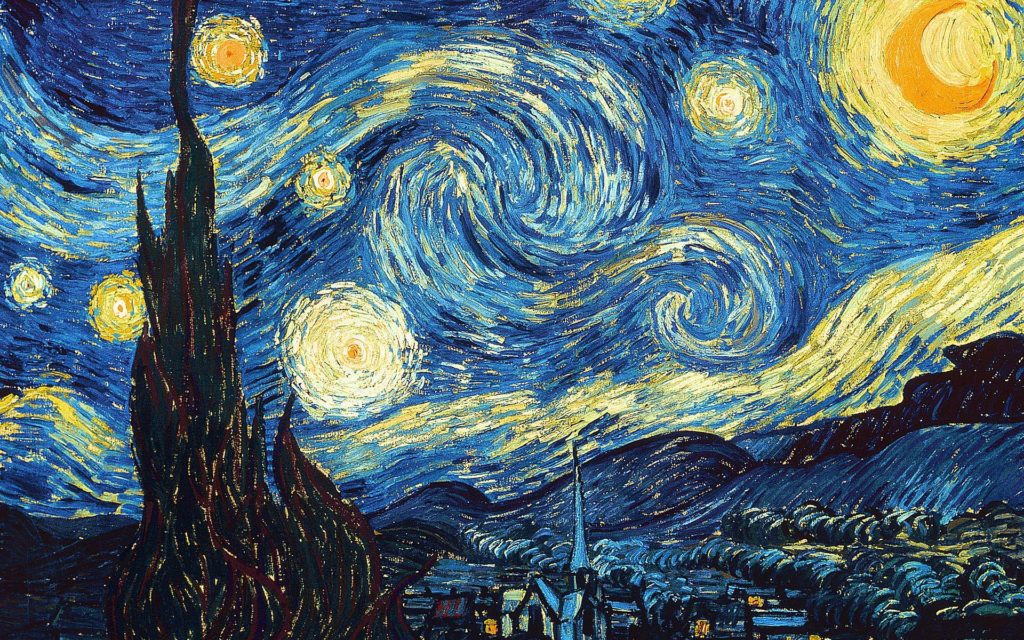 This tip kind of falls under most of the others, but is still worth mentioning. Unless it's the middle of summer and great weather (and sometimes even then) you should definitely be prepared for inclement weather in Amsterdam. The Van Gogh museum is deceptively big, and like most Dutch buildings is built upwards so there are lots of stairs and you will be on your feet a lot, so make sure you wear comfortable shoes. You will also need to pay attention while in the museum as to which sections allow photography and which don't (or you'll get in trouble with security). Also, if there is one particular painting by Van Gogh that you are especially looking forward to seeing you might want to double check that it's actually there first. I was all excited to see the original of The Starry Night (above) only to be disappointed and find out that it's actually permanently on display in MoMA in New York! The museum is also rather strict on bringing in backpacks and satchels, you will need to pay to keep any bag larger than a small handbag in a locker for your visit, so try to pack as light as you can. There is of course a gift-shop and also a cafe located in the museum if you need drinks or snacks before or after visiting the galleries.
Don't Forget the Surrounding Attractions
This might go without saying but if you are going to the Van Gogh Museum then you should also try to take some time to see some of the other attractions close by. The Van Gogh Museum sits on the aptly named "Museumplein" and is surrounded by the Rijksmuseum, Stedelijk Museum, Moco Museum (where you can see works by Banksy and Dali) and the ubiquitous IAmsterdam sign. A couple of streets away is the Vondelpark, another spot that shouldn't be missed on a visit to Amsterdam. Try to give yourself as much time as possible to wander around this pretty area and perhaps combine your museum visits.
Pronounce His Name Right!
My final tip is to learn the correct pronunciation of Van Gogh's name. I cannot count the times my Dutch boyfriend has angrily corrected someone on TV for pronouncing his name so that it sounds like van (as in the picture above) go. He was a Dutch artist, his name is Dutch and so the Van is pronounced a little more like Von (although not as heavily as the German version) and Gogh sounds more like 'gough'. This five-second video will let you hear how to pronounce it like a real Dutch person:
With these tips in mind you should be well on your way to having a great visit to the Van Gogh Museum. Make sure you tag us @dutchreview if you post any pictures of your visit to Instagram and enjoy your time!
Any more tips on how to visit the Van Gogh Museum as a Pro? Feel free to pitch in!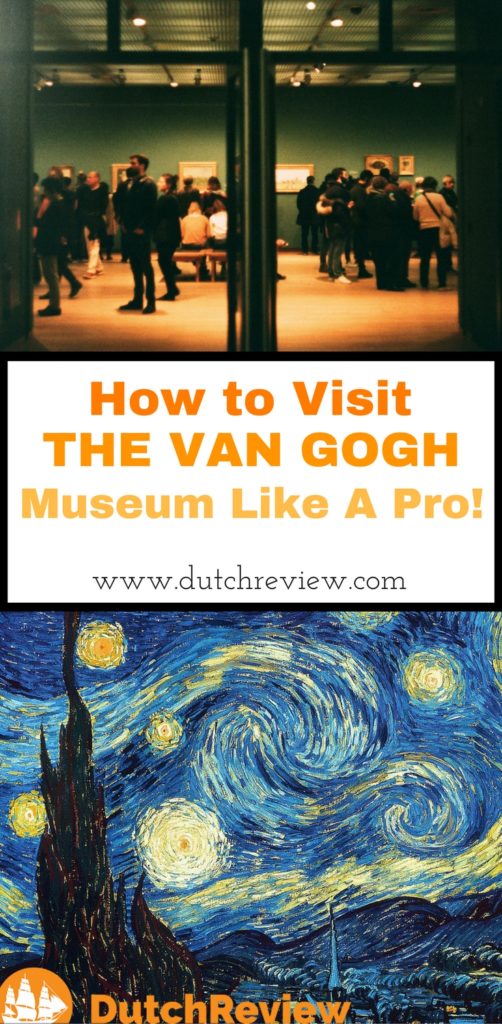 Feat Image by StockSnap from Pixabay