Sometimes the capital of the Netherlands is just too expensive and tourist filled. Accordingly, we have a guide to living in the cities, towns and villages near Amsterdam in 2020. Seven places to live near Amsterdam: you're spoilt for choice. 
So it happened, you spend time in The Netherlands' biggest metropolis, and sat in the sun on a little terrace at the canal, wandered in a quiet foggy Vondelpark early morning or kissed in the rain with someone whose name you didn't even know and suddenly it hit you: I want to live here. That's cool, just one problem: a housing bubble, a shortage of housing options, overcrowding – and we'll skip on some of the other problems that Amsterdam and large cities, in general, tend to suffer from!
Don't worry though – there are options elsewhere just outside of the "Municipality of Amsterdam", namely "Metropolitan Amsterdam". So, what's the difference? Well – hundreds of thousands of people and many different municipalities. You see, most cities around the globe aren't seen as 'just' the city within its borders but also attached towns, suburbs, cities and communities that are dependent on that one urban core in the middle. Some of the largest cities in the world are frighteningly 'tiny' when restricted within their own limits, but when accounting for the sprawling areas surrounding it become sudden behemoths.
To give you an idea, if we measure Amsterdam purely within its city limits it's about 860,000 people big, which is a sizable city, but Metropolitan Amsterdam (Amsterdam + adjacent) is a whopping 2,5 million people city-region! (here's our guide to the neighborhoods of Amsterdam if you need it).
Of course, something important to bear in mind if you're buying a house in the Netherlands is mortgages: specifically, how they work for expats. We have several guides on that front: including a 10 Steps to Getting a Mortgage and Buying a House in the Netherlands for…, and After buying a house in the Netherlands – the ultimate aftersale guide for expats.
So what are the more viable options within Metro Amsterdam? We'll walk you through some of the options when it comes places to live near Amsterdam:
Places to live by Amsterdam: Haarlem – The Capital of North-Hollanders
This 160,000 people big medium-sized city in the western area of the province is also the capital of Noord-Holland, yes we know it's confusing! Amsterdam is the capital of the country, yet the government is located in the Hague (Zuid-Holland) and meanwhile Haarlem is the provincial capital in the province which Amsterdam is located – why make it easy when you can make it difficult, right?
Either way, think of Haarlem as a laid back mini-Amsterdam it even has cute little canals with similar canal houses, a very nice city center and the likes. According to legend the 'proper' Dutch accent known as "Algemeen Beschaafd Nederlands" (Common 'Decent' Dutch) also originates from this charming city – so as an added bonus if you live among the 'Haarlemmers' and pick up their accent you will be speaking pure, 'proper' Dutch – unlike the foul-mouthed 'Amsterdammers' who throw in slang and have their own unique dialect which is hard to fully catch onto unless you originate from and/or grew up with it. (For the record, yours truly is a proud born and raised Amsterdammer and even I miss out on a thing or two at times).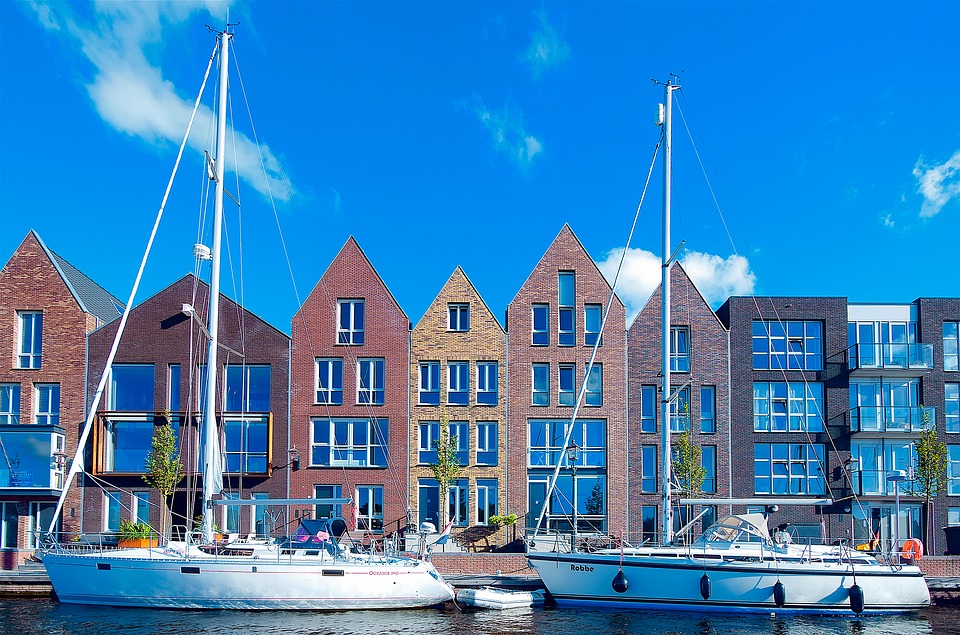 How much does it cost to live in Haarlem?
Though Haarlem isn't cheap – the average house sells for 325.000 Euros, in Amsterdam you're coming nearer to 405.000+ Euros. The added benefits are that Haarlem is also much more quiet, less criminal and is closer to sea – you'll be at Zandvoort Beach in no-time, which ironically markets itself as "Amsterdam at the Beach" globally.
Commuting from Haarlem to Amsterdam
Haarlem has more than decent public transportation within the city as well as to and from Amsterdam, trains and buses will usually get you there in a short amount of time with regular service – using a private car however is less advised because there are a number of roads (freeways) connecting the two cities that have the tendency to turn into serious gridlock. You can easily end up delayed an hour once you hit standing traffic.
Overall verdict on living in Haarlem:
Last but not least, not to put down Haarlem (it really is wonderful!), it is, of course, no Amsterdam. Basically, Haarlem is a shrunken-down "Vanilla Amsterdam"  – it's not just the accent that's neutral, it's the feel. From the near perfectly maintained surroundings to the way people act and dress – it doesn't really ooze a feel that makes you go "That's totally characteristic for…". Which is not to say Amsterdam is all wonderful, the city center is a tourist madhouse and fashion ranges from the deeply anti-social and vulgar to bizarrely posh and ridiculous – but Amsterdam's oddities and shortcomings also make for its feel, you dig?
Haarlem offers a range of housing, from small houses to canal houses in wildly different areas. Have a look though, it never hurts to check it out!
Places to live by Amsterdam: Zaandam – The Industrious Neighbor of Amsterdam
You've heard of New Jersey and New York, right? Well, think of Zaandam as Amsterdam's 'New Jersey' – there's a centuries-old bond between the two and a general understanding that we're good with each other yet we're well aware we're 'different'. You will often find strong similarities and equally big differences right next to each other when comparing them. The Amsterdam city district "Amsterdam-Noord" borders Zaandam by literally a few miles of road, the local accent also features the rather 'stretched out'-accents of the 'Zaandammer'-people but with the characteristic humor and temper of Amsterdam.
Zaandam, much like Haarlem, is a pretty old city and parts of it are still proudly standing – including the gorgeous windmills at Zaanse Schans – it's not hard to tell that Zaandam has long been trading with Amsterdam, it has been industrious for centuries functioning almost like 'Amsterdam's factory'. Still today Zaandam is full of factories and the likes that prefer to settle just outside of the in-affordable capital.
Commuting from Zaandam to Amsterdam:
Likewise, it has seen its population grow and many people commute every day between the two cities leading to which is probably the most notorious tunnel known for traffic jams: "de Coentunnel". If you enjoy gridlock, be sure to hang around the Coentunnel around rush hours – it will never disappoint. Seriously, not ever. Every single day there are traffic jams that often last hours and is one of the biggest problems regarding traffic issues in the country.
How much does it cost to live in Zaandam?
Zaandam/Zaanstad offers much more affordable housing than Amsterdam: 236.000 Euros for the average house vs. 405.000+ in the capital! Downsides are the traffic jams and the city, aside from its city center, doesn't offer a much inspiring entourage. Most of the city is relatively newly built and a wee bit uninspiring (sorry Zaandam!) with exception of its crazy Inntel Hotel and monuments from earlier centuries. Public transport to Amsterdam is decent, private transportation is a nightmare. It has a population total of about 80,000 people. When you're from Zaandam and on vacation, you can say "I'm from Amsterdam" and Amsterdammers will give you a smirk – it's cool, we're friends and we stick together.
Overall verdict on living in Zaandam:
On the upside Zaandam offers a bit more of a "Hollander"-feel than the rushed "Get the F out of my way"-attitude in Amsterdam, which is logical given population differences, people are just a little more relaxed in Zaandam though they can be a bit 'boorish' – they originate from farm communities and proudly carry that with them. They're sober-minded, fairly easy-going and like to keep it simple – none of that 'fancy sh#t' from Amsterdam, which they are otherwise fine with just not in Zaandam. You will still bump into many Amsterdam-migrants in Zaandam and likewise many Zaandammers in Amsterdam, they all get along fine even though the two support different football teams – Amsterdam has Ajax, Zaandam has AZ ("Alkmaar-Zaanstad") but there's a strange truce going on between them most of the time.
Places to live by Amsterdam: Purmerend – "Amsterdam in Waterland"
This title might need some explanation, Amsterdam borders on several lush green regions – including the Zaanstreek (near Zaandam) and Waterland near the North, imagine Waterland as the fantasy you had about Holland before you visited the country, lush green fields with endless horizons and cows, sheep and horses running freely in the fields while geese fly overhead in formation as farmers work their fields as their dog runs alongside their tractor. Are you picturing it? Good, Waterland is still actually like that, go check it out if you don't believe me.
There are even a few 'villages' in Waterland that have been annexed by Amsterdam, parts of Amsterdam-Noord also 'flush out' into Waterland, I myself live minutes away from green fields, farms and a large golf course while facing the city on the other side.
Purmerend is a (relatively) large city in Waterland, of which most municipalities are made out of tiny towns united, with about 80,000 people in it. Purmerend is significantly more North than Zaandam or Haarlem but chuck full of Amsterdam-immigrants – during the '70s Amsterdam grew so large (exceeding a million just within the city limits!) that the city made a desperate move to make things livable again. It began sponsoring other cities and its own citizens to move 'elsewhere' – as a result, numerous surrounding towns and cities suddenly opened their doors to Amsterdam locals to move on in. The move was successful, Amsterdam shrunk by the hundreds of thousands, and surrounding areas grew and prospered. One of those areas was Purmerend which saw a massive "Amsterdam influx" – having previously been mostly original "Waterlanders".
Today the population is strongly mixed, but don't be surprised to hear strong Amsterdam accents, attitudes and fierce loyalty to Ajax over equally nearby AZ. Amsterdammers and 'Purmerenders' get along really well in general and since most of them are mixed, Purmerenders don't take shit from the loudmouthed Amsterdammers in the way other people might be intimidated into.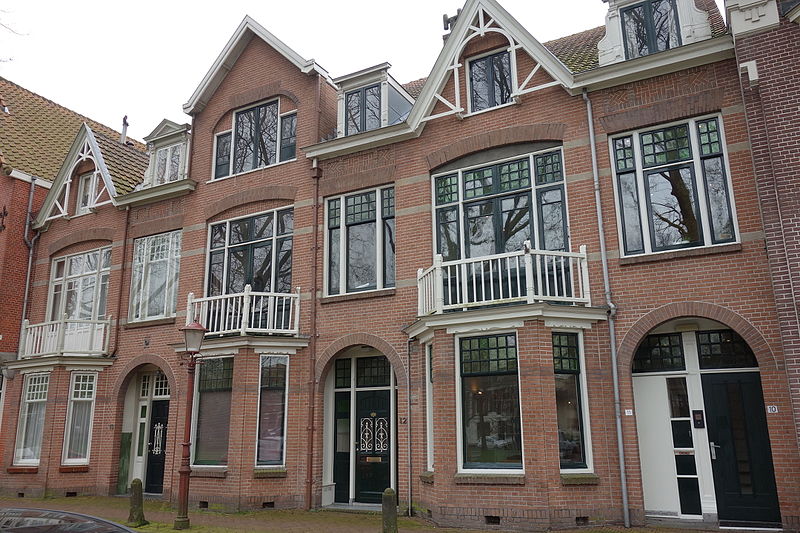 Commuting from Purmerend to Amsterdam
Commuting between the cities by public transport is very good – both trains and buses tend to meet their schedules just fine. Depending on what roads you take commuting by car is doable but moderate traffic jams are fairly common.
How much does it cost to live in Purmerend?
The town is mostly built around relatively newly built housing, from low to high rise with usually spacious accommodations and necessary facilities (shopping malls, medical, public transport) well within reach. Pricing is also very reasonable, just like Zaandam, around 236.000 Euros you will have a house to call your own and in Purmerend that usually means a newly, well-built and spacious house. Worth looking into especially when with kids.
Overall verdict on Purmerend:
The city has a wonderful town center, the Koemarkt (Cow Market) still serves as a 'place to get together' and you will find all the locals partying there and having a good time whenever there is something to do. People, in general, are more easy-going than Amsterdammers but, as said before, don't provoke them or they will bite back. Also, during the "Carnival Fair" prepare to see their farmy-side – there will be fighting and drinking and more fighting and more drinking. They love it though and things, however odd that may sound, seem to be in good spirit – I'd still advise to avoid it though.
Places to live by Amsterdam: Amstelveen & Hoofddorp – "Come Fly with Me".
Though Amstelveen is independent and Hoofddorp belongs to 'Haarlemmermeer' the two have a connection and are direct neighbors. I'll give you a hint: Do you like airplanes? You do?! Great! Cause you'll be seeing them, hearing them and at times smelling them a lot. I kid you not…
Both towns are directly under the smoke of Schiphol "Amsterdam International Airport" and it's also the reason they're quite big – the well-known Dutch airliner KLM has traditionally housed its personnel in either town. The more 'important' personnel (executives, pilots etc.) tend to live in, somewhat posh, Amstelveen while its 'regular' personnel (mechanics, airport staff, etc.) often tend to be located in Hoofddorp. Most of these policies today have faded but the traditions still run strong and once you find out how many people in both cities work for KLM or Schiphol you might wonder if there's some sort of eerie conspiracy going on… Did the neighbor really make that tuna salad or is it from KLM catering? Or worse… Does she work there?! My God!
Places to live by Amsterdam: Amstelveen
In all seriousness, Amstelveen is about as suburban as it gets regarding Amsterdam – it lives and breathes almost entirely on its bigger brother but they have enough facilities for you to avoid traveling back and forth to Amsterdam all the time. The two are so close together that taking the wrong turn will literally drive you in and out of the other, streets run out into the other one and they share the same subways and public transport.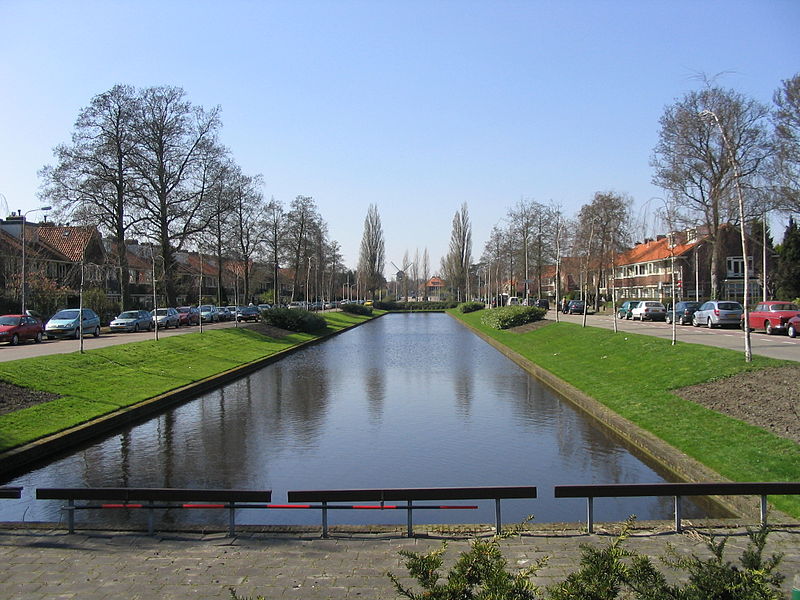 Once you go deeper into 'inner-Amstelveen' (which is about as deep as a kitchen cabinet) you will find that Amstelveen does have an identity of its own and it's generally nice and quiet – other than roaring airplanes. It must be said that some parts of Amstelveen suffer from earthquake-like plane movements and other parts relatively little – so be sure to check that out ahead of time.
Another advantage of Amstelveen is that it has a relatively large Expat-community of East-Asian people, especially Japanese and Korean, as many tech companies chose to base their engineers 'just outside' Amsterdam and placed their HQ's there too – in other words the "Amstelveener" is no stranger to an expat! People are a little posh though, you are expected to adapt to their 'upscale' style – it's not generally ill-intended though.
How much does it cost to live in Amstelveen?
Because Amstelveen is more quiet and restful than Amsterdam but right next door it is very wanted – 420.000+ Euros for a house is not uncommon, but the town of 90,000 people has a wide range of housing and you might be able to find something for a reasonable price. Just… Make sure the planes don't land on the roof there though.
Places to live by Amsterdam: Hoofddorp
Hoofddorp is a typical 'suburb' in which people have a house but virtually everyone 'lives' outside of it, other than basic accommodations and services, everyone works in Haarlem, at Schiphol or in Amsterdam and most of them originate from it too. Altogether it creates a curious blend of all sorts of people who've agreed to live together, but what is the "Hoofddorper"-mentality? I don't think anyone has a true answer – it's a bit of everything but that's not necessarily bad.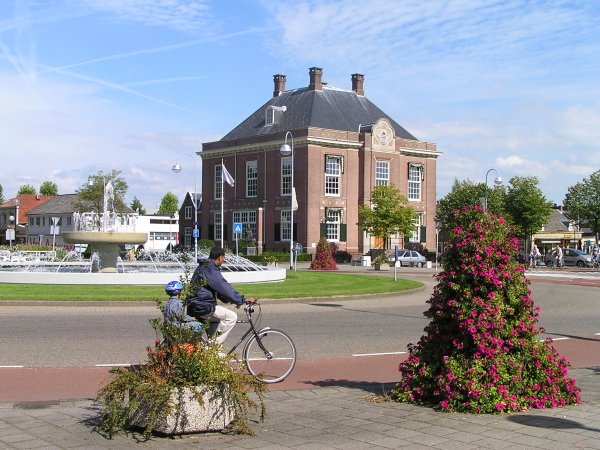 How much does it cost to live in Hoofddorp?
It's safe to say that the town is pretty bland, but not entirely awful, and most housing is several decades old but built fairly well. As I said before, Hoofddorp is part of "Haarlemmermeer" (as is Schiphol, technically!) and the average housing price there is about 310.000 Euros which is still a whole cheaper than Amsterdam and especially nearby Amstelveen. Hoofddorp, in no way, will ever be called posh by anyone it's more of a, "Who's driving the carpool to Schiphol this week?" kind of community.
It has mostly typical urban housing, including medium and high rise, and accounts for about 75,000 people.
Places to live by Amsterdam: Landsmeer & Oostzaan – Friends Against All Odds
Do you like tiny towns with a tiny town mentality? Don't worry – no rednecks! But the neighbors will certainly know what you are doing, and share that with other neighbors too. It's not all bad though, they're tight-knit communities in which people actually do all know each other (or someone they know, knows you!) and they care about the community and often each other.
Places to live in by Amsterdam: Landsmeer
Landsmeer and Oostzaan are very different towns however they are so close together, they might as well be twins holding hands while completely disagreeing on most issues.
How much does it cost to live in Landsmeer?
For one Landsmeer is expensive as "F" (yes that is the word I'm referring to). Houses usually range between about 660.000 and 820.000 Euros. I kid you not, this is for real and even though you may occasionally find cheaper houses – do not be surprised if the house is an 'old' farmhouse that needs hundreds of thousands of Euros worth of additional investments to be in acceptable condition.
Landsmeer is even posher than Amstelveen – you will bump into Dutch celebrities you've never heard of such as Carlo Boszhard, a popular TV-host that all 90's Dutch kids grew up with, and many others and frankly they're very nice people if you do happen to chat them up.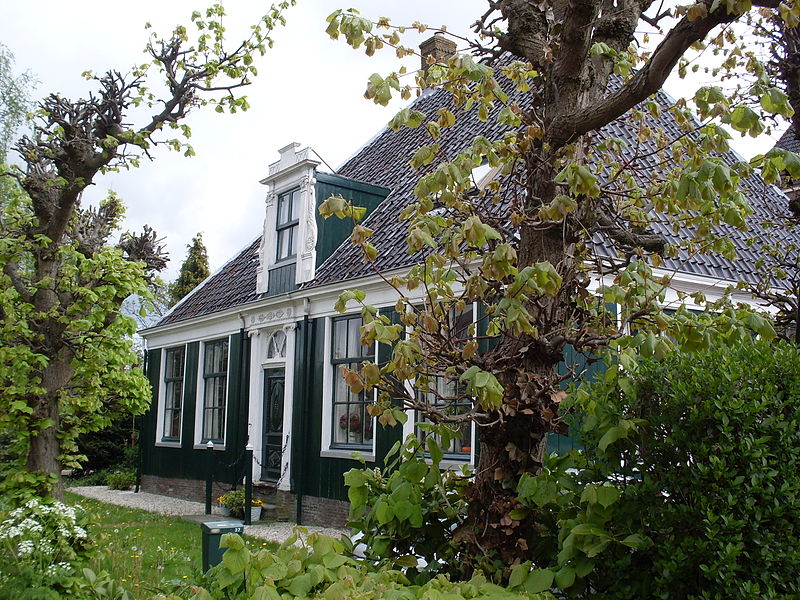 The town is full of expensive and/or classic cars, cute medium to small townhouses and several brand new neighborhoods bordering Amsterdam-Noord by literal meters and a viaduct. The population is predominantly white (radiating!) mixed with the more successful few of the minorities (mostly Indo-people and associated) and almost every single one of them is well-educated, doing well career-wise or have a history in the town.
Landsmeer has a more than acceptable little shopping mall with all basic needs available – for 'the real deal' you can either go to neighboring Amsterdam-Noord, seeing as it's just a stone's throw away, which includes a large city hospital and multiple 'complete malls' or take the bus to Amsterdam's dreamy (read: hectic and expensive) downtown. Overall Landsmeer is very pretty including little restaurants, creative and happy inhabitants and a very relaxing atmosphere – almost none of the chaos and noise of Amsterdam crashes out over Landsmeer and is situated along the beautiful North-Holland Canal and the Waterland/Zaanstreek green areas. There's a reason celebs and the 'Successful' have begun pouring in here! It has about 11,500 inhabitants all-in-all.
Places to live by Amsterdam: Oostzaan
Oostzaan is much like the little town in the famous comic "Asterix & Obelix"  – "A small little town braving the pressure of the Roman Empire, courageously!". In this case, the Roman Empire is Amsterdam looming over the town on almost each and every side and Zaandam also keenly watching for left-overs – but Oostzaan refuses! This tiny town of just over 9000 people is still independent from everyone else, just like Landsmeer with its neighbors being almost 'the poorer half' of the two.
Oostzaan is a curious blend of true Amsterdammers, usually former dock workers and shipbuilders, and the 'locals' who are traditionally Zaanlanders (much like in Zaandam) – they have a, somewhat undeserved, reputation as being 'anti-social' and 'poor', but I'd argue they're more 'set in their ways' and 'hard-working labourers' if anything.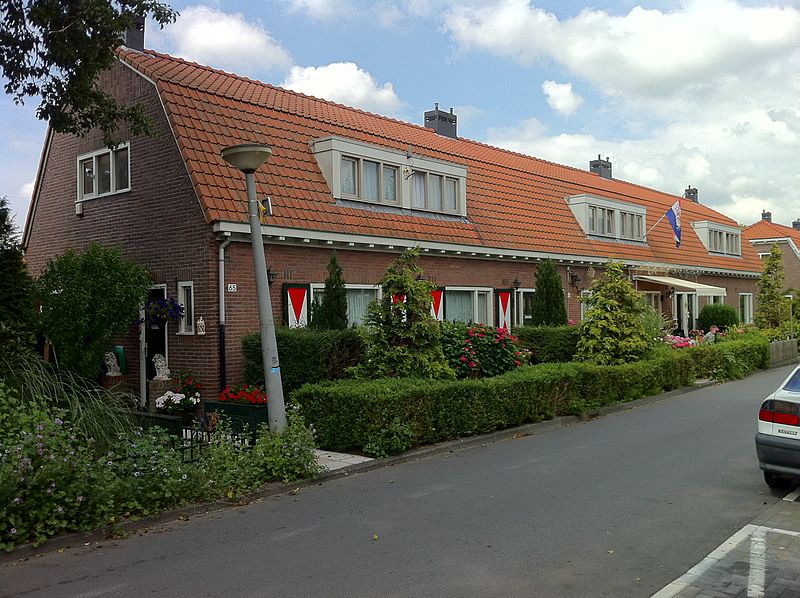 Oostzaan is crowded and tiny, this goes for the majority of houses too, and there's literally no way to tell you're now in Oostzaan and then in Amsterdam-Noord – there's no border of any kind and the people freely move back and forth between both areas without any kind of reservations. The main difference is that Oostzaan is very 'tight' – you're part of their group or you aren't, joining them is not too hard as long as you adapt and are willing to look the other way here and there (the same goes for Amsterdam-Noord, I might add!) you will soon find yourself as being 'one of us' and it might bring you into the happiest times in your life. But mind you, this – is – a 'labourers' town, don't expect much cultural interest, much sympathy when going against the grain or any kind of luxuries – it is what it is and you're welcome to join but just accept them and the town as they are.
Your neighbors are extremely likely to be low-income to medium-income at best, exceptions notwithstanding, and live and behave accordingly which is not a criticism of any kind I might add. But it's something you can either deal with or you can't, loud music and big dogs in very small houses that are a bit noisy are somewhat of a standard – on the other hand, crime is often nipped in the bud.
Neighboring Amsterdam-Noord is much more 'crime-riddled', with over 200,000+ inhabitants, and suffers severely from big city attitude – but in Oostzaan the locals keep an eye out and your otherwise 'gold chain necklace and pit bull neighbor' will defend your home from a cat burglar as if it were his own, even if he doesn't like you that much – "We don't stand for that" will be the go-to attitude.
If you can make yourself fit into this crowd of people, likewise for parts of Amsterdam-Noord, you will experience loyalty and friendship like nowhere else.
How much does it cost to live in Oostzaan?
You will find small to medium housing in Oostzaan for below or over the 300.000 Euro line, there are also gorgeous former farmhouses or even 'dyke houses' along the edges of town but those often boom far over 500,000+ to 1 million(!) Euros. Needless to say, the crowd is accordingly. Oostzaan's affordable (cheap?) areas are about cheap beer and bratwurst from Lidl, Dutch folk-music (Andre Hazes, Frans Bouwer, etc.), Ajax and old-school unity missing in much of the country – the more expensive parts are about independence, restfulness and understanding. But both sides of Oostzaan live together in mutual agreement and love for their tiny town and as such connect closely to neighbor Landsmeer – both towns struggle for independence and their own identity.
Almost everyone in Landsmeer or Oostzaan works in either Amsterdam or Zaandam or other nearby bigger municipalities. Pro-tip: for the best 'small' Lidl in the country (by a stretch), go to Oostzaan!
Conclusion – Is Amsterdam Inescapable?
Frankly, yes. This may disappoint you but Amsterdam is far out the country's economic powerhouse and the largest 'single city' metropolitan area, all other cities and municipalities in the area badly depend on it and this reflects in pricing too – as Amsterdam grows so do the prices in the city but those just outside of it will also get dragged along. On the upside, invest now and get your return later – that is as long as the housing bubble lasts but according to many analysts the Amsterdam housing bubble is ranked in the same bubble as London, New York, Copenhagen and Hong Kong: "Never-ending".
Amsterdam-Noord might surprise you if you look into the right neighborhoods, but it is still part of the big city including its real and serious issues and as such living just outside the city may be worth looking into. Overall you're unlikely to go wrong in these towns and cities but always be sure to check into 'future planning', Holland is industrious as heck and you might be looking at a highrise from your backyard in a few years. Hopefully, however this doesn't discourage you from the area – take it from the Dutch, if you find the right spot (and you will!) it'll all be worth it! Financially, culturally and personally – you can't really go too wrong in or around Amsterdam. Just don't wear a Feyenoord-shirt…
Where would you recommend living just outside of Amsterdam? Let us know in the comments.
Anything else to add to this 'Guide to living in cities, towns and villages near Amsterdam in 2020?' Let us know!
Editor's Note: This article was originally published on 26 January 2019, but was updated for your reading pleasure on 24 January 2020. 
Feature image: 12019/Pixabay.