So you're moving to Amsterdam? Nice choice! It's a great city and many people who settle here feel at home right away. But where to live in Amsterdam? Of course, there's not just one correct answer to that question. So we've done the research to bring you the ultimate guide to neighbourhoods in Amsterdam!
And, if you're trying to break into the housing market in the Netherlands, more power to you!
Tell me about Amsterdam!
Although in many ways Amsterdam is a fast-paced cosmopolitan European capital, when you live here it can feel like a small town. Snug little neighbourhoods are tucked away all over the city, creating little oases of residential quiet. City life, bars, restaurants, clubs, museums, and theatres are rarely more than a 30-minute bike ride from anywhere in the city.
No matter where you're coming from, you'll immediately catch on to Amsterdam's international feel. Half of the city's 800,000 residents are non-Dutch in origin. People of different backgrounds (180 different nationalities at the last count) have been settling in this melting pot since the Golden Age.
Read Next | 31 things to do in Amsterdam in 2020
What are the most popular neighbourhoods in Amsterdam?
Amsterdam is a big city and it can be overwhelming to figure out where to live. But, we've broken it up for you into some handy subsections.
Let's start down south with Amsterdam-Zuid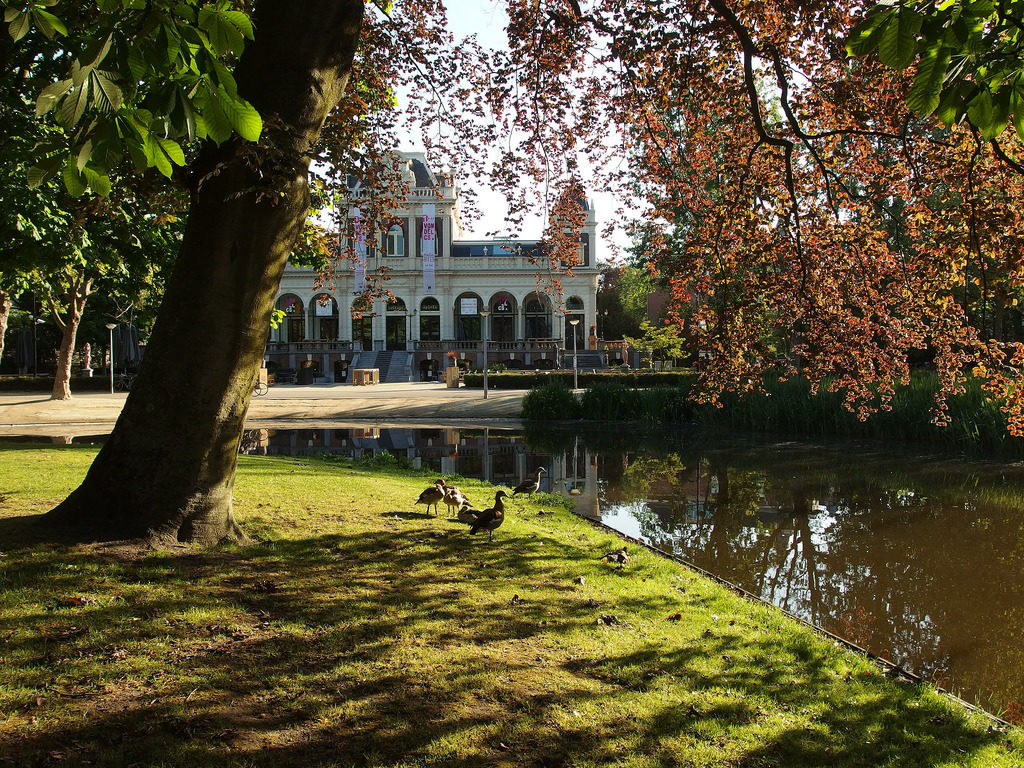 For expats moving with a young family, the borough Zuid (south) is definitely a good place to start looking when wondering where to live in Amsterdam. The British School is located here and the Amsterdam International Community School is just a short cycle ride away. It's not far from the city centre and it's bordered by Amsterdam's largest city park, the Vondelpark.
Zuid has many residential neighbourhoods with privately-owned, well-preserved 19th-century houses. Old South includes desirable neighbourhoods in Amsterdam like Duivelseiland and the areas around Museum Square and south of Vondelpark. The apartments are usually spacious and well-built.
Less up-market and more colourful, vibrant, and funky is de Pijp, popular among hipsters. Although it has greatly benefited from government regeneration in recent years, do watch out for remnants of the 'revolution' building period. Cheaper, but poor quality, badly-insulated, poky apartments.
The Zuidas is also a place you shouldn't miss. It's home to many businesses and is a rapidly growing centre of development. It's exceptionally popular with expats as many work in the area. So if you're looking for an international vibe, the Zuidas has you covered. There are also plenty of new apartments in the area, so plenty of options.
The 'New South', Buitenveldert and Amstelveen
The Diamantbuurt, Rivierenbuurt, Stadionbuurt and Apollobuurt are known as the 'New South'. The neighbourhoods were built in the '20s and '30s with sound, comfortably-sized housing, popular among well-off Amsterdammers and expats. Many of the buildings in Nieuw Zuid are designed in the striking Amsterdamse School style of architecture — decorative dark red brick masonry with beautiful round 'organic' forms.
Popular as it is, rents in Zuid are generally high, and parking space is scarce. If that feels claustrophobic, it might be worth looking slightly further south, to Buitenveldert and Amstelveen. Lots of open green spaces, wider streets, houses with gardens and plenty of parking space. Amstelveen is actually a suburb of Amsterdam but public transport into the city is excellent and there are lots of restaurants and cafés. It's also right next to the green lung of the city, the Amsterdam forest.
The reclaimed islands in the IJ and Ijburg
What could be more Dutch than reclaimed land? North-east of the city centre, in the river IJ, lies a string of conjoined man-made islands. The Java, IJ, and KNSM islands, formerly owned by the Royal Dutch Steamboat Shipping company, were redeveloped into an up-market residential area in the '90s. You'll find modern apartments with spacious interiors and great views across the river.
Further east lay the new artificial islands of Ijburg, with large modern homes for those adventurous pioneers who don't mind the 25-minute tram ride into town (yes, this is considered a long commute in Amsterdam). A big summer attraction here is the artificial city beach of Blijburg, with its groovy Ibiza-like vibes.
Exotic echoes of the East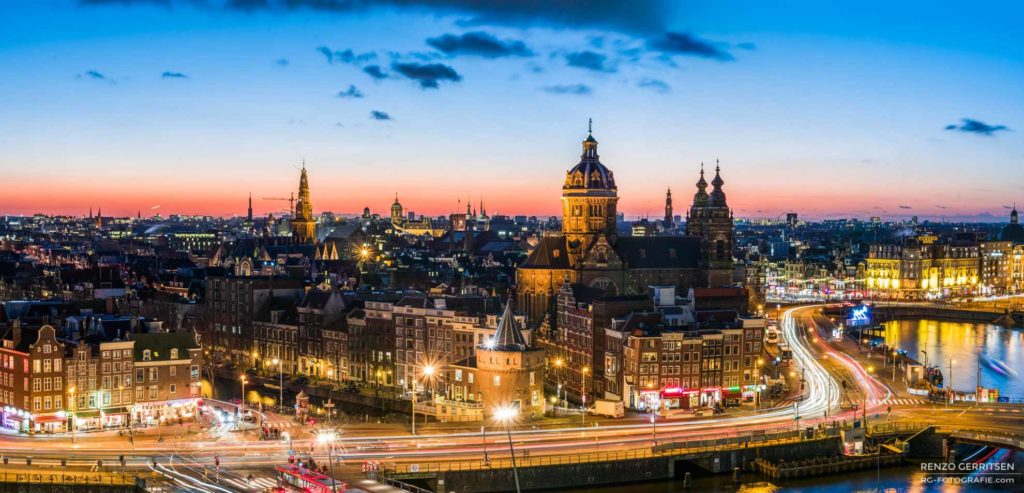 Still not sure where to live in Amsterdam? Perhaps in Amsterdam-Oost. Passing down through the contemporary Eastern Docklands, or Oostenlijke Havengebied, you'll find the older neighbourhoods of Amsterdam: Indische Buurt and Transvaalbuurt.
Dating from the 1920s to '40s, these areas have been undergoing rapid gentrification since the 1990s. Ethnically diverse and bustling with colourful shops and markets, the housing is typically three stories plus an attic (with a shop at street level), which you see in much of Amsterdam.
And then there's Watergraafsmeer, one of the most low-lying areas of Amsterdam, which was taken back from the sea in the middle ages. A green and open-plan neighbourhood with good housing and lots of sports fields and city gardening plots. It's close to the A10 ring road with good connections into the city.
Living in Amsterdam city centre
Love Golden Age grandeur and spaces crawling with tourists? Images of Amsterdam often depict the beautiful monumental warehouses and elegant gabled mansions along the Singel, Prinsengracht, Herengracht, and Keizersgracht. These form the inner canal belt, or grachtengordel, of Amsterdam. The wealthy merchants of the glorious Golden Age spared no cost on building materials and elaborately decorated the facades of their prestigious homes.
Nowadays these pontifical houses are often split up and converted into smaller apartments. Expensive as it is, the picturesque inner city — with its typical bridges and pretty houseboats along the tree-lined canals — makes for very pleasant living. But be warned, there is a downside. The streets are often crowded and in summer there is a constant stream of tourist boats passing along the canals.
The Jordaan is arguably the most exquisite neighbourhood of Amsterdam. A kaleidoscope of narrow streets, lined with cute and quirky houses, markets, shops, and cafés make this former working-class quarter a favourite hangout for tourists and locals alike. Although the vibrant, bohemian Jordaan is an absolute must-see for visitors, houses here are cramped and rents high so this neighbourhood might not be everybody's cup of tea.
Getting lost? Here's a map of the city and the neighbourhoods in Amsterdam (click to enlarge):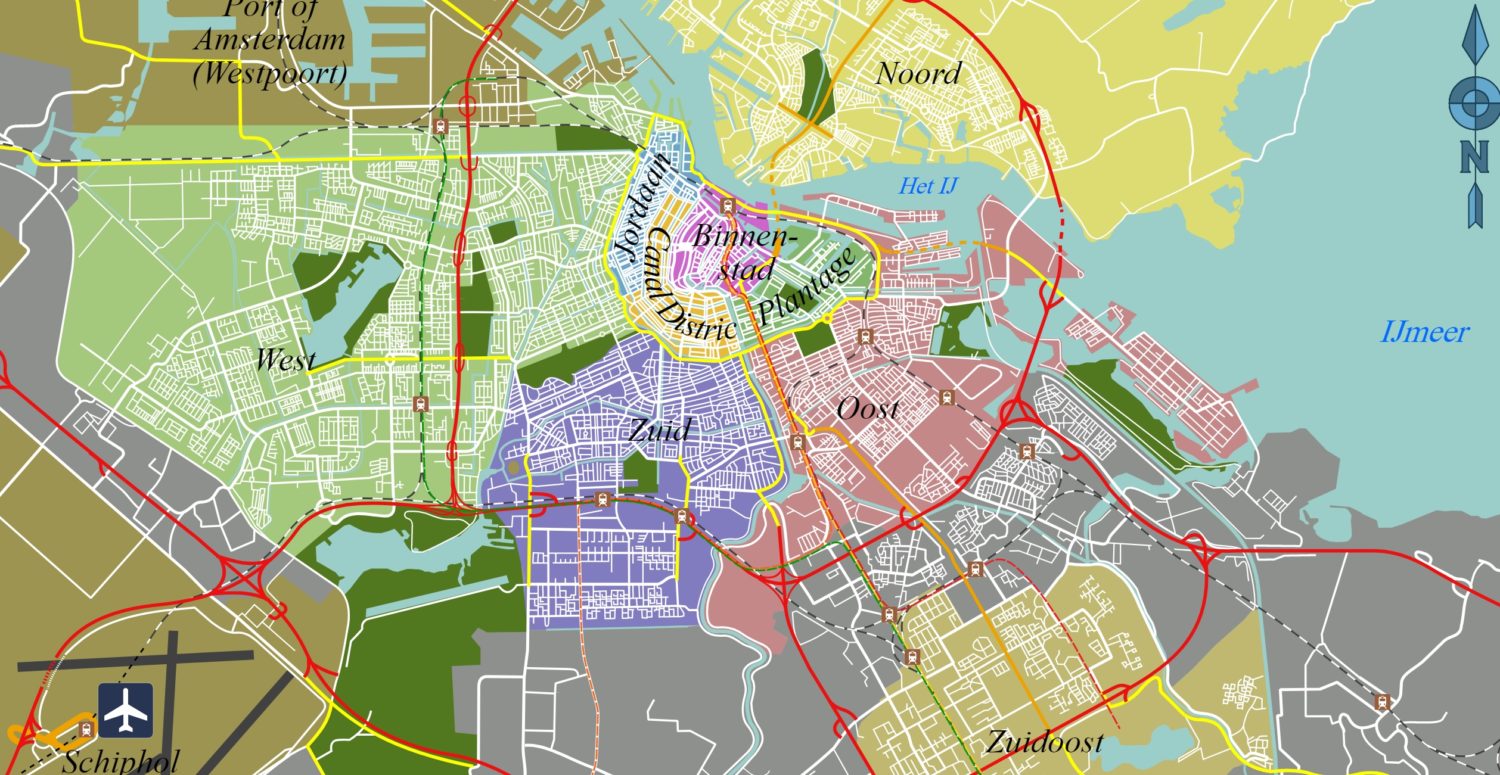 North and West — lesser-known, but check them out!
To the west of the city centre lies the sprawling borough Nieuw-West, characterized by the drab and rather impersonal urban neighbourhoods of Osdorp, Sloten, and Slotervaart.
Closer to the centre, however, de Baarsjes and Bos en Lommer (or BoLo, as the locals call it) are becoming more popular among students and families and have a large multicultural community. Colourful markets and mosques rub shoulders with trendy cultural establishments and green open spaces.
Westerpark is also a lively, mixed neighbourhood popular with young families and artists. As in BoLo, rents are relatively affordable and the city centre is only a 10-minute cycle ride away. Westerpark is also the name of the beautiful city park, which also hosts a TV-studio, several music venues, trendy restaurants, a club, and a cinema. These are situated in the monumental industrial buildings preserved from former days when the city's gas factory was situated here.
On the far side of Westerpark, the pretty Spaarndammerbuurt is becoming hipper by the day, with nice little shops and cafés springing up and affordable apartments in renovated housing blocks. Though this neighbourhood in Amsterdam has been long ignored by house hunters, gentrification is turning it into an attractive little neighbourhood to live in, well worth checking out. Which brings us to…
Where to live in Amsterdam? Noord!
This borough is the latest up-and-coming area of Amsterdam. Noord is basically the entire area north of the IJ-river. It's reachable by ferry (just hop on with your bicycle!) or by bridge or tunnel if you're driving. It's huge and has a little of everything — quaint residential neighbourhoods with family homes with gardens, lots of green parks, and water. The former NDSM-shipyard is now a funky area settled by artists and new media creatives. It hosts festivals and a huge monthly flea market.
READ MORE: The tunnel under the River IJ; will this giant spiral get cyclists in Amsterdam across the river?
Noord used to be relatively cut-off from the rest of Amsterdam, but since the area behind central station has been redesigned, access to the ferry is much easier. The ferry crossing is fast and frequent, and there is also a new metro connection, making Noord's popularity explode. Modern apartments are springing up everywhere, yet it still doesn't feel cramped. It's right next to the city centre, only a stone's throw from the countryside and dotted with cute little villages. It's quiet, yet the scene is hip. So for some, this might be exactly what you're looking for.
House hunting in Amsterdam?
So you've decided on where you want to live in Amsterdam? Great — that was the easy part. House hunting in Amsterdam, on the other hand, is not easy. Homes are scarce and rents in the private sector have rocketed in recent decades. The social sector has a waiting list of 8-12 years — obviously not an option if you need a place now.
Need a place in Amsterdam pronto? We worked together on this guide to the neighbourhoods in Amsterdam with the good people of ServicedApartments.nl. They've got an awesome listing of houses in Amsterdam which are immediately available for rent. These places are perfect for those who just got a job in Amsterdam and need a place to stay immediately. (If you're staying long-term, check out our ultimate guide for immigrating to the Netherlands.)
These apartments are a one-stop-shop in the sense that they're already furnished and have that one thing nobody can do without — wifi. So it's simple, just settle in and the next thing you know, you're already in the swing of your daily routine. It's moving made easy. Check out these places in the Zuidas as well:
Anything to add to this neighbourhood guide of Amsterdam? Or on where to live in Amsterdam? We'd love to hear! Share your thoughts in the comments below!
Feature Image: RalfGervink/Pixabay
Editor's Note: This article was originally published in June 2017, but was fully updated in August 2020 to bring you the most up-to-date information.