Whether you're looking for something entertaining, exciting, educational, or just plain gezellig to do in Amsterdam during those rainy days (i.e. most of them) — we've got you covered. ☔️
Let's face it, nobody comes to Amsterdam for the weather. Since rain can be expected on most days of the year, it's good to have a list of indoor activities in your back pocket.
Fortunately, this list is a long one. We've collected a whopping 29 of the best things to do in Amsterdam when it's raining.
Have a spa day
Amsterdam has a handful of public saunas and a locals' favourite is definitely Sauna Deco. This spa offers pools and a steam bath in addition to two saunas. In a breathtaking 1920s art deco setting, it's the perfect place to relax and keep warm on a rainy day.
Another great Amsterdam sauna is Spa Zuiver. Located in the beautiful Amsterdamse Bos, this spa is enormous: with eight saunas, two restaurants, hot tubs, and a waterfall. Dutch spas are traditionally visited sans-swimwear, so no need to pack your swimsuit.
However, if you're squeamish about going naked, don't fret, this one has special swimwear days. 👙
Borrel at a brown bar
Dutch brown cafés or bruin cafés are lovely to visit year-round, but there's something particularly gezellig about a brown café in the winter. If you're not familiar, these are bars that have maintained their traditional old Dutch charm, and they are quite literally brown. It's like taking a time machine back to the 1600s when wood panelling and brown leather were apparently quite en vogue. 🕰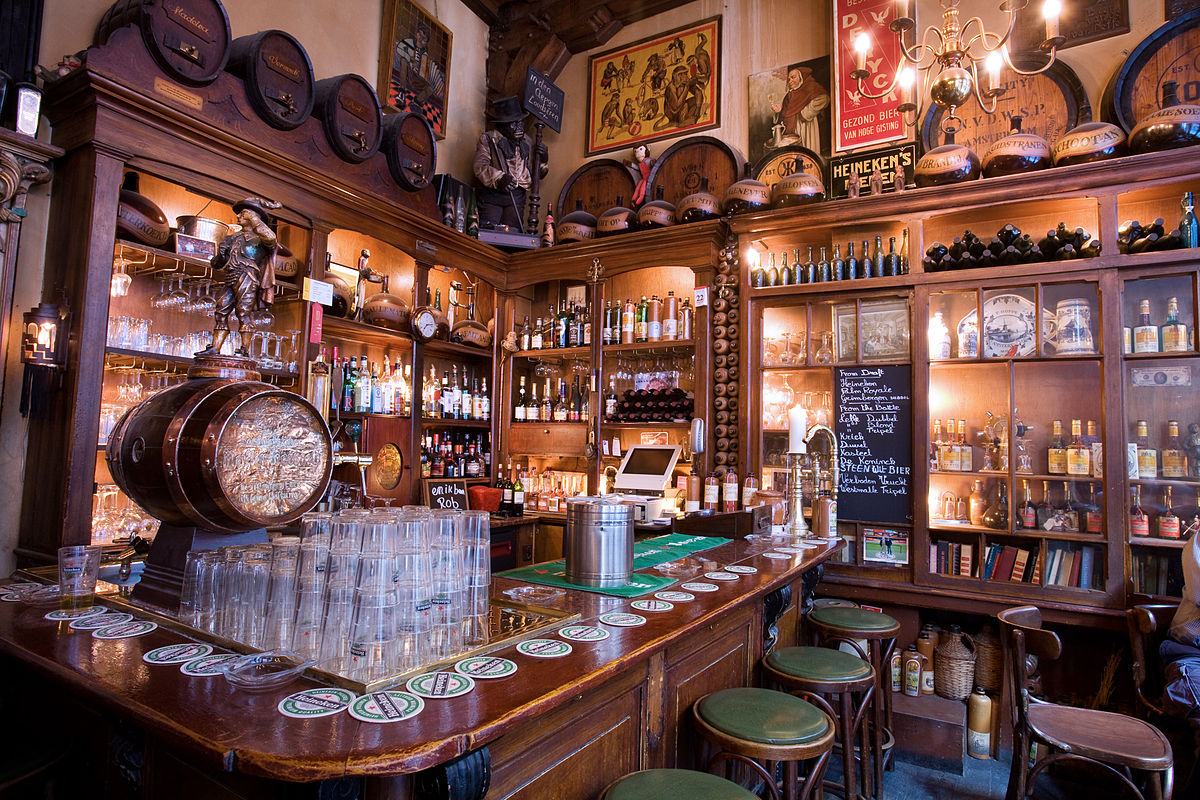 Brown bars are easy to find, seeing as there are some 500 or so in Amsterdam. You'll find the largest selection of them in the old working-class Jordaan neighbourhood. Don't miss Cafe Chris, Café de Pels, Het Bruine Paard, and Cafe de Doktor (in De Pijp).
Some of the regulars you'll meet at these bars have been around as long as the fixtures, but don't be intimidated, just sidle up and say hoi. 👋 Don't forget to order your bitterballen from the golden-aged bartender, grab some glühwijn, and proost!
Explore Amsterdam's food scene
This international city can offer cuisine from all corners of the world, so in addition to Dutch classics like stamppot and erwtensoep, you can find excellent Indonesian, Surinamese, Mediterranean cuisine and much more.
If you've struck out with Amsterdam's restaurants one too many times and need some guidance, take a food tour. Hungry Birds, Secret Food Tours Amsterdam, and Munchies Food Tour are a few local companies that will ensure you're well-fed, well-informed, and happy. 🤤 Bear in mind, tours may involve a bit of walking between stops, so probably best to bring your umbrella.
Solve an escape room
Do you like puzzles, mysteries and immersive gaming experiences? Escape rooms will transport you from a rainy Amsterdam into a world full of riddles, secrets, and adventures!
We can recommend Sherlocked, an award-winning company with two carefully crafted escape rooms that guarantee a 100% boredom-free afternoon. In fact, DutchReview had the chance to drop into the role of master thieves for a day and break into a safe down in The Vault.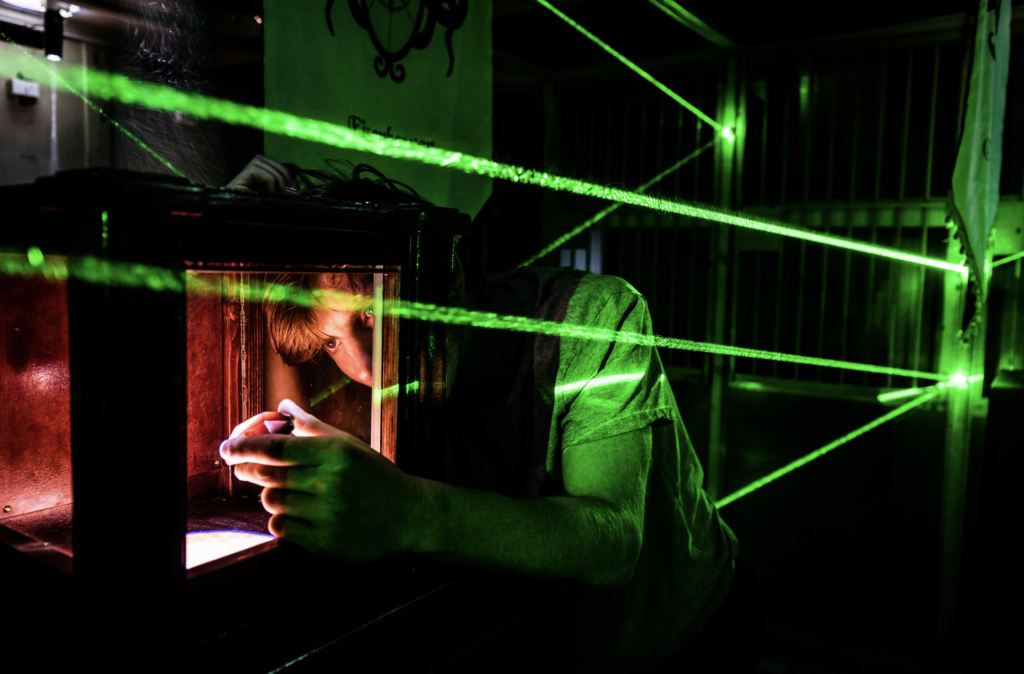 If you simply can't decide what to eat, it's okay, you don't have to! The Foodhallen is the ultimate crowd-pleaser when it comes to eating out. It's a massive and lively food court, offering a wide range of cuisines. Whether you're after pizza, bitterballen, dumplings or a little of everything, you'll find it here.
The Foodhallen is set in the greater De Hallen complex, a historic tram depot turned cultural hotspot. It's home to the Filmhallen cinema, a boutique hotel, independent shops, a library, and a weekly craft market.
Check out the cinema
There's more to stare at than a movie screen at Pathé Tuschinski, which we'd argue is one of the most beautiful cinemas in the city. The 1921 building is a stunning amalgamation of styles, with art nouveau influences and all-around 1920s pomp and splendour. Grab some popcorn and choose from their wide selection of films and showtimes. 📽
If you want to get even deeper into the cinema, head to the Eye Filmmuseum. It's a film archive and museum housed in architectural wonder, where they show both Dutch and foreign films. 🎞
Enjoy the performing arts
Whether you're in the mood for dance, theatre, spoken word, or circus, there's a venue for it in Amsterdam. For live theatre, Orange Theatre Company, the Queen's English Theatre Company, and Internationaal Theater Amsterdam are a few locations that offer top performances in English.
Amsterdam's Royal Theater Carré also offers a range of live performances often geared toward English speakers. Situated alongside the Amstel River, you'll find everything from cabaret and musicals to comedy and acrobatics in this Amsterdam landmark.
Also, check out the National Dutch Opera and Ballet located nearby. While the building itself isn't known for its beauty, the performances there are sure to inspire.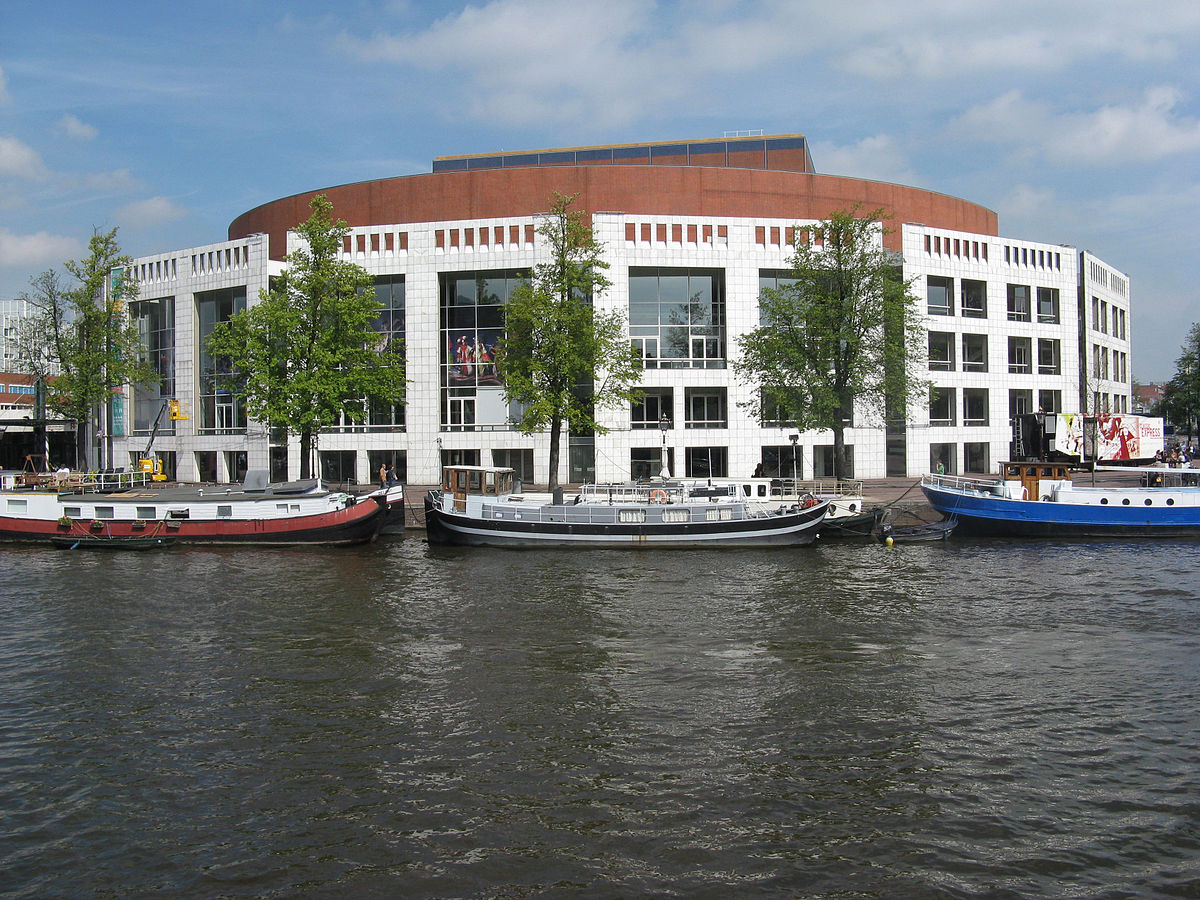 Roll the dice at a casino
If you're feeling lucky, head to one of Amsterdam's casinos. Holland Casino is the true koning, with the legal monopoly on gambling in the Netherlands. As a matter of fact, profits go directly to the Dutch treasury. Conveniently, they have two Amsterdam locations, each equipped with Bingo, Blackjack, you name it. 🎲
Another winning option is Jack's Casino, located in Leidseplein, in the heart of Amsterdam. Gamble the night away (responsibly, of course) with slot machines and roulette, or opt for dinner and a movie. 🎰
Get climbing
It doesn't matter if you're an athlete, it's always a good idea to get those endorphins flowing on these short, dark days. Plus, you'll warm up in no time at any of Amsterdam's four indoor climbing gyms. 🧗‍♀️
Klimmuur is the most centrally located and has a lovely sunny terrace to relax after your hard work. Mountain Network is one of the Netherlands' largest gyms, located in Amsterdam West. Monk is strictly for bouldering, which means you're less far off the ground and not using any ropes. They have two locations: one in Amsterdam North and their new 'Monk Club' in the east.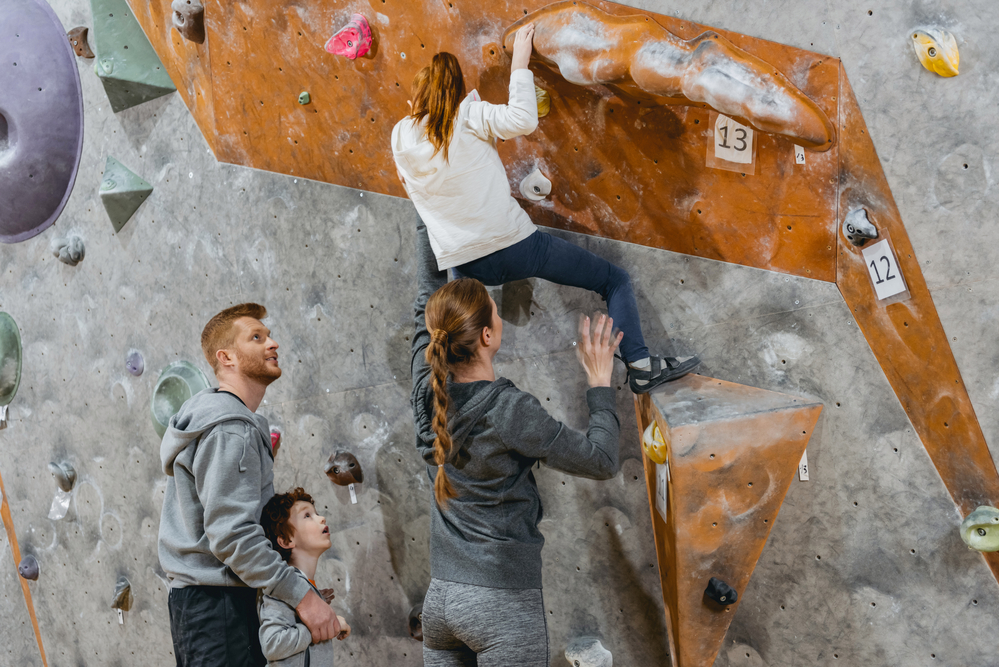 Be dazzled by a drag show
If you're absolutely ready to have a fabulous time, a drag show is the place to go. Just behind the Royal Place, you'll find the theatre restaurant 't Sluisje, where you can enjoy a three-course meal in combination with a sensational show. 🍸
Dragshowbar Lellebel, just around the corner from Rembrandtplein, is another spectacular spot to see a drag show. Finally, The Queen's Head, right on Zeedijk near Central Station, is another local's favourite where any of the shows are sure to entertain. Slay, Queens! ✨
Relax with a canal cruise
Any day is a nice day for a cruise through Amsterdam's canals. Fortunately, boat companies are well acquainted with the Dutch weather and they've got you covered, quite literally. ☔
Most companies have boats with roofs and blankets on board. You can snuggle up with some hot coffee or a glass of wine, and watch your winter woes drift away.
There's a wide variety of cruises and companies to choose from. You can find romantic, historical, boozy, or foodie, and that's just the tip of the iceberg. Romantic Tours Amsterdam is a lovely DutchReview favourite. 🌹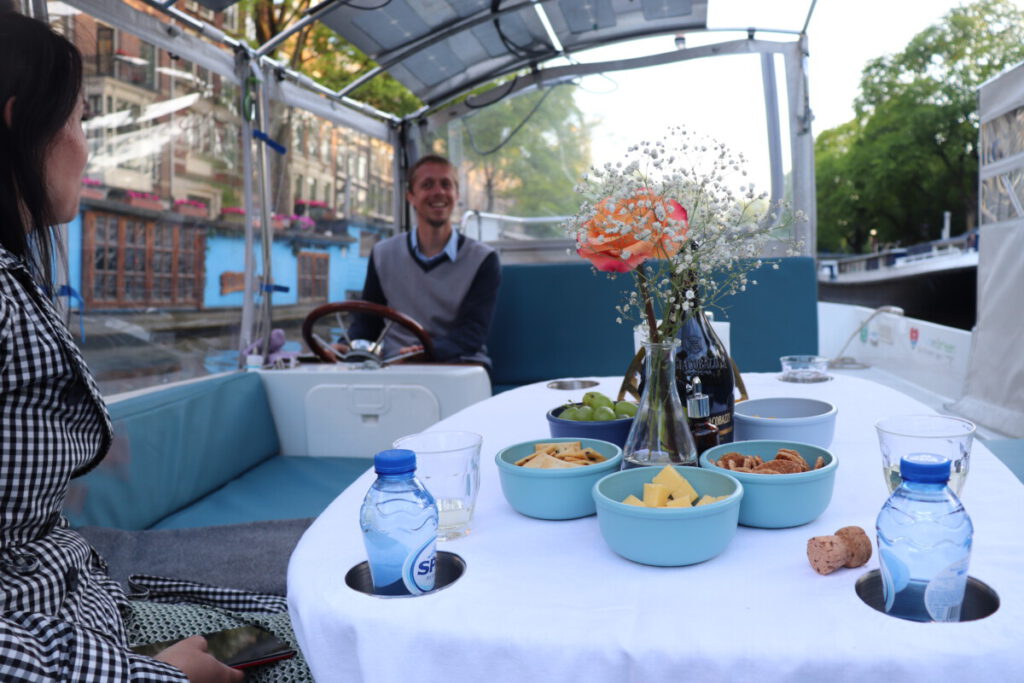 Go to a jenever tasting
A jenever tasting is the best way to get to know the Netherlands' signature spirit. There are several places that offer a great sampling experience in Amsterdam.
Wynand Fockink is a very cool (albeit often crowded) liquor store and jenever tasting room (the oldest in the city, in fact!). It has that exact old-timey feeling you want when slurping back traditional Dutch spirits, and I do mean slurping. 🍹
Learn something at the library
Amsterdam's public libraries (the OBAs) are sprinkled all throughout the city. With 25 neighbourhood branches, there's never a library too far away.
The largest and most central library is on Oosterdok, right next to Central Station. It's an enormous building with over 10 floors. The café at the top has marvellous city views and a sunny terrace that can feel warm even on a cold day. It's the perfect place to relax with your new reading material and a cup of tea.☕📚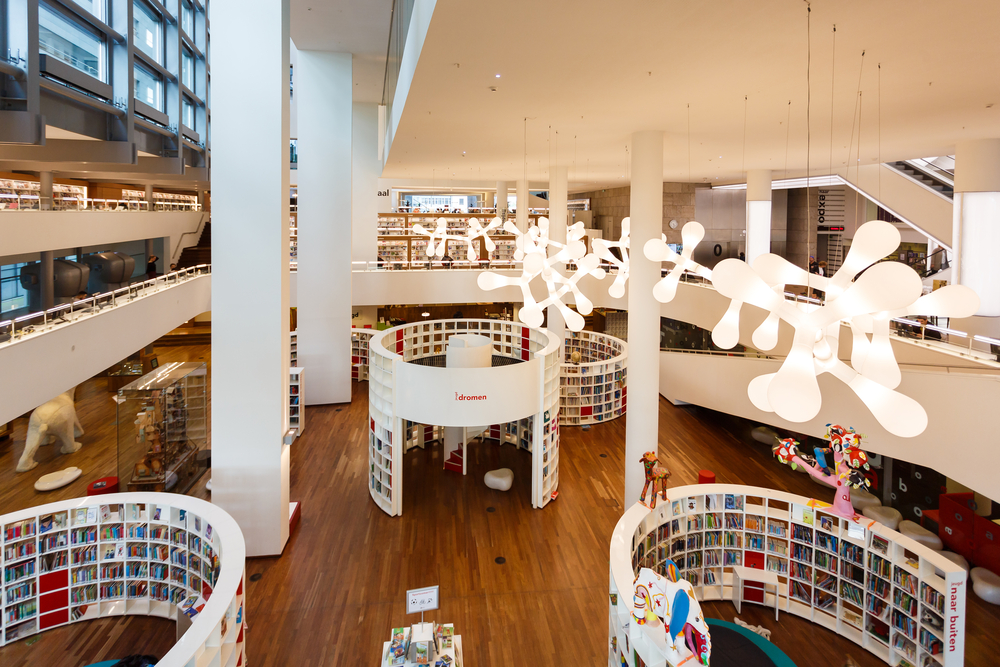 Go out for drinks
There are infinite spots to drink in this city, but how better to drown your rainy-day sorrows than with a well-mixed old-fashioned glass of cabernet? Just a couple of Amsterdam's great places for wine are GlouGlou (De Pijp) or Shiraz Jardin des Vins (canal belt).
You can keep it classy by heading to one of Amsterdam's many charming cocktail bars. Hiding in Plain Sight (city centre) and Rosalia's Menagerie (Jordaan) will certainly do the trick. Once you've wrapped yourself up in a nice whiskey blanket you'll forget all about the zero-degree weather and sideways rain.
Admire some cats
When it's raining cats and more cats, go see some cats — Amsterdam loves them. 🐈 The KattenKabinet is a museum for all things cats, where you can ponder the influence of cats throughout the ages.
For another kind of cat fix, head to the Kattencafe Kopjes. It's the Netherlands' premier cat cafe, where you can pair cats with your cake and coffee.
If those don't scratch your itch, you can visit De Poezenboot, a floating cat shelter. It's the best place to visit if you're interested in adopting a cat, though they also have specific visiting hours just for cat lovers. Do keep in mind it's not a tourist attraction, and they welcome donations.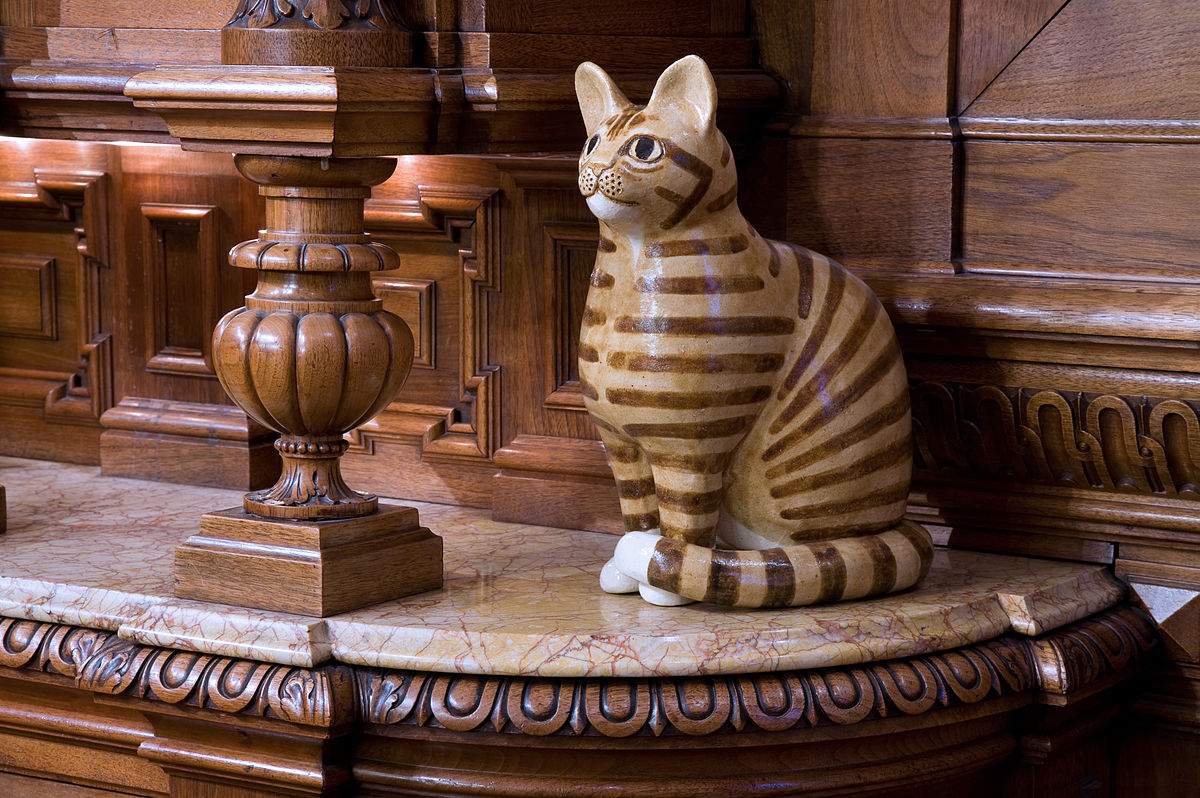 Mix it up with microbreweries
Believe it or not, there are more varieties of beer than Heineken in this country. Don't get me wrong, there's a time and place for a nice crisp Heineken, but sometimes colder weather begs for something darker, heavier, maltier, hoppier…well, just more, really. So head to one of Amsterdam's great microbreweries! 🍺
A handful of favourites include Gebrouwen door Vrouwen (brewed by women), Brouwerij de Prael (also hosts comedy nights), Brouwerij Troost (Monday night pub quiz), and De 7 Deugen (the most uniquely flavoured brews).
You also won't want to miss the brewery and tasting room Poesiat & Kater in Amsterdam-Oost for its sheer gezelligheid. And then, of course, there's Brouwerij 'T Ij, which is in a windmill — need I say more?
See live music
Don't want to be the only one singin' in the rain? Head to one of Amsterdam's many well-loved music venues. Melkweg is a large and locally-adored non-profit venue in the heart of the city. Its name, means 'Milky Way' in English and comes from the building's former purpose as a milk factory. 🎶
Paradiso also consistently maintains an impressive events calendar, and it's situated in a former church. For something more low-key, Schaakcafe Het Hok will give you the all-cosy neighbourhood acoustic vibes you could ask for. If you're feeling jazzy, try Bimhuis, an internationally recognized cultural institution for the jazz genre. 🎺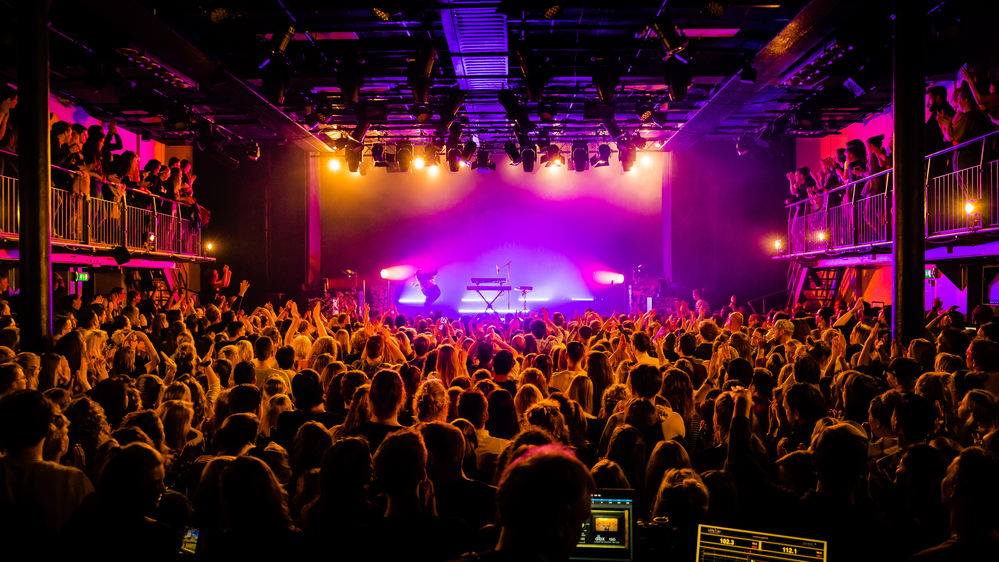 Indulge in the nightlife
If a wild night on the town is what you're after, you're in luck. There are bars and nightclubs all over the city, but you're going to find the greatest and most raucous concentration in the Red Light District. While you're there, there is, of course, plenty of other mischiefs you can get yourself into.
For example, maybe you'd prefer it were raining men — go to Magic Mike night, or, for something quite different but just as spicy, pay a visit to Amsterdam's oldest erotic theatre, the Casa Rosso.
Get playful
Games aren't just for kids. If you're looking for adult-friendly amusement outside the Red Light District, never fear, Amsterdam has its fair share of PG-rated activities. For one, escape rooms are always a hit. So is laser tag, glow mini-golf, and the old classic, bowling (Aloha has all three). 🎳
For even more action, hit the arcade. At TonTon Club and Blast Galaxy, you can keep your coins in one fist and a drink in the other.🕹
Hang at a coffeeshop
Feeling stumped for creativity? Open your mind to the marvels of marijuana. 🚬 Pass a dreary day by paying a visit to one of Amsterdam's many coffeeshops — you can find over 160 of them scattered throughout the city.
Hang out for a smoke, or get an edible to-go and see where it takes you. Got questions about smoking weed in Amsterdam? We've got the answers.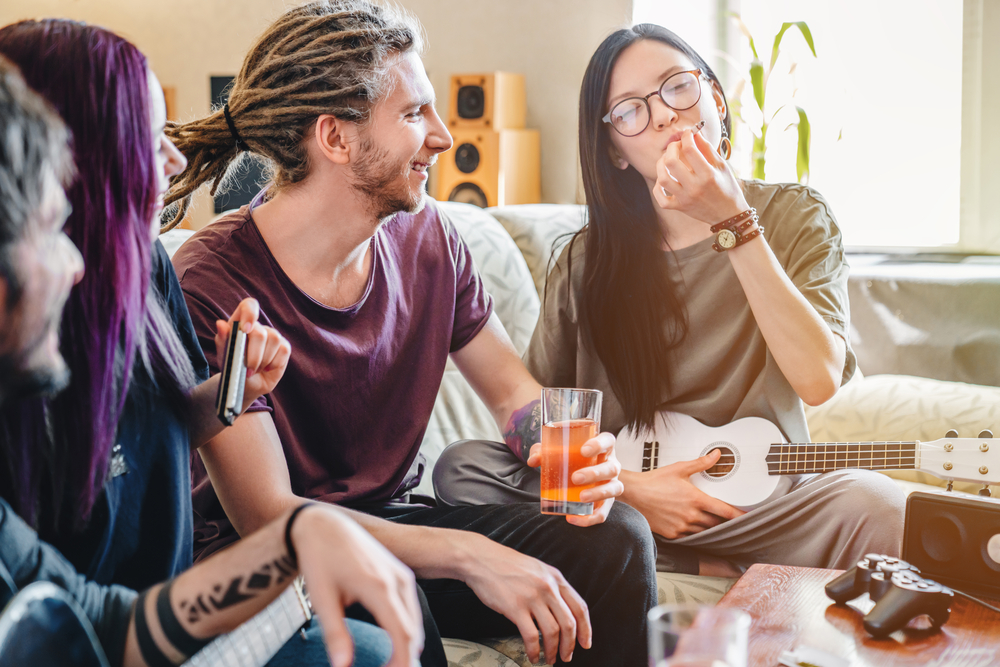 Indulge in high tea
For a very different kind of high, spend an afternoon in elegance with tea and delicacies. Many lovely cafes and hotels serve a traditional high tea that will leave you thinking you've died and gone to…well, England. ☕
A few that stand out are The Duchess Tea Room (in the W Amsterdam hotel) for its sheer exquisiteness; Anne&Max (several locations), with lots of savoury snacks and cheeses incorporated into their platters; and, Koffie ende Koeck (near Westerpark), which offers vegan and organic treats.
Laugh it off at a comedy show
There's no better way to shake off a grey and rainy Amsterdam day than to have a laugh at a comedy show. Amsterdam has several great locations for English comedy. The best known are Boom Chicago, Comedy Cafe, and De Prael. Each venue hosts English-speaking comedians that know how to reach an international audience. 🎤
Check out museums and galleries
This one is a no-brainer. There are around 75 museums in Amsterdam. Of course, you don't want to miss the big ones, like the Rijksmuseum, Van Gogh, and the Anne Frank House, but there are also many great lesser-known museums.
READ MORE | Seven museums and art galleries you can visit digitally from your own home
Some personal favourites are the Museum Willet-Holthuysen, a stunning canal house built in the 1600s for the mayor; Our Lord in the Attic, which is an old hidden church inside a canal house; the incredible aforementioned Eye Filmmuseum; or the Moko Museum, a world-renowned modern art gallery.🎨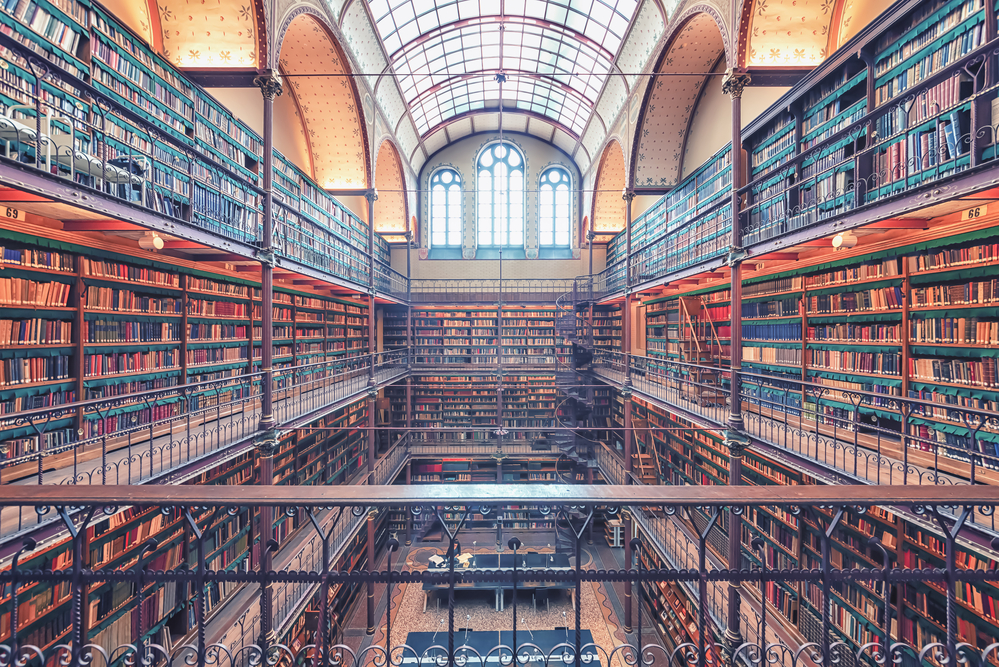 Take a guided tour
There are many places to take a guided tour indoors in Amsterdam. For starters, most museums have the option of booking a guide, as do places like the historical concert hall Royal Concertgebouw and the remarkable Molen van Sloten, the only still-functioning windmill in Amsterdam or even city wine tours. 🍷
Visit the city archives
Amsterdam's City Archives is the largest city archive in the world. It's located in De Bazel, a beautiful monumental building. You can visit the Treasure Room for free, which houses a collection of old photos, drawings, documents, and maps. Stroll down Amsterdam's memory lane and ponder the changes over time. You can even catch a historical film in the building's theatre.
Sample Dutch cheeses
Dutch cheese is a true taste of the Netherlands, and by going to a tasting you'll even learn a thing or two.
Abraham Kef offers a sampling experience of their finest Dutch cheeses with a nice pairing of wine, beer, or cider. Another cheese whiz is Henri Willig, whose 'trial attic' offers an exquisite array of homemade cheeses, and they don't skimp on the mustard.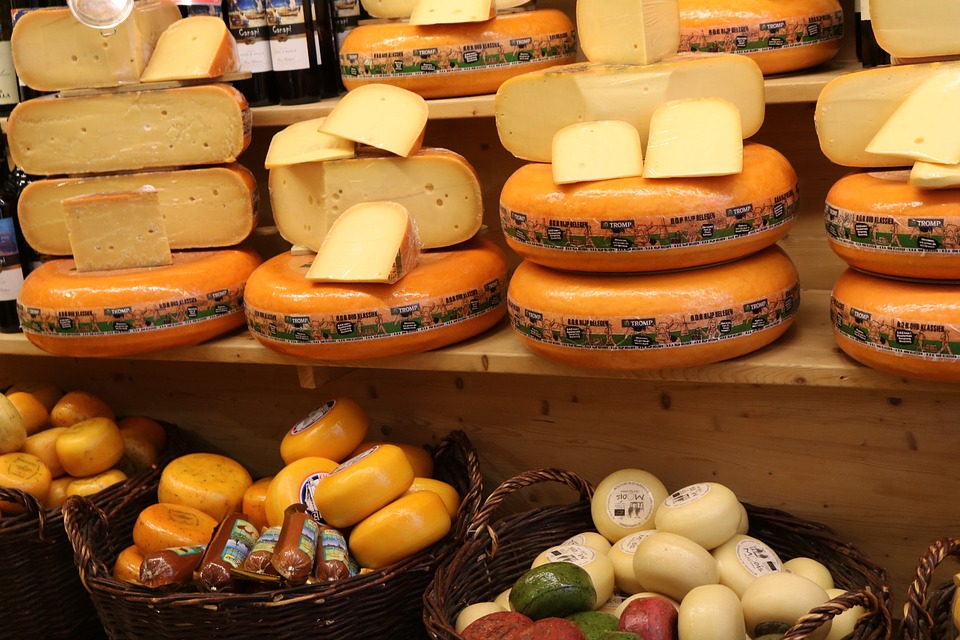 Shop around
If you love to shop, you're in luck. There's plenty of indoor shopping in Amsterdam. Magna Plaza is located right next to the Royal Palace in a grand neo-gothic style building, formerly a post office. It has all the modern shops you're after, plus an excellent food department that's alone worth a visit.
Close to Magna Plaza is de Bijenkorf (The Beehive) on Dam Square. Once a small haberdashery, established in 1870, it's now Amsterdam's leading department store. For even more shopping, the Kalverpassage (formerly Kalvertoren) is an indoor shopping centre located on the bustling Kalverstraat. A wide range of stores are situated in the steel and glass tower, tucked away from the street, with excellent panoramic views.
Head to Ijhallen, the ultimate flea market
For a completely different type of shopping experience, Ijhallen is the place to go. It's the largest flea market in Europe, with 750 stalls in the warmer months, and 500 when they move indoors from October to March. It only takes place one weekend a month, so you have to time it right. Take Amsterdam's free ferry to Amsterdam Noord — it's totally worth the trip.
Browse the bookstores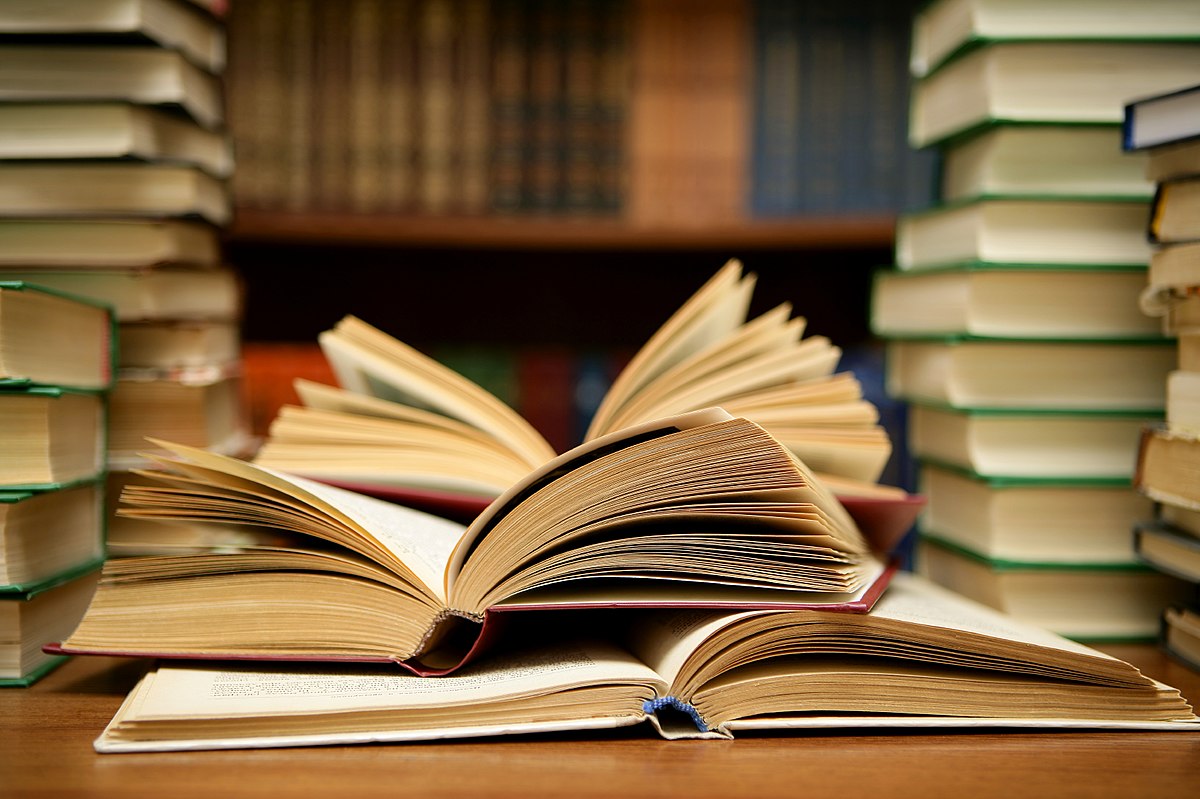 When the weather is bad, there's nothing like curling up inside with a good book. For new material, Amsterdam has several excellent bookstores: Athenaeum, American Book Center, and Waterstones, to name a few. The first two are located conveniently across from each other on Spui near the flower market, and Waterstones is right on the main shopping drag, Kalverstraat.
If you still need more, stay up-to-date with the happenings by checking Amsterdam's events calendar. There's always something weird and wonderful to get up to. And if all else fails, try a walk in the rain.
What are some of your favourite indoor activities in Amsterdam? Let us know in the comments below!

Editor's Note: This article was originally published in October 2020, and was fully updated in June 2022 for your reading pleasure.