– because who doesn't love bouncing around in a plastic ball?
Great news! There's a fantastic new pastime from Denmark for all you fun loving Dutchies called Bubble Football or Bubble Soccer and it can be tried in every corner of the Netherlands. BumperZ, the Dutch organizers, promote this activity for stag parties, team outings, sports club events, celebrations like birthdays or pretty much anyone who wants to put on a bubble and run around a field kicking a ball while tackling their fellow players.
Tackling others while running around in a bubble you say?
When a friend of mine invited me to her birthday recently, it was not the typical drinks-and-snacks-at-a-bar-and-maybe-later-a-club celebration. All she said was, "You need to bring some sports clothes" and "we meet on Sunday at 1pm". Hmm. Ok. Wait, Sunday? But without giving it more thought, Sunday rolled around, I packed my stuff and made my way to Sporthallen Zuid, a sport complex close to the Olympic Stadium in Amsterdam to meet up with the birthday girl and the rest of the crew. (We played indoors but apparently this new trend sport can also be played outdoors). Clearly, no one knew what to expect but a friendly guy with a checked shirt was waiting in one of the gym halls for us with eight huge transparent plastic balloons to introduce us to Bubble Football.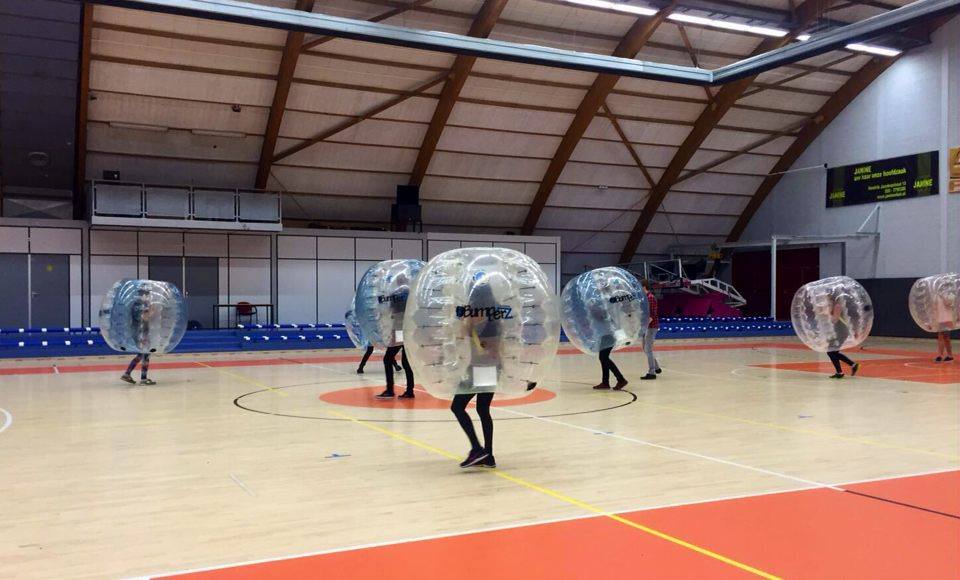 We were instructed to dive headfirst into a ball, slip each arm into the corresponding harness and grab the plastic handles located at our chest area. This was part one. Part two was to "wiggle" yourself up from the ground, which is easier than it looks. Just joking, it looks hilarious and very hard, like a beetle trying to get back on their little legs after falling. It takes a bit to get used to the sudden increase of body volume (the balls themselves aren't heavy, don't worry) but as I ran around in my bubble for a few minutes, I got more confident and finally grasped the concept of the game.
Scoring goals, however, quickly took a backseat to tackling your fellow "bubble bros", which is far funnier and way more rewarding, in an satisfyingly evil kind-a-way. It's four against four and each game takes about 6 or 7 minutes. That seems like a short time but believe me, it's boiling hot in your little bubble and you work up a sweat instantly. After each game you can switch players and give the benchwarmers a chance to play (if you are more than eight). In the meantime you can refresh yourself with some water and watch your friends fall over.
Last bubble standing
We quickly noticed that one hour stretches and feels very long in bubble world; you definitely get your money's worth and lots of opportunities to knock your friends over. We ended our little tournament with an all girls followed by an all guys knockout round (last man standing) without the football. That was, as far as I am concerned, the most fun part of the whole activity. Apart from posing for photos whilst being tackled, of course.
We'll be back for more!!