Leiden is the antidote to touristic Amsterdam. Too much tourism in Amsterdam? Go to Leiden, nice and quiet. Leiden is perfect for a day out! Instead of all the busy busy tourist trap places in our capital Leiden has some nice and chill spots where you can grab a bite and relax. Let's have a look at where to eat in Leiden.
Aan de Rijn
Chances are that you've already seen restaurant 'Aan de Rijn' a few times. Since it is located at one of the most scenic spots in Leiden it has been frequently featured in one the pitoresque photo's we share on our Instagram.
But it isn't just pretty looks on this on, their selection of food is terrific! Shared dining is the concept here, meaning that you and your dinnerpartners can select a bunch of little dishes.
And boy oh boy is this a treat:
Both taste and presentation are better than good, and you end up wanting to try them all. Combine that with a bottle of their house wine, and you've got the sweet spot in Leiden for when you have something to celebrate or just feel like treating yourself to something special.
Oh and did we mention their terraceboat can't be beat in the warmer days of the year?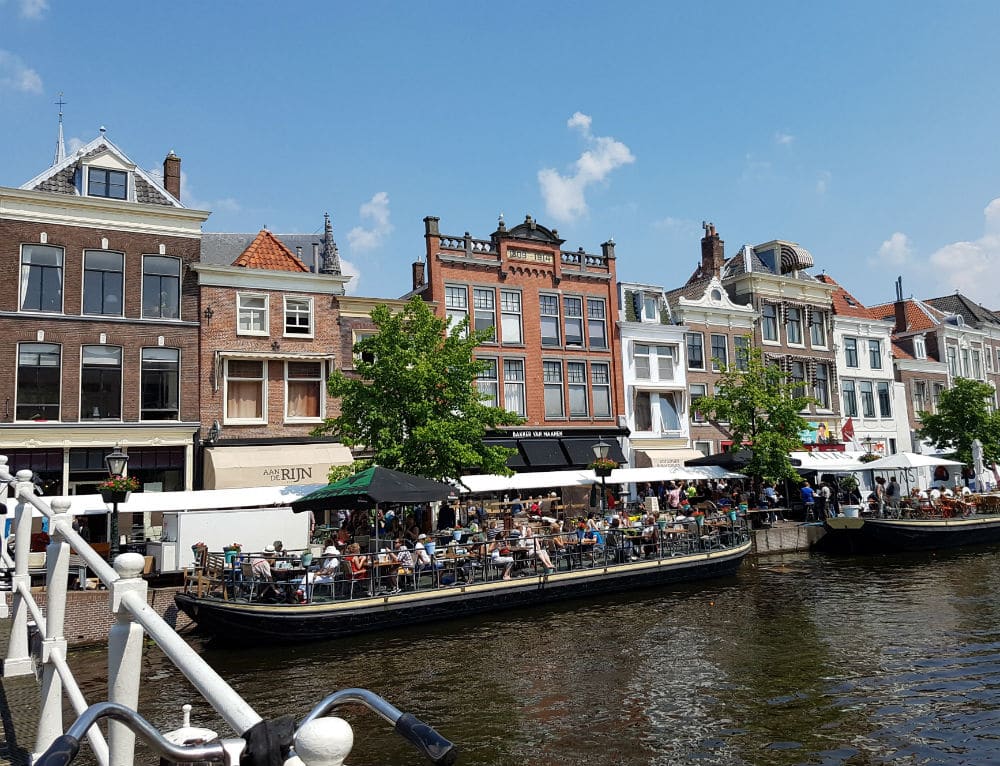 Adress: Nieuwe Rijn 37, 2312 JG Leiden
Website: http://aanderijnleiden.nl/
Great for: celebrations! 'Gezellige' nights out dining, for when you don't know what to eat exactly (because you can select a bunch of things) and sitting down at one of the prettiests spots in Leiden.
Vet Gezond
Open since the April the first (no joke!) and already one of the favorite spots a little bit outside the city center for many folks in Leiden. Located near Leiden Lammenschans the vintage-looking Vet Gezond brings you an excellent selection of both greasy 'Vet' and healthy 'gezond' food and all that for financially-healthy prices as well. All of that makes it a perfect spot to grab some casual diner on a week-day or have a dinner as a student without succombing to a heart-attack when you see the receipt.
They've got the classics there: delicious burgers and spareribs but also a suprising, mean and lean Tom Ka Kai soup. We can especially recommend their 'stampotjes'. An alternative take on the traditional Dutch stew always gets to us DutchReviewers, and their version of it with sweet potato, peas and goats cheese is the best ever.
Besides the vintage decor, great food at decent prices and their delivery services (when you're lazy and want spareribs) there is another reason to pay Vet Gezond a visit: Kevin! Adding the both figurative and literal gravy to your meal, mixing up your salad and soul songs and cooking a damned nice meal this young entrepeneur makes Vet Gezond the perfect sweet and chilling spot!
Adress: Omegaplantsoen 4, 2321 KT Leiden
Website: http://www.vetgezond.com/ (and like that FB-page as well for their sweet deals)
Great for: casual dinner, chilling, lunches, finally something if you're living near Lammenschans, home delivery, sweet potato stampot, Kevin.
Bocconi
In one of the most pitoresque alley's of Leiden is one of the most delicious semi-hidden gems of good food. Having been around for a few years now Bocconi's is now a household name of Leiden. What's on the menu? Just some of the very best Italian food I ever tasted (and that's coming from a guy who ate himself an extra couple of kilo's after a Bologna stint).
What exactly are we talking about?
So what more is there to say about all this tasty Italian food serving place?
Well, first of all, the owners produce everything themselves and they've got an open kitchen so you could see all the magic happening right there. Second, it's all done with biological/organic made food. Third, that's why it's a little expensive at the first look (8 euro for a little piece of Lasagna?!) but also worth it's money after the first bite (OMG! Only 8 euro for this delicious piece of Lasagna)
Address: Burgsteeg 6 (in between the Burcht and the Kornbrug)
Website: http://www.bocconi.nl
Great for: good Italian food when strolling along the Saturday market, fresh pasta, biological food, 'gezellig' as well.
Barzini
Don't go to shady places called 'little Cairo' for your pizza fix. Instead opt for this new and trendy pizzabar at the Morsstraat. Barzini comes packing with fresh ingredients, original but tastefull pizza's and some real italian style. All in all making it a great option for satisfying that pizza hunkering.
The decor is also solid, hip and trendy (although just like many others in this list or recent restaurants it is heavy on the airspace factor). Long story short, Barzini finally looks like a hip pizzabar that's gonna stay and add to the increasingly nicer street that is the Morsstraat.
Address: Morsstraat 26
FB-page: Barzini.leiden
Great for: quick but delicious pizza, night out with friends, cocktails and food.
Brasserie de Engelenbak
If you want to impress your company with an unexpected choice, the Engelenbak is your place. The cook really shows that he knows his flavours and the host can explain which wine you should have to match all of your food sensations and expectations. That's also why it's no coincidence the Dutch culinary magazine Lekker mentioned them in their top-500 restaurants of the Netherlands. The two young owners (aged 25 and 30) are passionate about their food and aim for a well thought out total gastronomic experience for a reasonable price.
Next to one of the biggest and best burgers in town, the menu shows a variety of dishes ranging from French to the American kitchen, all of it heavily supported by local products. The location for a perfect night out could not be better: in the center of Leiden, next to one of the oldest and most famous bars of the city.
Address: Lange Mare 38 (next to the MaPo café)
Website: http://www.deengelenbak.nl/
Great for: really tasty food and good portions for a decent price, eating before a theatre show and go there for lunch as well and have the Club-sandwich. It's a classic and we enjoyed it immensly after filming our first film.
Any other other suggestions on where to eat in Leiden? We'd love to hear! Let us know in the comments!