Everyone who was not living under a rock that didn't have a flat-screen must have noticed how the Orange Machine completely devastated the Spanish team with 1-5 (1-5!!!!!!!!!!!!!!!!!!!). This will only allow the orange-fever to further rise to dangerous and drunkenness levels of orange happenings.
I have ignored the footie world cup preparations for long enough but it seems that no one can be spared from the orange madness – indeed the country is gek van Oranje.

Preparations
Preparations are everything, so let's see…you can buy orange mayo to go with your frietjes that are also given festive little orange boxes. Our one and only Appie has rolled out butter in the shape of a football, of course orange soesjes are making a re-appearance, orange coke, orange beer, orange wine, orange…anything in fact, as long as it can be used for a borreltje.
But actually, it's not quite as overwhelming as in 2010 even I notice that. It seems that the marketing campaign is a easing up a bit, as the Oranje team did not survive the group of death in the European Cup two years ago (But that will totally change since yesterday's epic victory)

Gek van Oranje but hamsters?!
The most important thing is not to forget to collect your orange hamster. If you are lucky, you end up with 23 different types, each even more ridiculous than the other. The whoopies we've had previously for the former Queens' day were kind of fun. They looked cute; you could stick them on your shoulder and walk around with the little creature just for fun. I still have one at home, don't judge me.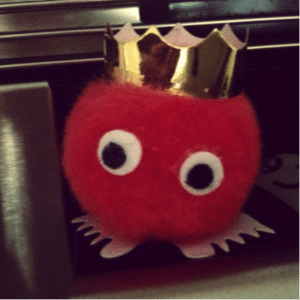 The little orange lions were also ok (yes, I also still have one at home) and at least it's the national symbol of the Netherlands but the hamsters? I mean come on. What on Earth can you do with a pathetic little textile hamster? It looks like you could put it around your ear or hang it around your button even, but it's not fun.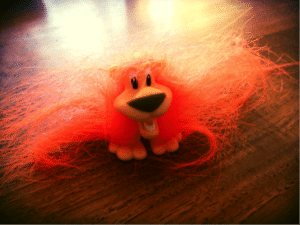 But if you've missed out on the juichpakje that Jumbo was marketing so heavily, you get stuck with a hamster. Or at least until they run out of them. Although, that would be a real let down if Appie ran out of hamsters, where would be the fun in that.
Football or not to football, that is the question.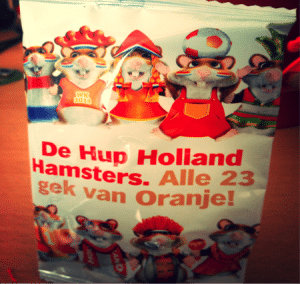 I don't do football really. I'm an ice-hockey fan and a girl, so that says it all. I know some girls do get football and other manly games but I ain't one of them. I can muster enough patience to sit somewhat quietly during the game and after a few biertjes start adding my voice to the mass but I don't really understand it. It's too long a playfield and it's not as fast and exciting as ice-hockey. Punt.
However, even I will be joining in and watching games because there is no escape. At least until the basic round is all done with, as I believe the chances of getting further are dismal.
Being a proud resident of The Netherlands, I support Holland of course (with rolling eyes), although you won't see me walking around with an orange wig or hamsters sticking to me (there have to be some limits, people!).
I've talked to my very Dutch Rotterdammer at home and it's cute to see how everybody's eyes light up with passion and excitement at the prospect of finally winning the cup.  Aside from the crazy and silly yoo-hooing of Geer and Goor on the Dutch television (whose jumping around to silly songs is pure bad taste) it is fascinating to see how the Dutchies are so fond of football.
For a small country it's actually quite impressive to get into the World Cup final 3 times and knowing how the Dutch can party, there's no doubt it would be an amazing carnival if the orange team conquered the cup.
Enjoy the orange madness till it lasts and of course, 'Hup Holland Hup'!