Going from single to family as an expat includes many steps, both official and unofficial, that can take an expat by surprise. In this article I will use my own life to give you a taste of all the challenges, paperwork and adaptations that an expat needs to go through. It is not as hard as it sounds. But it's not a piece of cake either!
The Studies
When I first came to the Netherlands, my goal was to complete my Master's degree within the official given time-frame, with no delays. The fact that I managed to do it has a lot to do with my previous experience of a delayed Master's degree back home. This time I knew how to study, I knew when the job was done and I did not allow supervisors to lead me into guilt trips and extend my studies further than necessary. In fact, I managed to do an internship and still finish on time, which, trust me, is not often the case. If I have any advice to share with people being in their single/student phase right now, that is: Remember that the employer cares more about your work experience than your diploma grade and don't waste your time, trying to make things perfect, while other people grab job opportunities.
About the "single" part of the title: To be completely honest with you, during my two-year studies here, I was not single at all. I had a boyfriend -who is now my husband- from day one. But I was single in the eyes of the Gemeente (municipality), Belastingdienst (tax office) and the like. Keep that in mind. We will come back to it later.
The First Non-DUWO Home
As any of you who have studied here -and especially in TU Delft- know, most international students spend their study years in a DUWO apartment. DUWO is a student housing organization that -in my humble opinion- charges ridiculous fees for tiny spaces. In my case it was more of a box. A space-box, to be exact. I can not complain though. I had my own kitchen and bathroom and all was fine and dandy, until my studies ended and then I realized that I had to find a home on my own.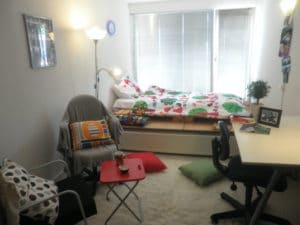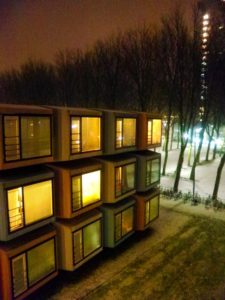 Delft prices make it almost impossible to get a place on your own, especially if you are job hunting (aka unemployed), so I started looking for a housemate. I was really-really lucky, because after viewing an attic with a beam right in the middle -you actually had to jump over it to reach the bed- and attending just one "instemming", I found a great room with a lovely, Korean housemate. It was quiet, it was peaceful, it was calm, it was temporary.
The Job Hunting
Going from single to family requires getting a job, most of the time. Unless you are super rich and can just waste your parents' money, which is awesome, but was not the case for me. After three months of intensive job hunting in the field of architecture, all I could find was internships and I also got one reply that pushed me towards my next step. The mail, coming from an office with a great reputation, stated: "Dear Alexia, your portfolio is very impressive. Unfortunately, there are no job openings available in our office. If you really want to work as an architect, our suggestion is to move to Germany".

"That's not quite what I expected during my studies."
I laughed. Then I cried a little. Then I decided to open my own company and use my other set of skills, namely my writing abilities.
Moving In Together
Since my housing contract was coming to an end, we decided to move in together with my beau, save some rent money but also test if we would kill each other or not. Now, I can not say that we were pleasantly surprised by the prices of "real family apartments". I mean, come on people, if you want to have your own shower and kitchen and live as an adult in Delft, you have to pay at least 800 euros per month. Not nice. Still, we were determined. We found a nice apartment that accepted pets, but had no sunshine at all, and moved it. After all, we could apply for huurtoeslag (rent subsidy), right? Wrong! Once you have a house partner, your income has to be really really really low to get any toeslag at all.
Opening a Company
This subtitle is so deceiving. I never wanted to open a company. I just wanted to work as a freelancer! But, surprise! If you want to work as a freelancer in the Netherlands, essentially you have to open your own company. The positive side is that everyone at the KVK (chamber of commerce) was super helpful, spoke great English and informed the Belastingdienst (tax office) about my company. What they failed to tell me though, was that Belastingdienst staff are not allowed to speak English with clients. Great. This means that -unless you are fluent in Dutch and familiar with the Dutch tax system- you need an accountant. So I got one. Strike two to our budget, after the high rent.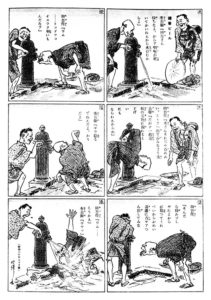 Getting Married
Of course, going from singe to family does not have to include a marriage, but we decided to have a short ceremony at the Gemeente and a civil marriage, mainly so that our parents would be happy and we would not have legal issues back home. Getting married in the Netherlands as expats was really simple and only required a few papers from our home country. So nothing to complain about here really. I highly recommend it.
Bye-Bye Toeslag
Do you know what is not fun when you get married? Any subsidies that you were getting get drastically reduced. And in my case, this "drastically" means that my toeslag was reduced to about 20% of what it was before. Strike three, after the high rent and company expenses. However, my accountant reassured us that we will enjoy great subsidies, regarding daycare, once we have kids. We have a bun in the oven now and hope that he is right.
Conclusion
Stay single. It's cheaper. Or move from Delft to Schiedam, which will cut your living costs down as well. But that is the subject of a future post.