So we've all heard of saving before, maybe even tried it once or twice, but how can we do it better? Something I learned very quickly while renting and living in Amsterdam is the importance of a tight budget, what makes it so important? Well, the cost of living in Amsterdam, of course. 
Knowing the costs. Forgive me if some of my estimates are a bit off, I'm only writing as someone that's lived in Amsterdam for six months.
Don't panic the reality of how costly Amsterdam is, has truly not been lost on me.
8 things you need to know about the cost of living in Amsterdam
Here are 8 things to know about the cost of living in Amsterdam, the octagon of expenses. If you thought you couldn't put a price tag on living in a great city, you've never lived in Amsterdam, or as I like to call it "cleaner Paris". The average cost of renting in Amsterdam, depending on who you ask, is anywhere between €700 to €970 for a room. Having said that, no one would be surprised if the asking price passed the one thousand euro mark.
1
The cost of living in Amsterdam: How much does it cost to rent in Amsterdam?
So you're living in Amsterdam, that's dope and we're all really happy for you. You're in the heart of one of the world's major capital cities, and if you forget, seeing tourists every single day will remind you. Remember to learn Dutch, because among many other reasons having Dutch friends can be a great way of finding a place. Also, be aware of getting overchanged when moving your foreign currency over!
Let's add up your costs for living in Amsterdam. 52 weeks in a year, €900 divided by four is €225. If you're not making €225 every single week then living in Amsterdam will feel like swimming the English channel with Doc Martens on. As of July 2018, the average minimum wage in the Netherlands averaged €1,594.20 per month. A piece of cake, right? You still have a couple of hundred for food and water. Let's say a hundred euros goes on bills, cool. We still have a few hundred left.
You're throwin' money in every direction, naturally, you have a pretty bangin' job right? Or into that sweet 'earn money online' life?
If you have got your BSN, your Dutch bank account and your VOG (certificate of conduct) reported that you're not a complete psycho, get ready to budget. Most jobs in the Netherlands pay monthly, forget the illegal cockfights and trashy bar jobs you worked in your country of origin, your makin' that sweet sweet Amsterdam money now.
So with our backs against the wall how can we fight severe broke-ness. We're just tryna live and work in Amsterdam and occasionally enjoy a beer on the canal, what's money got to do with it? Everything. If you blow your budget on indulgences, your bills will drag you down and that's no joke.
2
The cost of living in Amsterdam: What does it cost to study in Amsterdam?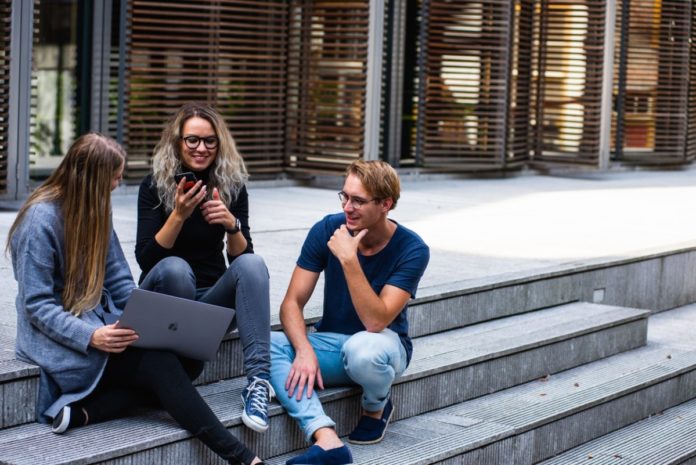 Students, pretending they're happy, as they drown in debt because of the cost of living in Amsterdam.  Image:
Buro Millennial
/Pexels
Well, to put it bluntly, every cent it would cost you to live in Amsterdam and then everything it costs to study. The University of Amsterdam website, for example, states very clearly "Thinking of studying with us? Expect to spend between €900 and €1,500 per month on living expenses, including rent but not tuition fees".
You've decided to study! Great, whether you're a young student or a mature age student, the more educated a society is, the more progressive the society. You've decided to undertake your formal education in Amsterdam, that's dope and we're all really happy for you, but what will being a student in Amsterdam cost?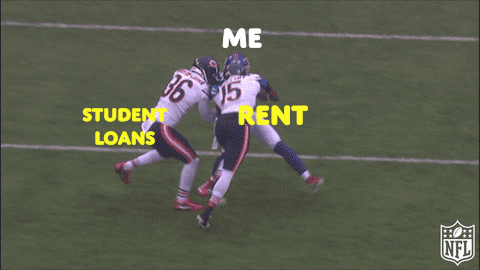 Also, it's worth noting that most scholarship programmes will only accept applications while you are still in your home country.
Costs are pretty much as follows:
visa/residence permit (if not EU national): € 210, one-time fee
accommodation: €900 – €1200 per month
general living expenses: €300 per month
insurance: €105 per month
books: €70 – €100 per semester
public transport (optional): €40 – €100
…and don't forget those utilities!
Can you really put a price on education? Well, someone definitely managed to put a price on education in Amsterdam (have mercy). The best advice is often common sense, plan and pay for everything you possibly can before arriving to study. Also if you're spending a lot for textbooks you'll only need for one year, there are ways to make that money back by selling them. If you don't want to spend this much on books, some universities provide free online textbooks in pdf format.
Even though the costs of being a student seem to be towering over you, there is one cost you must expect. You will be reminded of it well in advance of your start date, proof of funds needed to study in the Netherlands. For an expat, the cost can be up to €5,500 for a selective university (Erasmus). This sum of money is mandatory to ensure the university approves your residence permit.
For more information on studying in Amsterdam, the Dutch government has listed the costs for tuition in 2020.
3
The cost of living in Amsterdam: Examples of how much items cost in Amsterdam
2 tickets to the movies = €23.00
A short visit to a private doctor (15 minutes) = €39
12 toilet rolls = €2.75
1 box of antibiotics (12x pills) = €10-15
Basic meal for 2 at pub + drinks = €47
1 beer in Amsterdam pub (500ml or 1pt.) = €5.50
Cocktail in downtown club = €11
Standard over the counter cold pills = €3.70
If you think these numbers match or don't match up with your experiences, we'd love to hear from you in the comments!
4
The cost of living in Amsterdam: How much do I need to earn to live in Amsterdam?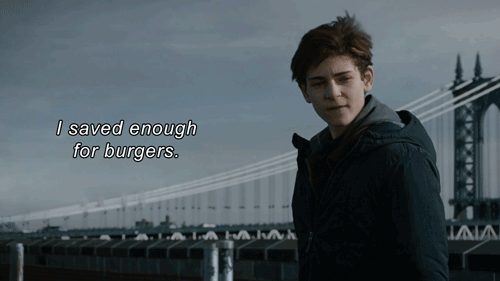 "but have you saved enough for… Amsterdam burgers?"
Keep a long story short? A lot. I mentioned earlier that budgeting is key. The Dutch are exceptional budgeters, here's a guide to saving money in the Netherlands if you don't know where to get started. Starting is the hardest part, once you have a monthly budget in place, it's a great template moving forward.
According to (CPB) Centraal Planbureau, 2019 saw a median gross income for workers in the Netherlands at €36,000 annually (depending on age, profession, and experience). When you register in the Netherlands for the first time, you apply for a BSN. Everyone who starts work provides this BSN to their employer, in some cases you can register at the address of your workplace. The employer uses this to handle the Tax Administration and the pension fund (sounds exhilarating I know). When you visit a general practitioner, hospital or pharmacy you may also be asked for your BSN.
You take the train to work every day, in the Netherlands you can't even get into the station without a minimum of ten euros on your card. Take another 50 off your salary every week and a half. Now you have like a hundred for groceries, if you shop smart you can manage to make that work. At the end of the day where in Amsterdam you choose to live will determine how much you pay. Location, location, location!
(Spoiler: any enthusiasm about paying Amsterdam's bills and taxes is purely sarcastic)
5
The cost of living in Amsterdam: How much do taxes cost in Amsterdam?
The cost of living in Amsterdam is real high. Marco Verch/Flickr
The taxman is like that friend that calls, then you see that it's them calling and your stomach sinks because you just know they're going to ask for something. Here's the thing, the taxman doesn't ask for favors, he asks for cold hard cash (in fact they don't even accept cash! Direct debit is the only way you can get them off your back).
Commonly taxes are for things you use but don't expect to pay money for, you ever take out the garbage? You've done enough right? WRONG. The disposal of that trash and the people that collect that trash cost real-life money. You a big fan of water? Getting a drink? How about staying warm? Yeah, that's what we thought, that's money right there.
Your rent is due on the first or the fifth, (imagine all that caviar you could have bought) I wonder what it's going to be this time (hint: still dripping with expenses). Your rent your first priority, it will pretty much keep your stress level at a solid 9 out of 10. You don't have time to spend on anything else, indulgences can hurt the bottom line. That "must-have" coffee table or shag rug your flatmate wanted? Have the power to say no to extra expenses. Tell them to thrift the rug and suggest they build their table out of spare parts.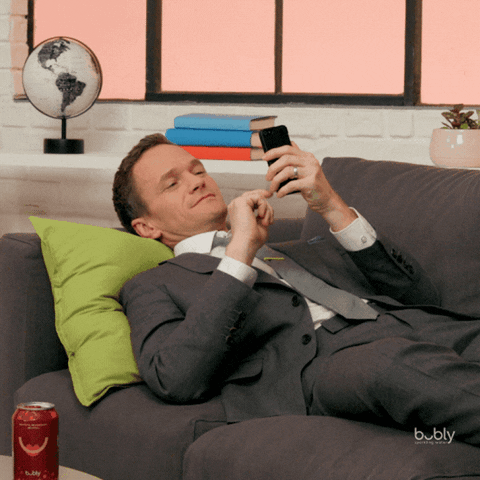 The cost of living in Amsterdam: Waste collection tax in 2020
So if you want to make sure you're not being played like a sucker when tax time comes (hint: that time is now) then you'll want to check out our guide to taxation in the Netherlands. While renting tenants and owner-occupiers must pay an annual waste collection tax:
€276 for single-person households.
€368 for multi-person households (two or more people, including babies and children).
Your waste collection charge will be listed on your combined tax assessment (Gecombineerde aanslag) along with other municipal taxes you must pay.
What sort of taxation system would the Netherlands have if it didn't include severe consequences? If you miss a payment and just don't bother, the municipality of Amsterdam states on their website they "will be forced to take the following steps":
A reminder notice. Read it! You then have seven days to pay. Please note: you will not receive a reminder notice for parking fines (naheffingsaanslagen parkeerbelasting). You're just expected to remember.
If you fail to make payment after the first reminder you will receive a second reminder (aanmaning). This second reminder will cost you between €7 and €15 extra. You must pay your bill within two weeks. Two weeks of thinking about it, (woo! Gosh so fun). 
If you still do not pay after the second reminder, you will receive a liability order (dwangbevel) ordering you to pay within two days. Depending on the amount of tax you owe, the extra costs for a liability order can range from €40 to several thousand euro.
Eventually, you will receive a final warning known as a 'notice of intent to garnish wages' (vooraankondiging loonvordering). You must pay immediately.
It's worth knowing that if you're simply renting a room in a shared house, you will not receive a municipal tax assessment. Instead, the assessment will be sent to your landlord, who may add the fees to your rent.
6
The cost of living in Amsterdam: What does health insurance cost in Amsterdam?
Another thing, you like staying healthy, right? Got 105 euros (minimum) lying around? Don't worry it's for a good cause, Dutch health insurance. If you start working and "forget" to sign up to an insurance provider, you will eventually get pinched. Health insurers have the longest memories, so even if nothing has happened to damage your health for the last three months of work?

"That's a really cool story bro but you still owe us money"
The health insurers will ask for payment for every month since you first started your job or paid traineeship in the Netherlands. Health insurance is private in the Netherlands and Amsterdam is no exception, so choose your provider very carefully and it will save you money.
7
The cost of living in Amsterdam: What is the cost of public transport in Amsterdam?
Public transport in Amsterdam is quite expensive, depending on how you use it. If you're living in Amsterdam the most it will cost you is up to €70 – 100 per month. The 40% discount travel card can be purchased for €52 a year and charges you significantly less on "off-peak hours" (9 am to 4 pm then after 6 pm).
The cheapest and easiest way to travel around Amsterdam is by bicycle. When I first arrived in the Netherlands it appeared as though the Dutch had just discovered cycling and were going absolutely nuts over it. Bike paths are fast because they are for bikes and scooters only and usually run without many stops. Prices of second-hand bikes vary from €80 to €200. A decent lock costs approximately €50, the most common crime in the Netherlands is bike theft (would have never guessed).
8
The cost of living in Amsterdam: What does it cost to own a car in Amsterdam?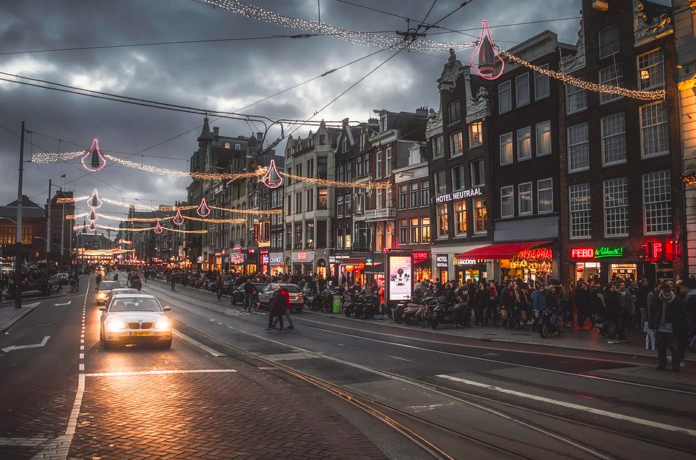 Having a car in Amsterdam can quickly get very expensive. Image:
12019
/Pixabay
Buying the car, in most parts of the world is considered the expensive part of having one. In the Netherlands owning the car and taking care of it can be just as costly over time. Parking fines also rose in 2019, in April to be exact.
It's all relative: you'll pay more for parking in the city centre than you would in the outer suburbs. In case you want to be really specific with how much it costs to own a car in the Netherlands, you can compare parking prices based on location.
Some taxes and additional costs are associated with owning a car, inside or outside Amsterdam, here's our guide on everything you need to know.
When tackling the cost of living in Amsterdam remember…
In conclusion, the cost of living in Amsterdam depends entirely on where you live and the lifestyle you lead. It's only when everything is rounded off and paid for that you think to yourself, "if only I didn't live ten minutes from the city center, I'd be able to afford a social life, friends, normal people activities".
Also, like any normal person, if you're living in Amsterdam and a friend offers you something as a gesture of kindness, take it. In my experience worrying gets you nowhere, occasionally a friend might offer to make pasta or something simple, like a beer or something and for a while, it would ease the restless mind.
What's your opinion on how much Amsterdam costs in 2020? Were you surprised by the price of anything? Let us know in the comments below. 
Editor's Note: This article was originally published on 1 February 2019, but was updated for your reading pleasure on 29 January 2020. 
Feature Image: Chronomarchie/Pixabay.