A mild wind, some sunshine now and then and in the past few days I haven't been drenched by rain while biking. That could only mean one thing: the Dutch summer is finally here! Of course there are a few traditions among the Dutch folk to pass the summertime: complaining about the weather, BBQ-ing with sate-sauce and 'speklappen' and a somewhat new addition is visiting dance festivals.
Let's take a step back from the obvious and mainstream ones and look at some gems out there in the Dutch festival scene. Oh, and don't be a sucker – tickets for the good ones always sell out pretty quickly and they only get more expensive! First up is:
Expedition Festival (16 July, Rotterdam)
Before there was the Markthal, 'De Rotterdam' or any other new fashioned Rotterdam trademark building there was the Euromast. And the Expedition Festival will be hosted right near this old icon of Rotterdam this coming Saturday!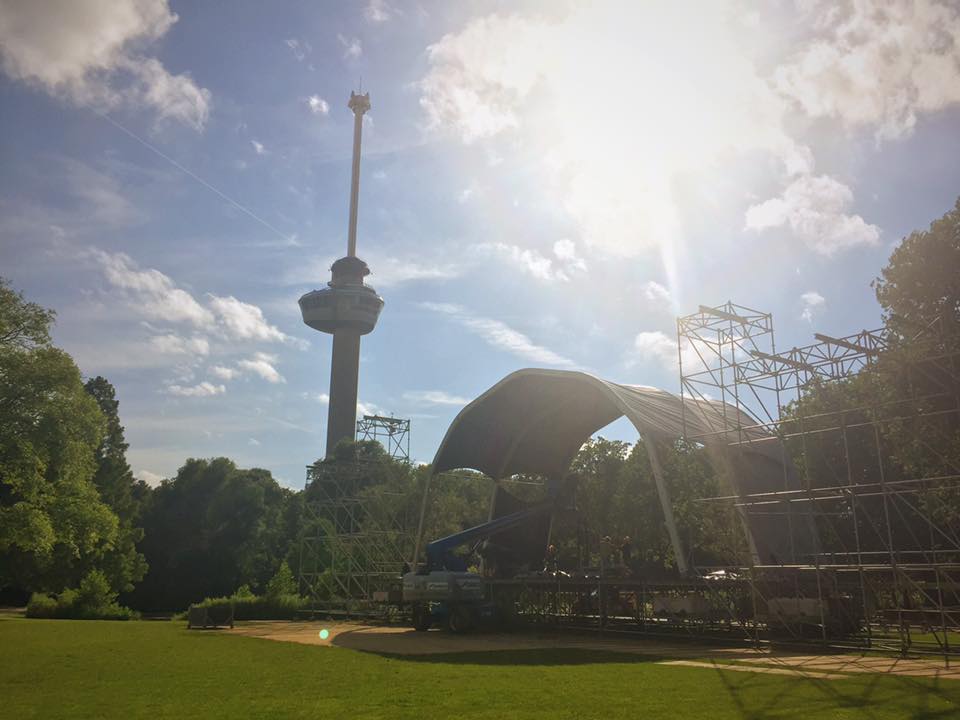 There will be a stronger focus on live artists who will perform on various stages hosted by local concert venues and organisations.
Do you need any more reasons to show up this Saturday in Rotterdam? (you know, besides good weather in Holland). The line-up alone is a perfect excuse to come out. There's something for everyone.
Among others Rotterdam's Annabel and The Hague's PIP have teamed up to bring a rich and versatile line-up to the party Saturday. It's not only dance as well; there's Reggae legend 'Lee Scratch Perry & Mad Professor' who have been in the game longer than Bob Marley. Róisín Murphy, The former lead singer of the popular group Moloko. And there's Disco-pioneer Giorgio Moroder making a performance!
The absolute highlight for me, as a Dutch speaker, is the performance of Rico & Sticks. These two kings of Dutch hip-hop, from Zwolle, rarely performed in the last decade so it's a real treat for me to see these guys again!
Location: Euromastpark, Rotterdam – from 1pm to 11pm
Costs? €: 36
Puur Festival (30th of July, near Leiden)
Next up is the Puur Festival located next to jolly old 'Leiden. The first edition was a grand slam success in 2014. The 2015 one literally fell into the water when a summerstorm blew all the preparations away. That surely can't happen twice-in-a-row so I'm gonna make a safe bet and say this edition will be basked in sun and pleasure like the 2014 edition:
So for everyone whose afraid of large crowds and searching for a festival with an intimate vibe this might just be the one. The line-up really does have something for every type. With names as Chris Stussy and Joost Vetter covering the dance-loving-crowd and Dutch party classics such as Barry Badpak and Def Rhymz, that dreamy festival feeling is a guarantee.
So head on up to Leiden! The actual location is at the Klinkenbergenplas, a few minutes from Leiden central by 'fiets'.
Location: Klinkenbergenplas, Oegstgeest/Leiden, 12 till 23.00
Costs? €: 29,90
Psy Fi (24 – 28 August, Leeuwarden)
And now for something completely different. The Psy Fi festival! Up in the Northern part of the Netherlands, for 4 days straight, this Psychedelic Music and Arts Festival will take place. And you know it will be really different if the motto 'Come explore the Holographic Universe with us!' So what can you expect?
[embedyt] http://www.youtube.com/watch?v=ZKtFB_2kaaI[/embedyt]To be honest, I didn't know any of their headliners (but heard from people who know better that it's wicked). However, it makes up for it (if it even has too) in the genres they've got going on there. Names such as Trenchtown, Sacred Island and the Chill-out area speak to the imagination. Let me present some evidence on the awesomeness of these locations:
Nice huh? And all of it up north away from the Randstad!
In some way it is a good thing the Psy-fi festival deviates from the regular festival. By sheer volume and mass attendance a lot of other festivals now look alike. With more or less the same hipster crowd showing up everywhere. The Psy-Fi promises something different, and it of course promises complete freedom, hippie-happiness and room to experiment with whatever you fancy experimenting with. The original setting and theme also makes for a nice international crowd, something every DutchReview reader can appreciate!
All in all very interesting and a must-visit at least once!
Location: De Groene Ster, Groningerstraatweg, Leeuwarden
Costs? €:120 (for four days of Psy-fi)
And last but not least:
The Neighbours Festival (27th of August)
Apparently we love Leiden so much that we decided to go-ahead and just take up another entry near that town (whoever said there's nothing to do over there huh?!) This time it's a party at the end of August, based on our Dutch summer experience that's the best chance for nostalgic sunshiney weather. So what has the Neighbours festival got to offer? There's a beach:
And of course there's a lot to offer on the deephouse/techno/dance-front. Let's take a closer look at what's on the menu. First off – the DJ-duo 'The Tailors'
[embedyt] http://www.youtube.com/watch?v=jbxr0b_hwu8[/embedyt]
And if that won't get you in the mood, then LarryKoek (for the Dutchspeakers, I know, nice play there) definitely will get those summervibes going:
[embedyt] http://www.youtube.com/watch?v=BHzJyT7oF6I[/embedyt]
Another good thing is that the festival ticket only costs 17 euro's, something which might come in handy at the end of an expensive summer!
Location: Klinkenbergenplas (you should know this one by now 😉 , Oegstgeest/Leiden, 13 till 23.00
Costs? €:17