Hi there Frenchies,
Miss me much? Well, whatever the answer was: the feeling is mutual. I've talked to you before and then again the very day after, and damned if anyone saw the third installment in this one-way correspondence coming, but here it is: The Final Open Letter to L'homophobiacs (I hope…)! Because this day, dear Frenchies, you made the least toughest of all tough decisions: whether or not to give equal rights to people who swing the other way. On this faithful day and despite rampant protests, France is officially on its way to become the 14th country on this planet to legalize gay-marriage, as French lawmakers in the National Assembly approved the marriage bill with a 331-225 vote. Congratulations, France! Big up yourself for almost flushing all Enlightenment ideals of egalitarianism down the toilet. But of course the resistance isn't go to take this on a whim, so brace yourself to see a lot more of this shit right here the coming days: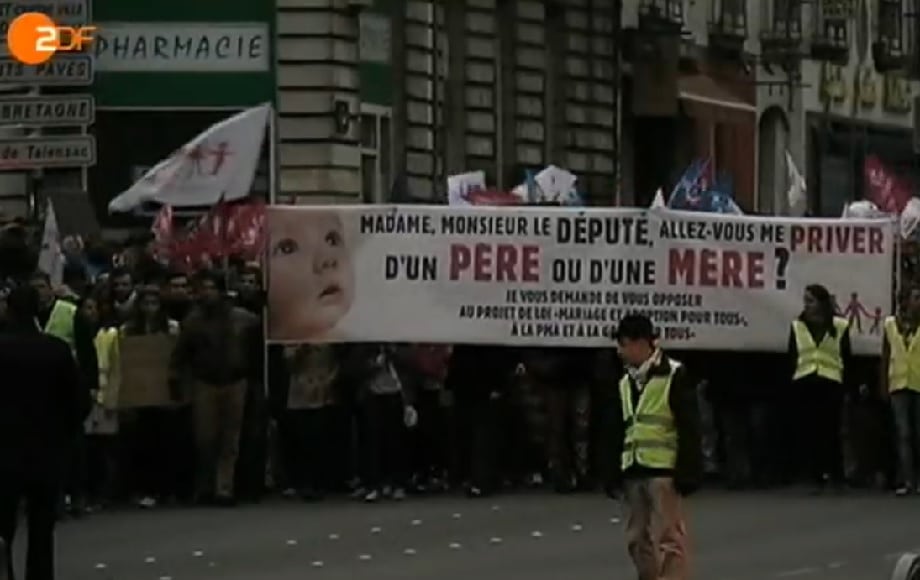 Hey, France, remember when I raved about how awesome it is to be bilingual? Well, here's a fun experience: watch a German news report about the protests, read the above posted sign in French, then curse to yourself in your native Dutch for living on the same planet as these people and immediately think about how the write an English column about it. But enough about my Babelonian schizophrenia. Unless my knowledge of the French language betrays me, the sign reads: "Mister and misses representatives of congress, are you going to take a mother or a father away from me?" Nice double standards there, France, seeing how it's possible for single parents to adopt children and no one cares about that. In my previous messages, I rejected this insincere concern over children as the last resort of secular homophobiacs who want to fight gay marriage, but can no longer afford to hide behind a religious creed. It is the desperate attempt of a movement that is best described as a negative copy of the civil rights movements in the US in the second half of the 20th century: a hive mind of anti-egalitarianism. It's quite rare these days to see flocks of people marching against the stream of equal rights, and at least we can be glad to see their attempts fail. These anti gay-marriage marches are the last twitches of a system of thought that has no more place and use in this world; like toenails that continue to grow after the body has already died.
So let's all raise a glass of Dom Pérignon or Cabernet sauvignon to another battle lost in a war that never should have existed in the first place: a war against equal rights for homosexuals. Santé!
Yours Truly,
-Frank Kool