Dutch is not an easy language to learn, and even though we Dutchies have a reputation for being excellent English speakers, there are a lot of expats here who want to learn how to understand and speak Dutch like a true local.
So how best to do this? Even though there are many resources available, from books to CD's to on-line courses, the best way to learn a language is by immersion: real-life practice. This is where InDutch offers its unique approach: Learning Dutch on the go!
Learning a new language the way it's supposed to
When it comes to learning a new language, nothing beats conversations with natives in their everyday habitat. That's why sessions with InDutch tutors always begin (and often end) in a bar. Clients are free to decide what they want to work on. Whether it's basic conversation, documents from work, grammar rules, formal telephone calls, or just chit-chat about last weekend: the strategy of InDutch allows you to focus your time and energy where it is needed. That's why these sessions are always suited to the needs of the student, you set your goal, flexible time and location. There are also city tours, or even visits to marketplaces or a museum, Skype or even sessions at home where children can learn the language in a trusted environment. Want to learn Dutch together with your co-workers? Look into the special InCompany offers. And if you're planning a trip to The Netherlands, hire a tutor for a welcome tour to show you all the hot-spots while you learn the 'Magic phrases' that will help you blend into this society.
Check out the full range of InDutch language sessions here.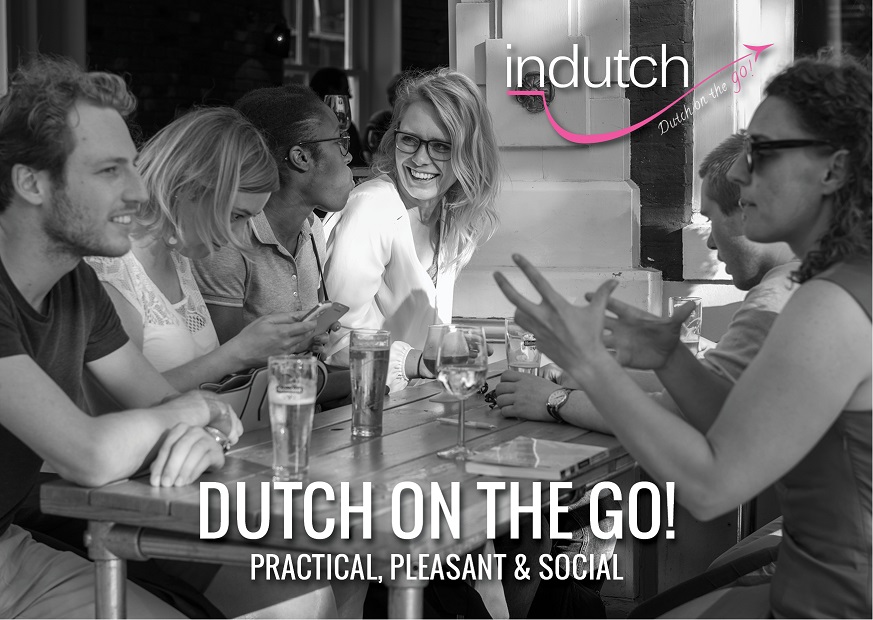 Absolute beginners and other languages
Are you completely new to the Dutch language and a bit nervous about getting hands-on practice with a tutor? No worries, there is a special Skype package for absolute beginners. In fact, no matter where you stand on the balance between "absolute beginner" and "fluent", the tutors of InDutch are trained at pin-pointing the limits of your Dutchness, allowing them to efficiently one-up your skills. It's the InDutch principle of maatwerk: "Learn what's relevant for you!"
InDutch not only helps people to improve their Dutch, but can also assist those who want to learn English, Italian, Spanish, Portuguese, or Estonian. The company is now spreading its wings and can even be found in Rio de Janeiro, Shenzhen, and coming soon to many other cities across the globe.
Get started today
Although one can't exist without the other: practice beats theory when it comes to mastering a new language. So if you're looking for an effective and enjoyable way to do this, go to the InDutch website now and find a suitable tutor (80 tutors in 25 cities now) in your neighborhood. Feel free to test out the water with a trial session for just € 20,- (real-life meeting or Skype conversation) and double the fun with the Bring a Friend sessions.
Veel succes en tot snel!
P.S.: If InDutch is not for you, we kindly redirect you to the ambassador of Dutch language, Louis van Gaal.