In recent weeks foreign representatives in the |Hague have been the subject of much controversy. From unpaid parking fines to Borodin-gate, diplomats are publicly under attack in the Netherlands. The underlying reason for this criticism is the diplomatic immunity that the representatives enjoy. This question of immunity has become a hot topic in Dutch society. A lot of Dutch people wonder why these diplomats have this immunity and effectively 'stand above the law'. Unfortunately, they are failing to understand the importance of diplomatic immunity. They have the mentality that no one person should be above the law, including diplomats, leading to a general dislike of the foreign representatives in The Hague.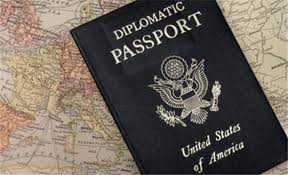 We haven't had any problems with American diplomats yet, but with the NSA looking over everyone's shoulder, who knows?
Egalitarian Society
The Netherlands, being a country founded on Calvinistic principles, has a strong tradition of striving for an equal society. No one is more important than anyone else. Fluitsma & van Tijn explain this idealized egalitarian society wonderfully in their song "15 Miljoen Mensen", in which several lines refer to this sense of equality (No uniform is holy, a son calling his dad Piet (…) No CEO is really in charge). As a result of this idealized egalitarian society the Dutch see themselves as equal to everybody else. Rich or poor, black or white, male or female, gay or straight, everybody is our equal. Hell, we even consider King Willem-Alexander to be our equal. Because of this egalitarian ideal, the Dutch feel that in the eyes of the law everybody should be treated the same. Within Dutch society there is a widely and strongly held belief that no one stands above the law (not even the King himself). This strong conviction does not mix well with the idea of diplomatic immunity

Forget the Wilhelmus, this is the real Dutch anthem.
Standing above the law
The idea of diplomatic immunity makes the Dutch people's hackles rise and results in situations in which news reporters chase down diplomats who avoid paying their parking fines (see video) and culminates in the Minister of Foreign Affairs who, through gritted teeth, apologizes for violating diplomatic immunity and thus international law. The Dutch feel that since these diplomats function within Dutch society they should be held accountable to the Dutch legal system, because "we are all equal and should be treated as such". When diplomats 'break' our laws and are not tried in our legal system, we feel they stand above the law. In a society where everybody should be treated equally, these diplomats who 'break' the law and 'stand above the law' are generally disliked and not well appreciated.

If I were driving a Mercedes I wouldn't pay my fines either.
Standing outside the law
However, what the Dutch are failing to understand is that diplomatic immunity does not mean diplomats stand above the law, it means they stand outside the law. Although this might seem to be a difference in semantics, the actual difference is that standing outside the law means there is no legal system of the host country for the diplomat and there is thus no legal system to stand above. To put it simply; there are no laws of the host country to break for diplomats, because the diplomat is not a part of the legal system. The reason for this diplomatic immunity is so that diplomats can carry out their responsibilities without any hindrances, such as a legal system in the host country. Although this might seem a little unnecessary in Western countries, it is indispensable in countries with a less than functioning or fair legal system. It is also in the interest of Dutch diplomats in countries where diplomatic immunity is necessary to carry out their jobs, because of strange laws or a corrupted legal system. If the Dutch expect their diplomats to do their jobs unimpeded (like not getting beaten up by Russian extremists), we also need to respect the work and immunity of the foreign representatives working in The Hague.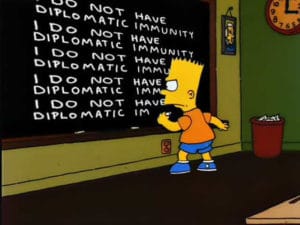 I always expected Bart to do have diplomatic immunity
Be nice to diplomats
Unfortunately, a lot of Dutch people cannot see past the idea that diplomats 'stand above the law' and they cannot seem to understand the necessity for diplomatic immunity. This has instigated some sort of witch hunt on diplomats in The Hague. The sad fact is, this general dislike of the foreign representatives is cause for much distress within the diplomatic community. Diplomats generally promote a more peaceful world and better understanding of different countries after all. The Netherlands, being a globally-minded country and heavily dependent on other countries, economically and politically, should be warm-hearted towards diplomats, not distrustful.