We all know that the Dutch have mastered the Seas for centuries, from the pioneering Dutch East India Company, the VOC (also the first multinational corporation and largest company in the world between 1602 and 1800) to the epic navy battles against the British Navy off the coast of Scheveningen. The myth of 'the Flying Dutchman', hero of the Dutch sea-faring, is thought to be the legendary captain Barend Fokke, once the fastest guy on the seas (or more exactly between Batavia and the Netherlands, off course with the help of the Devil!). To me, the real, 'literally' Flying Dutchman that put the Netherlands on the radar of nations that gave birth to aviation is Mr. Anthony Fokker, and not just by having a building in Schiphol airport named after him.
Born in East Java in 1890, young Anthony is sent to Germany in 1910 to study automobile mechanics; showing more interest for flying machines that bulky cars, he build his first aircraft at the tender age of twenty, 'De Spin' (The Spider). When WWI broke out in Europe, the factory where Fokker worked at the time is taken over by the German army and assigned to support the war effort. Here, Fokker co-develops various fighter planes designed to feed the war machine. This will prove to be the first step on the path to become one of the largest aircraft manufacturers of the first half of the twentieth century. While the French and Germans have been seeking ways to arm their planes for years, Fokker puts the final touch to the synchronized interrupter (allowing the plan to shoot an automatic weapon between the blades of the propeller without tearing it to pieces) and finally gets it right. Although his contribution remains disputed, this invention sets the tone of air force's role in wars for the rest of the century.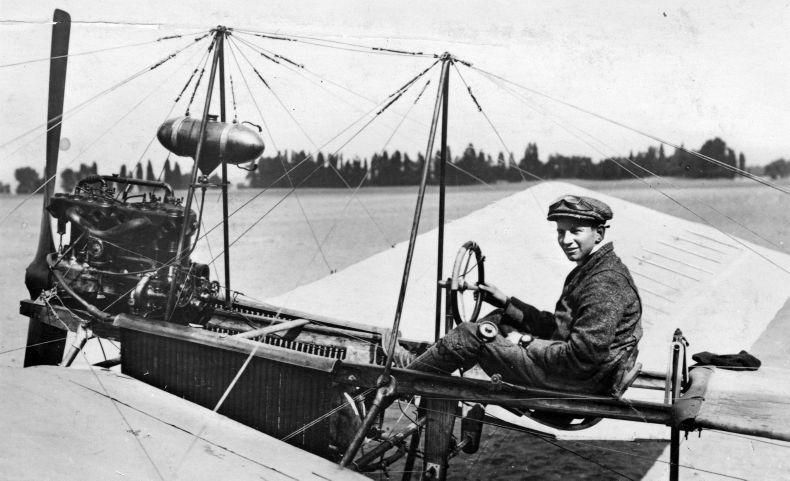 Pioneers at sea, pioneers in the sky
I prefer to look at the Dutch contribution to aeronautics in more peaceful purposes, particularly its pioneer role in commercial aviation, still visible these days for those flying between Amsterdam and the rest of the continent. After WWI, Fokker came back to the Netherlands, founded his aircraft company in 1919 and developed among others the F.VII, the first genuine passenger airliner ten years before the famous DC-3 Dakota. Dutch boldness and entrepreneurial spirit is the perfect cocktail to make the best use of this new concept: Albert Plesman's KLM Royal Dutch Airlines (another Dutch guy with his name on streets and buildings, by the way) had only existed for five years when it started to fly F.VIIs between Amsterdam and Batavia, which remained the longest scheduled flight ever operated until WWII. Today, KLM is the oldest airline still operating under its original name, a global marker of Dutch-ness that was thankfully not swallowed by the French like Napoleon did before.
In the mid-50's, the lowlands once again put up ground-breaking designs: the Fokker 27 replaces and modernises the DC-3, and is still commercially flying today (the modernised Fokker 50) and in 1967, the Fokker 28 sets the standard for short haul modern Regional Jet aircrafts. What's next? Well, TU Delft's Dr. Torenbeek just received the Aircraft Design Award 2013, which tells me that the Dutch are not yet done with reinventing flying…
Small country, big hub
The cherry on the cake is the experience visitors have when flying via Amsterdam Schiphol Airport. The Netherlands is a small country which always took pride in building things bigger and better (it sounds like a Discovery Channel documentary), either for business of by necessity: gigantic sea barriers along the coast, harbours that have always been some the largest on the globe (Amsterdam in the 17th Century and Rotterdam, still today ) and an airport so big that is basically serves the entire country. A few years ago friends asked me where to fly to when visiting me in South Holland, I suggested "go to Amsterdam and we can figure it out from there". Schiphol is 4th largest airport in Europe and 14th globally, serving the largest worldwide hub for the flower trade and to make it simple, it is among the handful of airports with six runways: a strange choice in a country with so little room to spare. Schiphol handles more than 50 million passengers each year, that's three times the local population of 17 million cheese-eaters. Last year, it was voted 3rd best airport worldwide by air travelers themselves. To me it is a sign that more and more people around the globe have acknowledged that the Dutch Gezelligheid is also "in the air"…