In the first part of this post, I talked about my experience finding work in the Netherlands by handing out resumes. In this part, I am going to discuss trying to get jobs in Amsterdam at the typical backpacker places; pubs and hostels.
As I stated in the last article; to put this into perspective, I am 26 and studied economics and HR, worked for five years in various customer service roles, and worked for two years in property and projects. I am a native english speaker and I can speak intermediate french and basic dutch.
Bars and hostels
First of all, it seems like a great idea to try and get jobs in Amsterdam in bars and hostels. Finding work in the Netherlands can be tough if you don't speak Dutch, and bars and hostels are one of the few places that wouldn't need Dutch. Plus, if we are all being honest, working at a bar or hostel seems like one big party. From friends who have worked at bars and hostels, they agree with this. However, the downside is that there a lot of other people in the same boat.
To try and get work in the Netherlands in bars and hostels, I used several methods.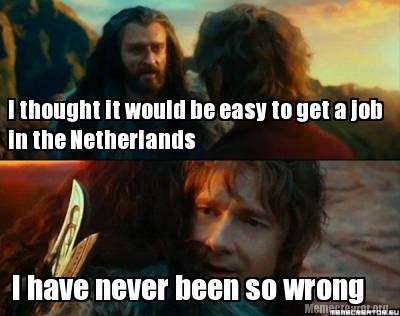 Handing out resumes
Much like in the previous article, I found out the names and addresses of all the bars and hostels in Amsterdam. For hostels, I found this information was easy to find using hostelworld and similar sites. I also did a search online for all the tourist bars in Amsterdam and found out their address. I then spent a few days visiting each and every one of these hostels and bars, and handing in a CV.
The one thing I really learnt from this, is that the time of the year has a huge impact finding work in the Netherlands. When I searched for work in the Netherlands, it was during the months of November and December. Many hostels and bars said that these were their quiet months, and that hours for existing staff were being cut. A lot of places said that they would not be hiring until the next summer months!
This idea of arriving of finding work in the Netherlands during summer is very common! These are the peak tourist months, and most people I meet tell me that during summer that it is extremely busy and you can find a job in Amsterdam within a day. Whether or not it is this easy, I can't say. But I can definitely recommend that if you are planning to move to and find work in the Netherlands, try and plan your move for summer. From what I have gathered there are a lot more jobs to be found, and once you find a job in summer you can work hard and then hold onto that job for the quiet winter months. However, if you are like me and you have already arrived, then this advice is about as helpful as a punctured lifejacket.
Emailing bars and hostels directly
Following on from handing in resumes, I decided to follow up by emailing bars and hostels directly. My theory was that the people working on the front desk are employees, and are unlikely to want someone else to start working there. My hope was that I might reach someone more senior, or at least get a copy of my CV into the system. To do this I took the list of bars and hostels in Amsterdam and looked up their email address. This took about a day or so to find all this information. I then went through and sent an individual email to each of the places, with a cover letter in the email giving an introduction to myself and my experience.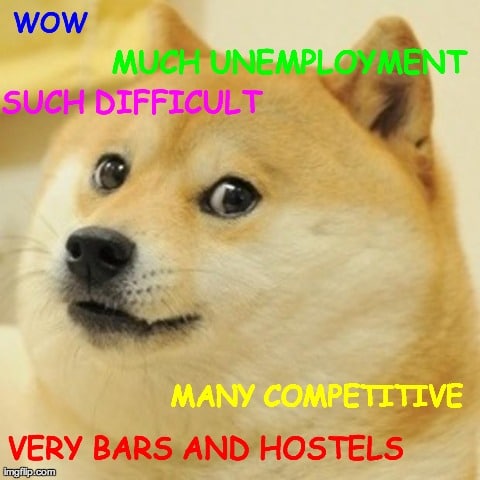 To cut a long story short, I have only heard back from one hostel. They offered me an unpaid position to start with in exchange for accommodation. Personally, I think this is a great idea for people who have just arrived in the Netherlands and aren't renting already. However, this was not an option for me as I was already renting a place. I have heard of people who started off doing this and then got a paid position with the hostel!
I came to realise that applying for hostel and bar jobs is incredibly competitive. Most travellers are trying the same thing, so it ends up being a bottleneck situation.
Overall, I think it is more possible to find work by targeting bars and hostels directly. However, it definitely depends on the time of year. If you want to target hostels and bars I recommend sending them an email with a dedicated cover letter first, and then following this up by visiting in person and bringing a paper copy of your CV. It is more effective if you start with an email and follow up in person.
Many thanks for reading! Please share the article if you agree, and check in tomorrow for the final article of the trilogy; Agencies!