Of trains and men…
If you – like me – commute to work by train, you probably notice an article on the train topic fairly immediately. You're not a rare breed. Trains have an important role in our commuter's life, one relies on them, or not…you know what I mean. It has been pointed out to me that complaining about trains is like stating the weather is bad, meaning everybody knows it and it's stating the obvious cliché. I must vehemently disagree as it's silly to complain about weather, given that it cannot be changed or controlled, trains on the other hand…well, just saying.
In the life of a train commuter, there are three types of days.
Bad train days when you debate your sanity for stubbornly sticking with the train. I recover from them by designating my meditations to restore my NS impacted inner balance back to 'out of anger, in with love'.
Business as usual days when one part of your journey seems ok but you know your luck is short-lived – this I have tested with excellent certainty results. Best remedy for these is to try and keep Monty Python's bright spirit on your mind, as much as it's hard sometimes.
And the rare days when the trains are on time the whole day, you get to sit, read your book or ponder and feel like you're being taken to Disneyland. Out of proportion happy and excited. I can of course decide to commute by car, in which case the topic of trains, or the lack of them, would cease its importance and would be replaced by being drawn to everything written about the situation on the roads, the congestions, the hours wasted in the 'file'.. Anyways, as I was saying, as a train commuter I could not have of course missed an interesting article in NRC just before Christmas, which did a good job of managing my expectations in the then upcoming year 2016 and the train situation.
I know your interest is peaked now but bear with, NRC from before Christmas was enlightening me that the trains would take the course for worse this year and the reasons are two-fold.

One, there aren't enough trains. And two, the ones left are of the wrong type. On the first one, it is entirely possible that a bunch of trains reach the end of their shelf life all at the same time as you'd have likely bought them at the same time at a bulk discount. Good procurement. It is hard to judge how it happened that there is a gap of half a year in between until the trains can be replaced with new ones..a stubborn image of Buurman & Buurman keeps popping on my mind..uninvited.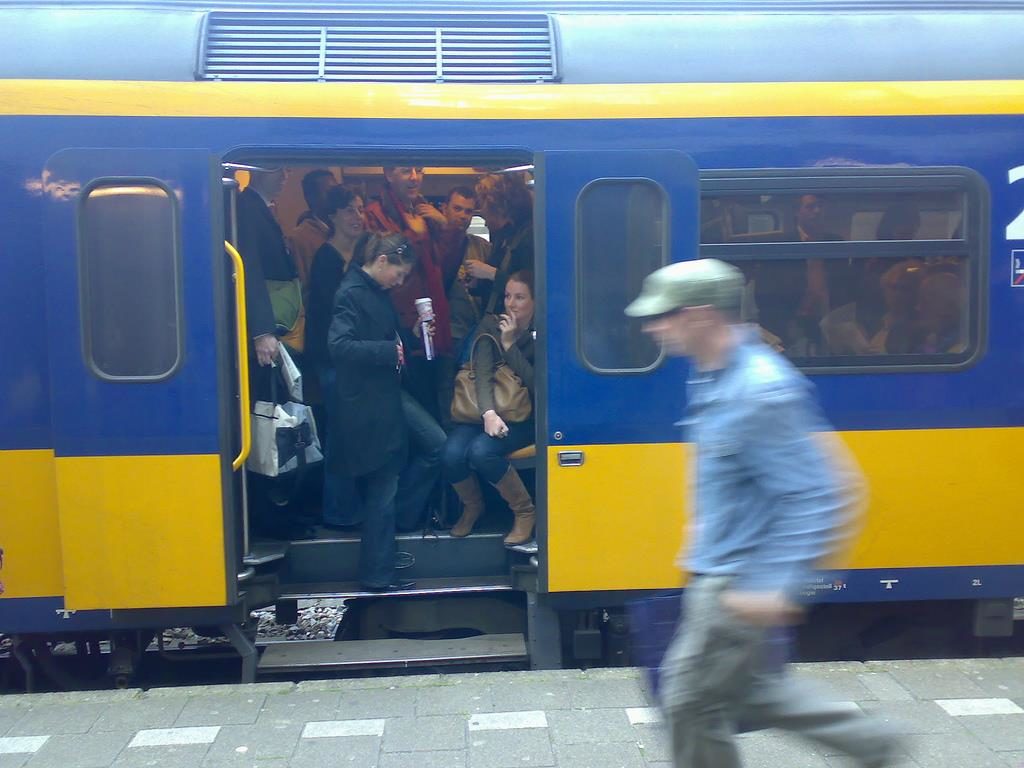 I feel that second reason is closely linked to the first one, when an 'aha' moment must have at some point entered the scene and was quickly resolved by deciding to service the customers with the remaining trains in the intermediate period. Panic station over, until the moment of realization that the rest of the trains are too long for the platforms, so cannot be used. In other words, a tiny, yet significant detail, was overlooked somewhere during a planning exercise.
The result? Well, more of your bad train days, spiced up by even more overcrowded trains than is the norm we are used to. In real life it translates into practicing a new form of sport where you stand on one foot that isn't even yours, counting sheep to the next station.
However, don't despair, you're not alone, we're a bunch of us. If anything when trains return from high occurrence of bad train days to a higher frequency of business as usual days, you will start enjoying the Disneyland syndrome more often. Unless of course leaves decide to start falling on the tracks being it September and all or something else decides to impact the planning. It's all very complex.
One way or another, I find lack of information often more frustrating that the situation itself. So if you have one of those bad train days, losing the will to live, I just wanted to share what some of the reasons behind may be…as sharing is caring.
Safe travels!