As we say in our crazy little country: Het hek is van de dam, which can mean either: "Here we go!", or: "The @#$% has hit the fan!", depending on how crazy you are about what is about to begin. And this is exactly a matter of debate: should we be happy about the first Dutch experimentation with basisinkomen?
For those who don't know, basisinkomen (basic income) sounds like a utopian dream: a life-long supply of social security without any commitment. So yeah, it's basically money for nothing.
(Government officials have not yet specified if free chicks are part of the deal).
As you would expect, this idea is very much a matter of debate, with very strong-minded lovers and haters. So what are the pros and cons?
PRO #1) This will allow for people to fulfill a different role in society
Times are changing, and so is our life-style. The Netherlands is a leading example in the ongoing change in attitudes about work-ethos. Today, a record number of people in The Netherlands are working part-time, which some thinkers have linked to the fact that we are also among the happiest people on the planet. Allowing people to draw their own line between their professional and private life will arguably make them more social, content, and fulfilled people.
CON #1) Won't half the population quit their job overnight?
You've heard it a dozen times before, right? "If I win the lottery tomorrow, first thing I'll do is quit my job!" Heck, you've probably said or at least thought this to yourself at one point. And while it seems to make sense that people would rather be free than at work, the reality is that most people say they would continue working, even if they can apply for basic income. In the documentary Basic Income: The Movie, a poll in Switzerland showed that 60% of the people said they would keep on working as they do now, and 30% said they would work less, which leaves 10% who would stop working all-together. Interestingly, they greatly overestimated how others feel about it: 80% believed that others would stop working as soon as basic income is available.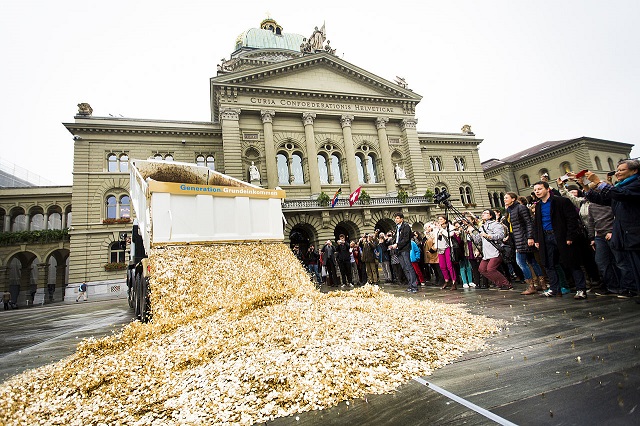 PRO #2) Less crime and less bureaucracy (maybe…)
Let's not kid ourselves: giving people free money will not wipe out, or even dramatically decrease crime, because nothing short of an army of Batmans can do that. However, there's no denying that at least a part of all violent crimes are caused by frustration and financial need, so a guaranteed basic income would indeed take away part of the ongoing burglary and robbing. As an added bonus, the bureaucratic maze that is the UWV (the Dutch organization overlooking social security) could largely be shutdown, saving vasts amounts of money.
CON #2) What about social security immigration?
People will call racism and xenophobia on this counter-argument faster than you can gobble "They took our jobs!", but the valid question still stands: if the government will hand out unconditional social security to all its citizens, isn't it expected that people from all over the world will migrate to The Netherlands, apply for citizenship and spend the rest of their lives receiving free money? The government will have think of a way to prevent opportunism while making sure that new citizens are not discriminated against.
PRO #3) Equality spill-over
Equality in society comes in many ways, and one very important aspect of emancipation of women is the fact that they have become more and more economically independent. With more women being able to care for themselves instead of relying on family or a husband, they were able to draw their own line in the sand. Basic income would decrease the gap between the haves and the have-nots, and not just in terms of money. Class distinction based on income would decrease, and with the incentive of money partly removed, people would in turn be more able to express themselves as they see fit, whether this is religiously, sexually, politically, or otherwise.
CON #3) But what about low prestige jobs?
This is somewhat of an extension of Con #1: a major concern that comes with the idea of guaranteeing literally everyone free money is that there are many jobs that are supposedly only done because it's the best they can get and they need the money. Qualified people will have a strong incentive to keep working full-time so they can earn more and more money, but how many people will still clean toilets or do tedious jobs such as working by a conveyor belt?
As you can see, there's a lot to be said about the idea of basic income. Although the debate has been going on for a long time (the British philosopher Bertrand Russell already argued for this idea in 1918), today we still have a lot more theory than practice. The fist trial-runs with basic income will give us more certainty if national basic income will take us to the peaceful utopia where there is nothing but peace and quiet, or destroy our civilization as we know it and leave us in a Mad Max desert of anarchy and violence.
Or you know, just something in the middle, as it usually does.