What do famous Dutch art heroes like Van Gogh, Vermeer and Rembrandt have in common with peanutbutter?
Peanutbutter – or "Pindakaas" as the Dutch call it – go back a long time:
Calve Pindakaas is a number one brand in Holland,
The are iconic commercials with Pindakaas involved(search YouTube on "Calve Pietertje" or "Petje Pietamientje")
The vast majority of Dutch people even bring a jar with Pindakaas on holiday.
The Dutch do not only excel in their worship of Pindakaas but they do also excel in Art.  During the Dutch Golden Age, but also in modern age, where many artists are pushing the limits of the visual arts, Dutch artist are still as inventive and prominent as in the Golden Age.
How to define Dutch Art? What makes some art Dutch and how do artists translate their Dutchness into an artwork?
In a search in combining Dutchness and art, I think modern artist Wim T. Schippers (1942, also well-known in the Netherlands for lending his voice to Ernie from Sesame Street) has perfectly summed up Dutchness by combining Dutch Art with Pindakaas.
Dutchness consist amongst others of the following elements:
Down to earth attitude;
Please act normal (in Dutch: "Doe maar normaal dan doe je al gek genoeg")
Complaining
Schippers nailed these elements down. In his Pindakaasvloer ('peanut butter floor'), a 14 x 4 meters floor entirely made out of peanut butter, he pushes the limits of art, causing discussion, while at the same time capturing an important feature of Dutch culture.
This artwork has been the subject of discussion every time it has been exhibited. In 2011, the Pindakaasvloer has been layed out (using fresh peanut butter, thank God) at Boymans van Beuningen Museum in Rotterdam. The Dutch immediately started to gossip and complaint on the apparent uselessness of the artwork, the amount of precious peanut butter that had been spilled in making the artwork and of course the discussion on who's child would make peanut butter artworks far more sophisticated than a simple floor.
At the same time, Dutch art lovers and other hip people keep praising the artwork for its simplicity and sophistication, while slowly breathing through their mouths in order to prevent themselves from getting nauseated by the penetrating smell of 56 square meters of peanut butter. In the 2011 exhibition, there was uproar when it turned out there was a foot size 10 footprint in the Pindakaasvloer.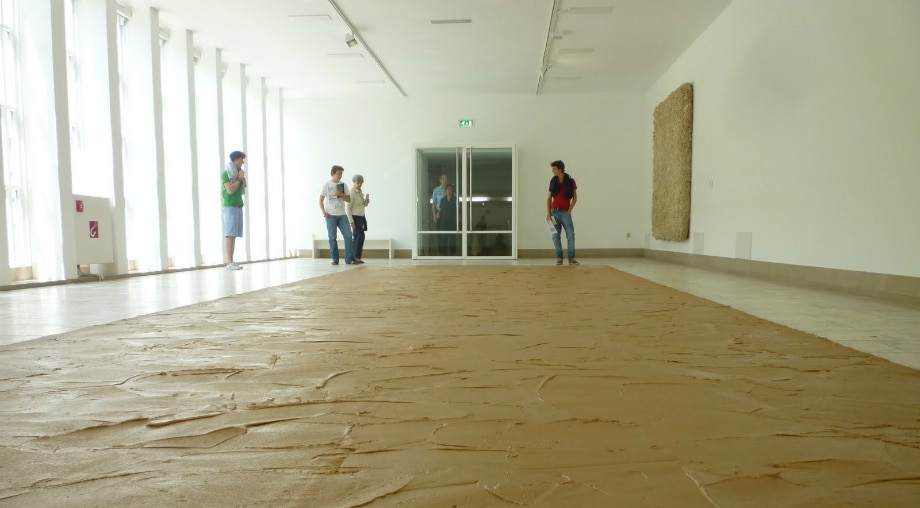 Summarizing: in all its elements, de Pindakaasvloer unwittingly confirms the Dutchness of the artwork and the Dutchness of the Dutch themselves.
Never has an artwork with only peanut butter provided for such a strong message and mirrored its visitors in such a strong way. Take a look at the peanut butter floor and judge for yourself. To what extend do you think "Dutchness" is captured in this artwork? In this video on Art Tube, the artist himself elaborates on the concept of the peanut butter platform:
By Astrid Bonten @astridbonten