Tourist information tends to be concerned with the do's: 'Do visit the Stedelijk', 'do drink Heineken', 'do get on the bus and visit the Keukenhof garden'. This type of information is useful for everybody, from the crazy cats who think holidaying is about relentless, organised fun to the casuals who want some handy ideas for when sitting in a park on truffles isn't as pleasant as they'd hoped. Being a shy British gentleman, however, who values good manners over any form of fun or adventure, the information that I most craved when reading about Amsterdam was what is unacceptable for tourists to do.
You know, the rude or just plain stupid stuff that makes Dutch people shake their fists and shout things we can't understand. These are things you might call 'tourism don'ts'. To my disappointment, this type of information was not commonplace and so I learned little from the web or from books. Thankfully however, through numerous visits to the fair city and conversations with veteran idiocy-spotters, I have been able to compile my own short and highly opinionated list of no-nos for the courteous and the curious. You've been warned.
What NOT to do as a tourist in Amsterdam: Don't be silly on your bike
When picking up your shiny blue, yellow or red bicycle from the various rent-a-fiets shops across the city, you assume a great deal of responsibility. You have a responsibility to yourself not to get killed, and you have a responsibility to not maim or kill anyone else. But most important of all you have a responsibility to… not piss off the locals. Two main ways you can rile up the Dutchies are (a) cutting through busy shopping streets like it's totally legal (it isn't) and (b) riding three abreast on the cycling lane like you're the front row of a rugby scrummage. By all means, do this if it's late or no one's around, but don't do it down Stadhouderskade on a Saturday afternoon. Beeping, ringing and swearing will intensify.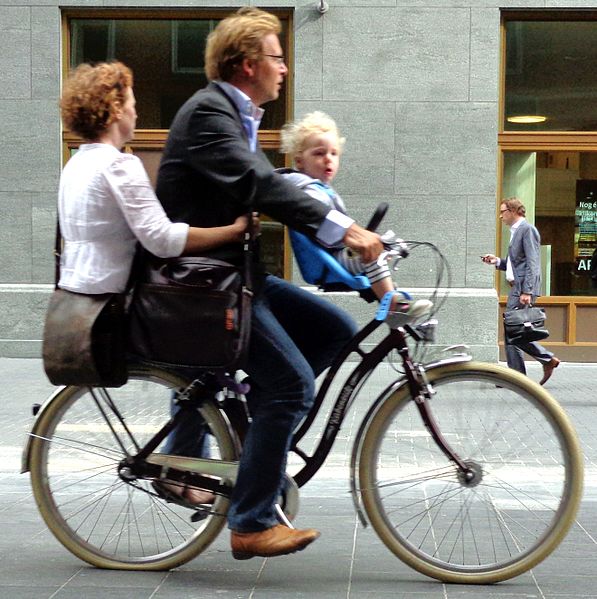 Don't be silly when you've got the munchies. Eat properly!
You're drunk, stoned, tired and hungry. What do you do? If your answer is to go and get twenty chicken nuggets, you're doing it wrong. There is a pretty high chance that you live in a country where Mcdonalds is on every street corner; it makes your kids obese, your dopamine flow and your guilt swell. We all have that one kind of food that we crave when we just can't be bothered to try and prolong our lives with some micro-nutrients. I have no issue with this. However, if you've taken the time to leave the ordinary behind and take a trip to Andrew Marvell's '…undigested vomit of the sea', don't feast on the same old battered sludge. Instead, I suggest getting your grease with a pinch of authenticity.
Look no further than the glowing, food-bearing walls of Febo. They're everywhere, the food is delicious and it'll clog your arteries as fast as any American business. Sure, you can still get burgers and chips easily enough. Personally, I'd recommend sampling the kroketten and the frikandel [that's chicken, pork and beef sausage. It's good I promise…] before you even think about the rest.
 Don't mix your recreations
A great stoner once said, 'Pass the Dutchie on the left-hand side'. No problems with this as far as it goes, although I would offer a short caveat to this rule which would be, '…unless you're seated in the outside area of an alcoholic establishment'. Beware the bars of Leidseplein and Rembrandtplein! The waiting staff don't like you smoking the reefer there, you're not really supposed to and you can always have a cigarette if you really can't last a half hour without carcinogens.
What NOT to do as a tourist in Amsterdam: Don't try that hip Dutch phrase your friend taught you
No amount of shouting 'Neuken in de keuken!' at people is going to get your laid, so stop it. And even if it could, 'No-ken in dee coke-en!' is not how you say it anyway.
Don't mix your Dutch and your Deutsch
No matter what Hollywood movies like The Fault in our Stars and Hostel, the Pennsylvania Dutch or foreign Haribo wrappers tell you, Dutch people do not speak German. I don't know whether it's the sound of the Dutch language to the untrained ear that triggers high school German PTSD or something, but it's not the same. At all. Whatever the reason for this myth's circulation, it's very common indeed. Needless to say, Dutch folk don't take too kindly to shoddy cultural geography, so you'd do well to avoid it like an oncoming bakfiets. It helps to remember your stereotypes: clogs, windmills and tall women on the one hand; efficiency, sausage and lederhosen on the other.
Alles Klaar? Auf wiedersehen.
If you're going to the Red Light district, there are some things you should NOT do there too. Any other stuff you should not do as a tourist in Amsterdam? Feel free to comment!
Feature Image: na4ev on Pixabay