Usually a place of academic tranquility (last international newsworthy event dating back to 1807), the Dutch university town of Leiden was shook up by the threat of a school shooting scheduled to take place today. School directors, police-chiefs and the mayor took decisive countermeasures of which a school going adolescent could only dream of: they closed down all the schools in Leiden. Imagine that when you're 15 years old, a simple internet message could gift you and all your friends a day off from school, with this pattern threats like this one will never occur again of course. Anyways, the threat was nicely documented and put up on 4chan last night.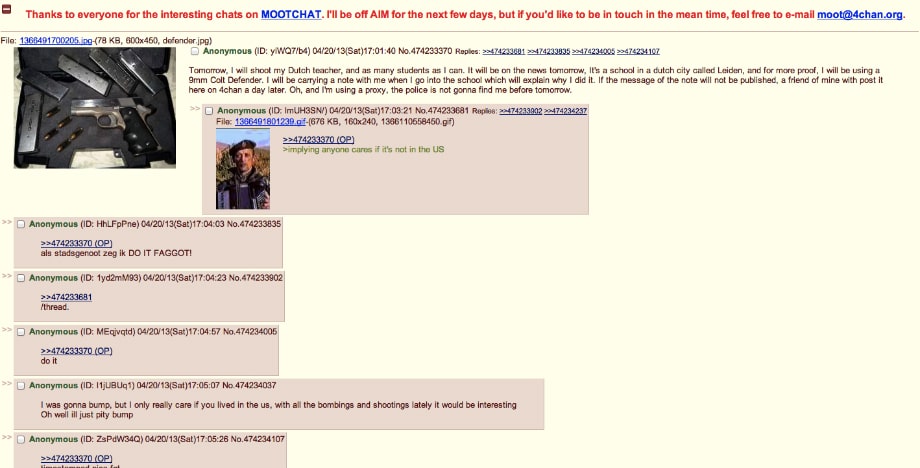 It goes without saying that "nicely documented" is a loose term here. Those who know their 4chan (pity these people, please…) will recognize that these kinds of topics are made regularly there and that they are made solely "for the lulz" (translation: "Because it's funny"). The controversial /b/ forum of 4chan, described by its very owner as "the anus of the Internet", is notorious for both its shocking content as well as its affiliation with the Anonymous "hacktivism" phenomenon. Known as a place of complete anonymity and void of all moral boundaries (most forums have strict rules about what content can be uploaded, 4chan not so much, as anything that isn't cruelty towards children or animals is considered fair game), nothing said there should be taking seriously. But good luck explaining that to the authorities. And since all the whining about the King's song is getting old and the actual news in the Netherlands is nothing but economical sadness, this story is getting massive coverage (until the second chapter of the King's song drama commences tonight at least).
Now for the LIVE REPORT part, your DutchReview reporter is based in Leiden and took it upon himself to risk an Americanesque death and ventured into Leiden to report on the panic and mayhem currently unleashed.
First of all, students are clearly panicking and occupying certain parts of Leiden city center.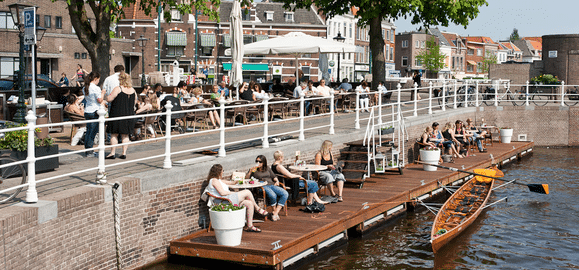 With this kind of panic occurring, people are hiding their kids inside and the ever vigilant Dutch police-force is in a state of high-alert.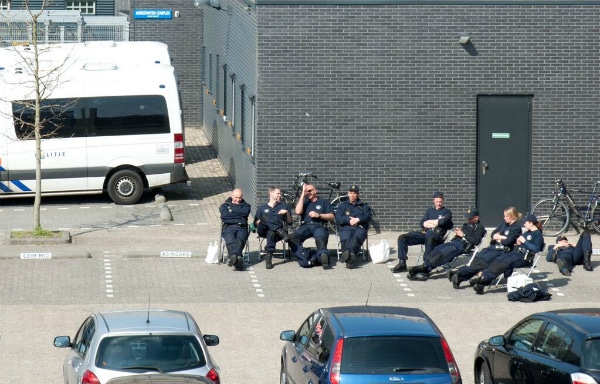 Thanks to the Dutch police force, someone has already been arrested for threats, and it seems that Geert Wilders is right once more. Filthy foreigners are to blame, the culprit was a former student of the British school. Obviously, we now need to expel these damned British, with their anti-continental attitude! Here's a picture of the massive news coverage and intense anti-British protests taking place at the British school (actually located in Voorschoten, right next to Leiden) right now.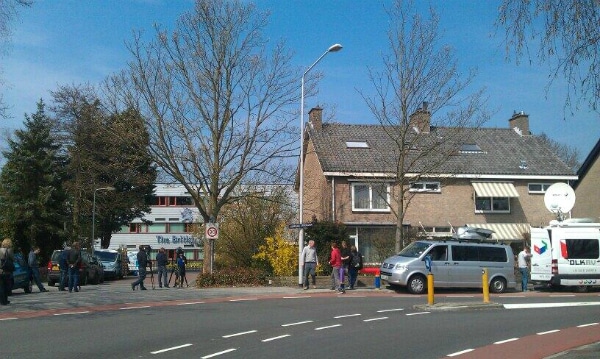 Since the story is continuously developing, we'll keep you updated. Feel free to comment on the story here below in our comment-section.