Tomorrow he'll turn fifty years old. A good excuse to celebrate his life among us. The man who gave 'us' our only trophy with the national team, the man who was a saint in Milan, the man who made coaches cry like babies and the man who was more humble as a coach than you could ever expect from someone who was equally big as a player. It's time to honor Marco van Basten, or San Marco as they call him in Milan, the second best player Holland has ever had. But at least, he was less arrogant than the biggest of them all, Johan Cruijff. So maybe he was the biggest and if not……..let's forget about that for the rest of this article.
Marco reminiscing about his life
San Marco
I have never actually seen him play a live-match. I was too young for that unfortunately. But I have seen some footage of him when I grew older and I immediately fell in love with this magical player. I know he was born in Utrecht and played for Elinkwijk and Ajax for a couple of years. He scored at his debut for Ajax, he made a great goal with an overhead kick against FC Den Bosch, and suddenly went to Italy to play for AC Milan. He had a difficult first period at this big club and the year before the European Championship in 1988 he didn't play too many matches, because he was injured a lot. At the European Championship with the Dutch national squad in 1988, he showed all of his magic to the world, in the year that will be in the Dutch collective memory forever.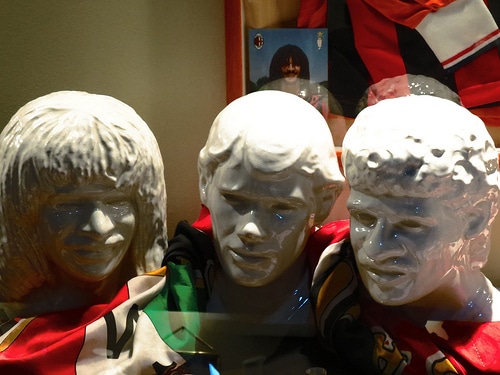 San Marco as part of the big three of AC Milan, with Rijkaard and Gullit
'Een goed stel'
That was the famous line of the Dutch commentator Theo Reitsma when the Netherlands won their first ever international price in country football. If you don't know what it means in English, than try to work on your Dutch skills, because there is no real adequate translation for 'een goed stel'. Marco van Basten went to the European Championship as a substitute. It was John Bosman who played the first game against the Soviet Union, but we lost it. Then all of a sudden it was Marco who scored a hattrick in the next game against England. We won that match, 3-1. But the best was yet to come. In the semi-final we played against West-Germany in Germany. There was no country that we hated more than the Germans, we could literally drink their blood if we wanted to. And now we had the opportunity to beat them in the lion's den. It was Marco van Basten who made the winning goal in the 88th minute. With the tip of his toe he slided the ball just passed the goalkeeper and the Dutch were in heaven. It felt like payback time for the Second World War, although that is of course ridiculous. But we went so mad about winning that match, that no one even thought about rational celebrations and putting things in perspective. We had won the Second World War and defeated the Germans in their own home.
There was just one game to play, to gain eternal fame. And again we played against the Soviet Union where Marco made his most famous goal ever. The ball was on the left side of the field at the feet of Arnold Mühren who crossed it to Marco. The angle was impossible, his eyes were fixed, he had to wait until it came down a bit and then hammered it like you have never seen someone hammer a ball before. Rinus Michels the coach couldn't believe his eyes. It was so unreal. And it still feels like that up till now. History was written, we won that game 2-0. Marco was a Saint.
Marco's wondergoal in '88 final 
Cry like a baby
Marco has won several trophies with AC Milan in his career in which he played a decisive role. But the end of his career came too soon. His ankle was weak and he was plagued by injuries. He was just 28 when he had to finish his career as an active player. The suede jacket, the pink shirt, I will never forget the outfit he wore at this farewell game. But of course, the best was yet to come. He thanked the crowd for the support they gave him all these years and walked several rounds around the field while clapping his hands. Meanwhile it was coach, Fabio Capello, who realised it was the end of an era, the farewell of one of the greatest football players ever, but most of all the farewell of a magnificent human being at AC Milan. Capello cried like a baby when he realised all this in its uttermost. And the whole world cried with him. The universe stopped for several seconds at that moment. It was a saint who had left the building.
Farewell of San Marco 
The humble coach
Marco is very hard to see through. But he is pretty funny and most of all a very warm person, who doesn't want to be in the spotlights anymore. Of course it feels strange when you see Marco as an assistant-coach of AZ Alkmaar walk around the training field to pick up the ninepins. Certainly when you know how big he was as a player. But Marco likes his quiet time at the background, he doesn't want to have the burden of the responsibility as a head coach and we should respect him for that. He was too honest to the press when he told them, that he thought he was incapable of leading Ajax to another title and said to them that he wants to step back as a head coach of AZ, because he couldn't bear the burden of the spotlights anymore. It's really admirable when someone in the football world shows such refreshing vulnerability. And we love him for that. Because we just want him to happy. And so for now on I will tell him with all my heart. HAPPY BIRTHDAY MARCO VAN BASTEN. Let's hope you'll be among us for the next 50 years as well, so we could learn from you as a magnificent human being.