In my twenty cumulative months spent in the Netherlands, I've lived in several Dutch cities and, while I've loved each one in its own right, The Hague has quickly become my favourite – to the frank puzzlement of some. It's not as big or as hip as Amsterdam; it doesn't offer the shopping haven that Rotterdam does; and it isn't small enough or photogenic enough to be considered particularly quaint. As a result, it seems The Hague simply lies below the radar of many, meriting little thought beyond those for wacky Oh Oh Cherso participants, and attracting people mainly for the parliament and the beach. And, quite frankly, I think that's a darn shame. So, without further ado, I bring you my top three reasons to jump on the Haagse bandwagon.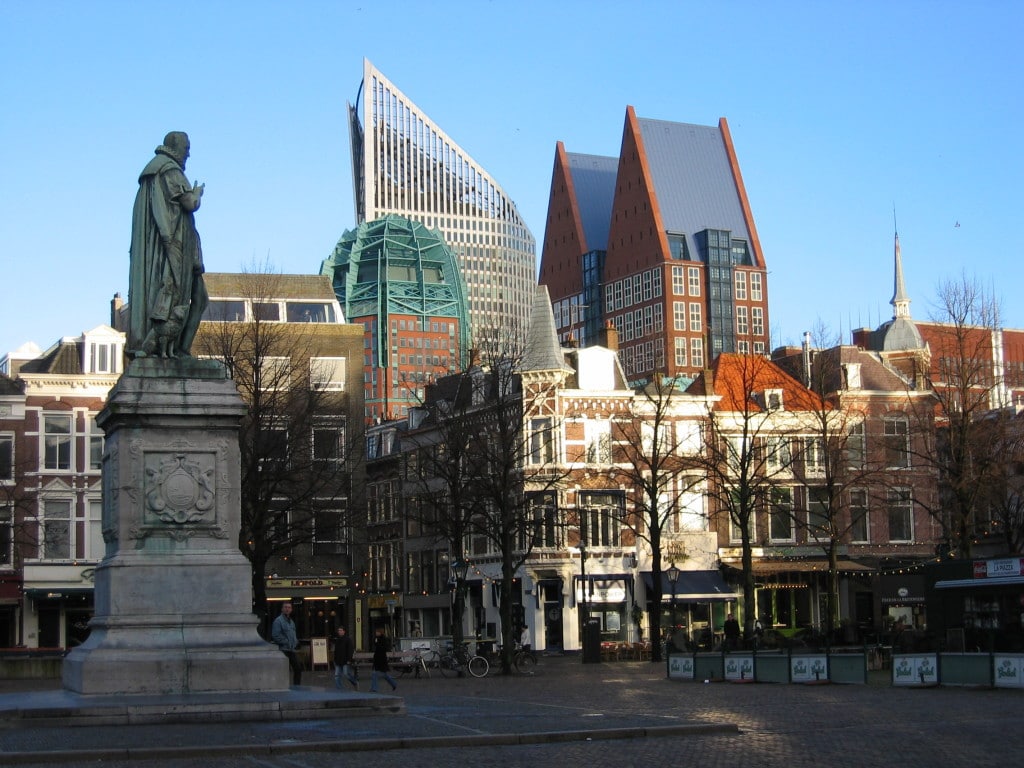 The city life is bumpin'
Alright, so maybe The Hague isn't known for any nationally attended dance parties or wild festivals (to the best of my knowledge), but you're unlikely to find yourself twiddling your thumbs at home on a Friday night, or a Tuesday morning for that matter … Unless you are in that way inclined, of course.
For a night out on the town, Plein is my undisputed favourite. It's got a distinctly 'chill' vibe, with a slew of different bars and clubs sitting one on top of the other, a fairly varied and good-natured crowd, and a huge communal terrace. The borrel starts after work and, at the end of the week, carries on all night. Then, when the DJ has finally played that Cotton Eye Joe remix, Casanova and – yes – Mariah Carey's 'All I Want For Christmas', and when the lights shine cruelly down on your dance moves, you can always haul yourself off to the classiest of all night clubs, Het Feest van Sinterklaas …
(Word to the wise: don't.)
The dulcet tones of every single night out I've ever had in the Netherlands:
If you have more refined musical tastes, Café Luden hosts live music events weekly and offers a decidedly 'gezellige' atmosphere. (What's an article on a Dutch topic without the word gezellig?)
But Plein isn't only lovely at night. Every Thursday this winter you'll find a sizeable second-hand book and antique market set up in the square, with a decent collection of English goodies to choose from if you're up for a bit of digging. For the true book lover, the Meermanno Museum houses an impressive collection of old manuscripts, medieval and incunabula, as well as a variety of temporary exhibitions all relating to the written word.
For the politically inclined and Dutch-speaking among us, the Tweede Kamer is often open to the public, and if that fails there is in all likelihood, at any given moment, a protest of some sort happening within a few minutes of your current whereabouts.
And of course, The Hague is home to several often overlooked museums and galleries, perfect on a chilly/rainy/windy-as-all-hell/ice-pelting-your-face-raw sort of day. Right across from the parliament, the intimate Prince Willem V Gallery is currently featuring a different Caravaggio every month; the Escher museum is the perfect place to lose your mind for an afternoon without stepping foot into a coffee house; and walking into the giant Panorama Mesdag could elicit an 'ooohhh' from the most discerning of tourists.
It's a foodie heaven
Whether you're interested in going out to eat or in preparing your own food, there's a good chance you'll find what you're looking for in The Hague. Is the meat substitute selection at your local AH, so thoughtfully sandwiched between shelves of Euroshopper bacon and gehakt, inspiring you no longer? Apparently there's a Vegetarian Butcher for that. Looking for kimchi or a whole deep-frozen sea urchin or even an avocado in a city-wide shortage (true story by the way)? Look no further than China Town. Not only does it comprise more than one lonely 'toko' selling, rather inexplicably, Russian dolls … It actually spans several streets and has its own entrance arch. On top of the excellent variety of international grocery stores and other specialty food establishments, which are sure to meet all (or at least most) of your dietary needs and gastronomical desires, the city also has a mouth-watering variety of restaurants, many conveniently located in a very dense radius so that you could theoretically have yourself a food crawl bonanza.
Or is that just me?
Nature beckons you
As a Canadian, a big challenge for me in adapting to life in the Netherlands has been the relatively sparse natural areas present in most of the big cities – particularly as my Facebook feed slowly but surely becomes saturated with pictures of glorious Ontario fall foliage. Fortunately, The Hague offers a number of lovely spots where I can disappear to when I need a break from the sound of busses, trams and bicycles in various states of decomposition.
Scheveningen beach, although admittedly packed in the summertime, is beautiful for a walk anytime of year. Once you've soaked up the view and the salty sea air, it's customary to play a few rounds of air hockey at the arcade in the Palace Promenade, and then to relive those magnificent five days of sunshine we had this year with a few drinks right on the beach. Choose your venue wisely and you may even catch a steel drum performance!
Should you fancy a hike in the great outdoors, the Haagse Bos is conveniently located a mere hop and a skip away from central station. The woods are surprisingly expansive and, even though the paths are, as is typical of Dutch 'hiking' trails, neatly delineated and pristinely maintained, the area is gorgeous and offers a welcome refuge from the bustle of the city.
Finally, tucked away right in the city centre, the Paleis Tuin is ideally situated for a quick dose of greenery without a major time commitment. Bring along a date or a sandwich, grab a seat under a tree, and watch the ducks and swans race each other for the breadcrumbs someone will inevitably be throwing into the pond. In spite of the fact that doing this is expressly forbidden.
So there you have it – my highly scientific, not at all subjective list of reasons to love The Hague. I'd love to know: did your favourite thing about the city make the cut? Do you totally disagree and think The Hague ought to be called The Pits? What is your favourite Dutch city?