Are there reliable and Free ways to learn Dutch? Yes, multiple ones!
When I decided I was in love with the Netherlands and a lot of what it has to offer, I chose to immerse myself as much as possible in Dutch culture. "So first things first," I exclaimed, "I need to learn Dutch!" So I thought, are there free ways to learn Dutch?
After having a couple of mini-heart attacks checking the price of group and private Dutch lessons, I sought cheaper (mostly free), and reliable alternatives to learn this tricky language.
11 months later, I can confidently say: "Ja, ik kan nederlands spreken."
Now, do I speak like a native. Nee, I certainly do not. Do I still sound like I'm sneezing and dying at the same time when I pronounce Scheveningen? Why yes, I do. Am I improving every day? Absolutely yes.
In other words, yes, there are free ways of actually learning Dutch. In this article, I'll let you in on my secrets. But in case you're too lazy to read your way through, here's a nice little video from us and Learn Dutch with Bart de Pau with whom we worked together to bring you this delightful article.
Bart de Pau provides free Dutch lessons on his website and also on his YouTube channel. So, if you're struggling with those Dutch lesson fees, as well as everything else (we know those prices can be pretty terrifying), you can practice your skills or learn straight from scratch – completely free! Bart de Pau's videos are informative, lighthearted and easy to understand.
So with the exception of a small disclaimer in the next paragraph, here are the six best ways of learning Dutch for free.
A note on the free ways to learn Dutch:
There a lot of levels involved in the process of learning Dutch, and even more levels on feeling completely comfortable speaking it or any language that is not your native tongue. I'm not saying that if you use these alternatives you'll be able to sing/know André Hazes's "bloed zweet en tranen" by heart. If you're immigrating to the Netherlands and can afford lessons it is absolutely worth the effort. I'm saying that these practical exercises I used have allowed me to understand, read and speak Dutch in a way that:
I can engage in normal everyday Dutch conversations.
Read and understand most newspapers.
Listen to Dutch music, podcasts, radio shows, and follow what I hear.
Stop saying "ik spreek geen nederlands."
In all honesty, I don't think there is one way that is better than the others. As a matter of fact, I would say that you should try to do all of them throughout different times in a week depending on your schedule and free time. But most importantly, be consistent on how often you commit to use each. Hopefully, they will help you as much as they have helped me.
Duolingo
Have you ever wondered how to say "my sandwich is under my rhinoceros!" in Dutch? How about, "No! I am not a turtle." No? You've never wondered that? Weird… Well! It doesn't matter, because if you use Duolingo you are going to get those and many other ridiculous (but useful) examples to work with.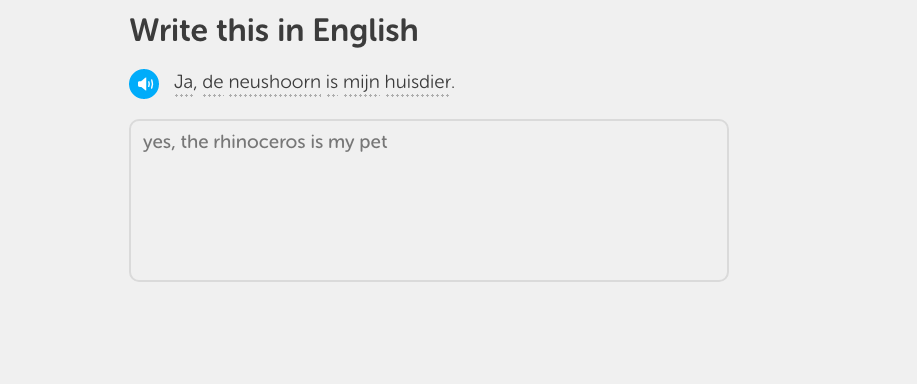 Duolingo is a free language learning app for your phone/tablet/laptop, that allows you to choose and learn over 27 different languages (for English speakers). Some years ago, the Dutch language was added to this list, and I for one, am grateful.
As explained in the video above, Duolingo uses the power of translation and your brain, to make learning Dutch easy, and fun. The first basic rules regarding word order, how to make singular nouns into plurals, and the basic pronouns, I learned through Duolingo.
Take 15 minutes a day, and I can almost guarantee you that you will have an initial, basic, and necessary understanding of the basic rules of Dutch. What's more, Duolingo has a very active community of people that want to learn Dutch, who help you out whenever you post a question on their equally active forums. I would definitely recommend to start off with this App and use it on a daily basis on the serious commitment level.
So grab your laptop/smartphone/tablet, put your trust in that green owl, and download Duolingo.
Children books and free or cheap libraries
The second best way to learn Dutch for free is reading children's books, and then progressively, moving towards more advanced books. Children's books use very easy to understand sentences, and the plots of stories are very easy to follow if you have a basic understanding of Dutch.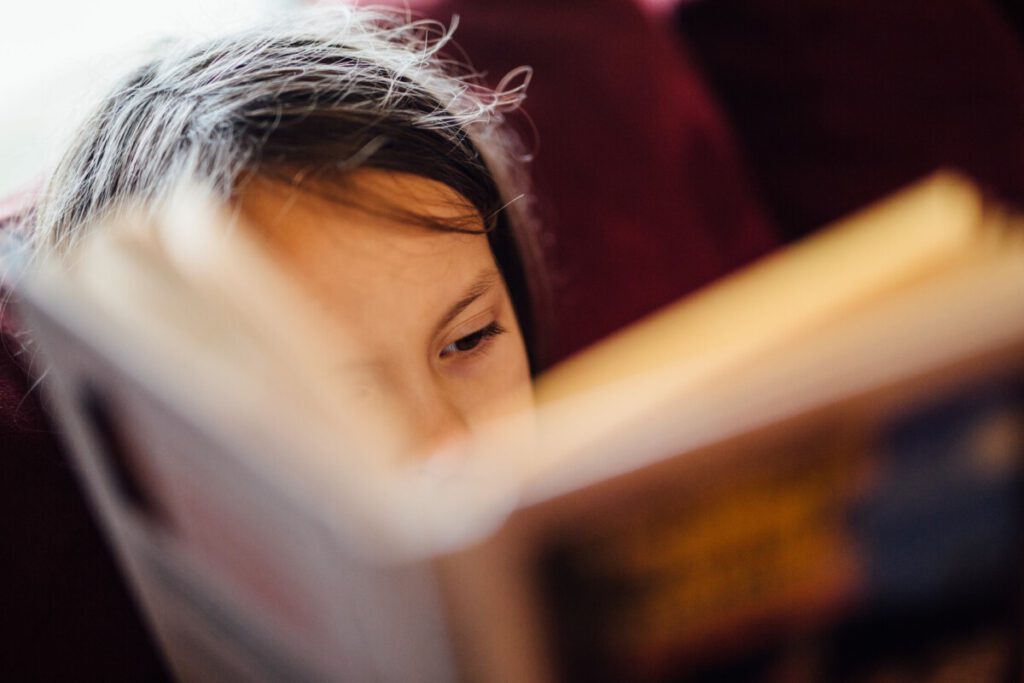 If you're progressively building up your Dutch, grabbing a children's book and reading it should not be a big challenge early on. Get yourself a new book once per week, and improve your Dutch reading skills!
"BUT RENÁN! BOOKS COST MONEY AND YOU SAID THESE WERE FREE WAYS OF LEARNING DUTCH!"
Listen, I know what I said. I said free ways to learn Dutch, and that's what I'm providing. I want you to take a look at the picture down here: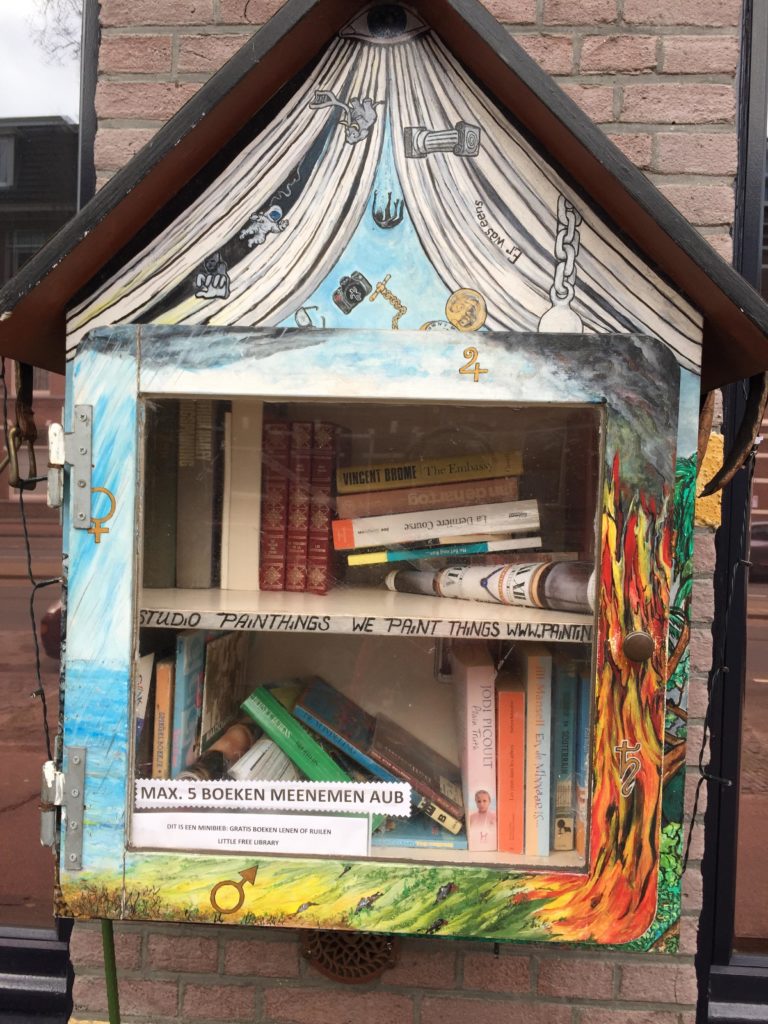 The last picture shows a "tiny library". A "tiny library" is a small wooden house, that is most of the time on the wall of a house or building. You'll find them all around The Hague and other cities in The Netherlands. Their main purpose in life is to hold books for you.
They wait for you on a wall, so you can open their tiny doors, and take a book home. Then, after you're done reading the book, you put it back in the same or different tiny library.
99% of the time these libraries have children's books. They also have more advanced books in Dutch that you can move on to when you've improved. It's free, and you can leave behind a book of your own if you want to.
If for some reason, you don't have these sort of tiny libraries where you live, you can go to a Kringloop, which is a very popular second-hand store chain in The Netherlands, and get around five children's books for one euro.
Your local library and self-learning books
This might surprise you. But your local library lends self-learning books for the Dutch language absolutely free. I know, shocker.
It's a pretty obvious thing to do, but few people do it. You go to your city library, go to the language section like the Taalhuis in The Hague's central library, and get one of a thousand self-learning books on the Dutch language. During this 11 months, I've read three books on learning Dutch, and you have no idea how useful they were.
Grammatical rules, audio CDs and short stories, can all be found in these books and should definitely be part of your learning arsenal. Reading one of these free books every two months really builds up your learning experience with some always-useful, formal and professional content.
Netflix, podcasts, radio, etc.
Radio stations, podcasts and at least one free month of Netflix (if you don't have an account already) all provide Dutch-language content for you to listen to and watch.
Online, you have access to hundreds of free radio stations, shows with Dutch audio/subtitles and podcasts completely free of charge. Do some of your schoolwork or cook your dinner while listening to the news on the radio, or watch your favourite movie with English audio and Dutch subtitles.
Listening to a language spoken by a native (on the radio for example), is one of the best ways to learn the rhythm, sound and pronunciation of specific words. On the other hand, watching shows in English, with Dutch subtitles, is a great way of translating directly and immediately the Dutch translation of something being said.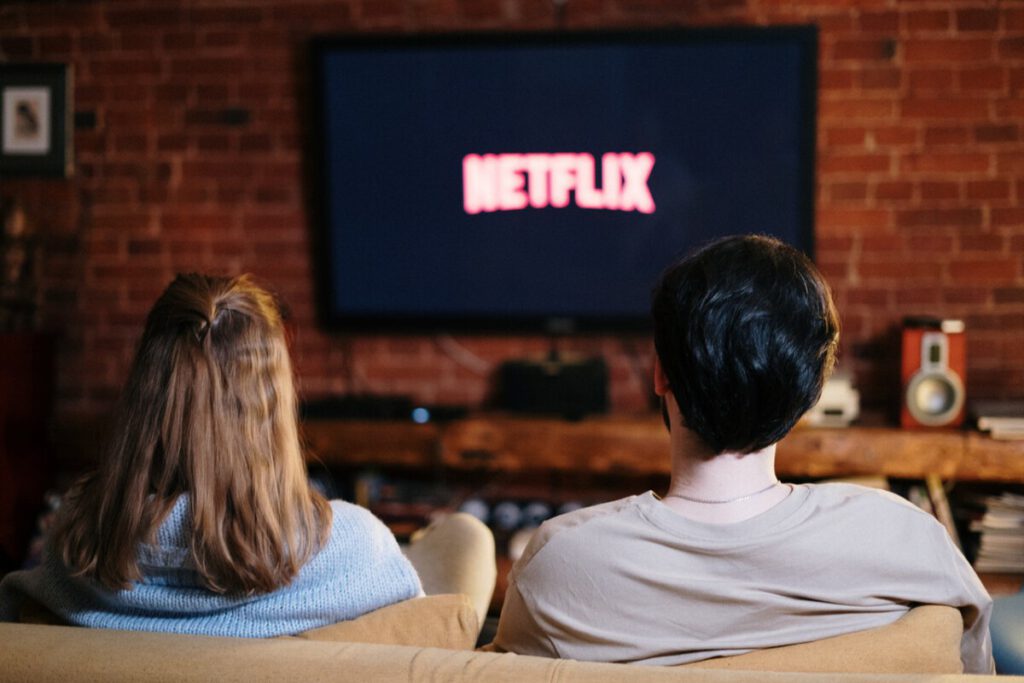 Get a Dutch girlfriend/boyfriend, and surround yourself with Dutchies
There's a very common question that gets posted in some of the "Mexicans in Holland" facebook groups I'm part of. People frequently ask how to learn/practice Dutch. "You gotta get yourself a Dutch girlfriend/boyfriend amigo", is what they say.
I would lie if I say that having a Dutch girlfriend has not made my Dutch learning experience a bit easier and much more enjoyable. It's pretty obvious if you think about it. What better way is there of learning a language than having a native speaker constantly around you? Not only that, but you are also exposed to her/his friends/family who speaks the language.
You also have (hopefully) frequent Dutch exchanges with your boyfriend/girlfriend, and you have someone to ask a specific question on grammar, pronunciation etc. Wait, you don't have a Dutch significant other? Then here is our video on how to get romantically involved with a Dutchie using some key Dutch phrases.
If dating is off your list of priorities at the moment, maybe making a good friend can also be an option. The more the better! If it's a party or Dutch borrel, you get the bonus of learning while you're having fun.
During the first couple of borrels and typical Dutch circle-sitting birthdays, I was mainly looking around saying "ja" every seven minutes. This, while my girlfriend and her friends were conversing away in what sounded like an alien language.
However, slowly but surely, I started to pick up one word, then five words, then three sentences, and then a whole exchange of words! And although it's pretty common knowledge that Dutchies switch to English as soon as they hear your sad attempt at saying the word "onion" in Dutch, you have to politely but affirmatively tell them: "praat nederlands met mij."
Which brings me to the last free way to learn Dutch.
Persistence
Listen, I'm not gonna tell you learning Dutch — or any other language for that matter — is easy. It's hard. No, scratch that. It's very hard. Even for someone like me who already speaks a bit of German, learning this language has not been a walk in the park. Besides considering the obvious difficulties of speaking/reading/listening in Dutch, you have to use time of your probably busy day to literally learn new words and rules you've never heard of.
But hey, nothing worth doing is easy. If there is one thing that is free it's persistence. If you want to learn Dutch, then learn Dutch. Period. Try, and try again. Increase your Duolingo daily XP challenge, read three children books per month, get two girlfriends (joke!). 
The one thing expats always tell me when I get frustrated with this language (because I am still learning), is to keep trying. It's true. If you want to learn this language you don't need to depend exclusively on lessons or "the best money can buy." The only thing you really need is a "can do attitude," and the commitment to try a bit every day. Learning Dutch helps you with the more tricky things ilke how to navigate the housing market in the Netherlands.
And once again, for those serious about learning Dutch, by all means, check out the Youtube channel by Bart de Pau: Learn Dutch. Next to tons of informational and good grammar stuff you'll will also find some pretty funny videos about the Dutch language and learning Dutch. Like this shocker about DE or HET for instance:
What do you think of these free ways to learn Dutch? Do you know any other good, reliable and free ways to learn this language? If so, let us know your own experiences in the comments!
Feature Image: Tamarcus Brown/Unsplash
Editor's Note: this article was originally published in February 2018, and was fully updated in September 2020 for your reading pleasure.