Sometimes day trips from Amsterdam are a necessity if you want to keep your sanity in the big city.
Here is a quick guide to 5 places you can visit on a short day trip away from Amsterdam.
Marken — the perfect place for a short day trip in the Netherlands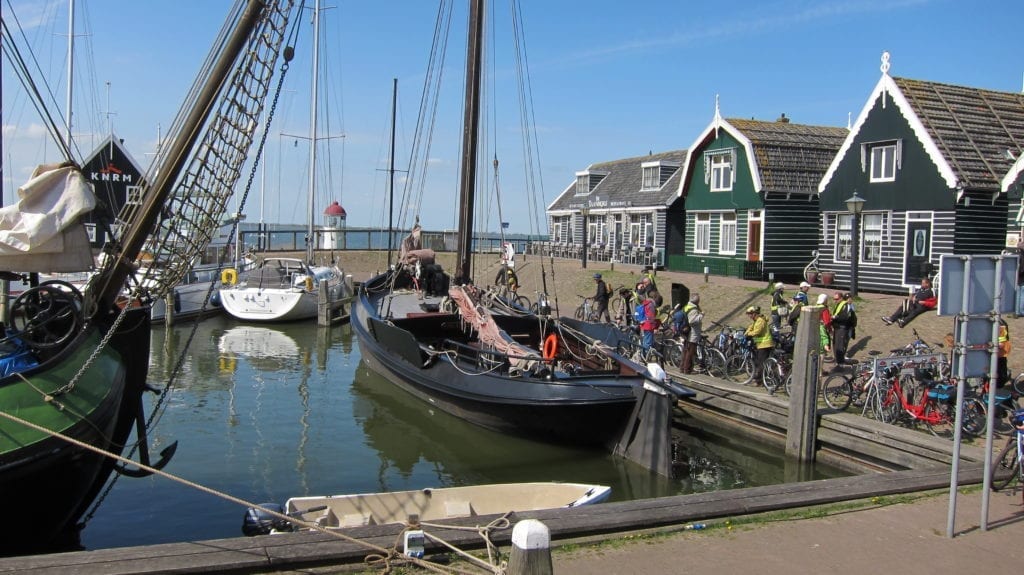 Marken is a village that has quite an interesting history. It was separated from the mainland by a big storm back in the 13th century. This lead to Marken being isolated for centuries, forcing its population to make a living as fishermen. Because Marken was isolated for such a long time, it allowed for authentic Dutch culture to be perfectly preserved over the centuries.
Ethnographers and anthropologists would visit the village in the 19th and 20th century to study what was considered traditional Dutch culture. It was not until 1957 when the village was once again reconnected to the mainland and became a peninsula. To this day, Marken remains a popular seaside location that attracts hundreds of tourists each year.
Once you arrive in Marken, you can't help but notice the green wooden houses along the village harbour. Aside from being absolutely beautiful and picturesque, these houses hold a very interesting architectural secret. They are built on stilts or poles or clustered on the hills. This helps provide protection from fluctuating tides and has proven to be a successful method over the years.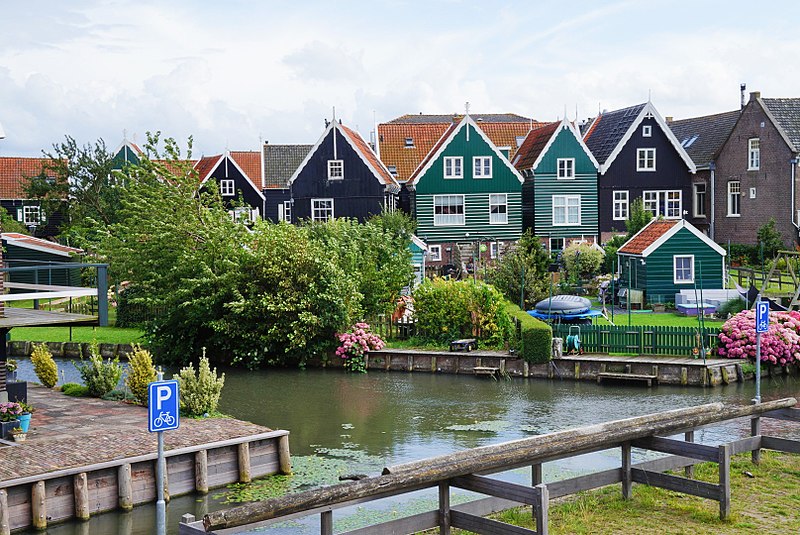 Another Instagram worthy cultural site is the Paard van Marken. It is a beautiful lighthouse that dates back to 1839. You absolutely cannot miss it! It stands at the end of a long, narrow stretch that is completely surrounded by water.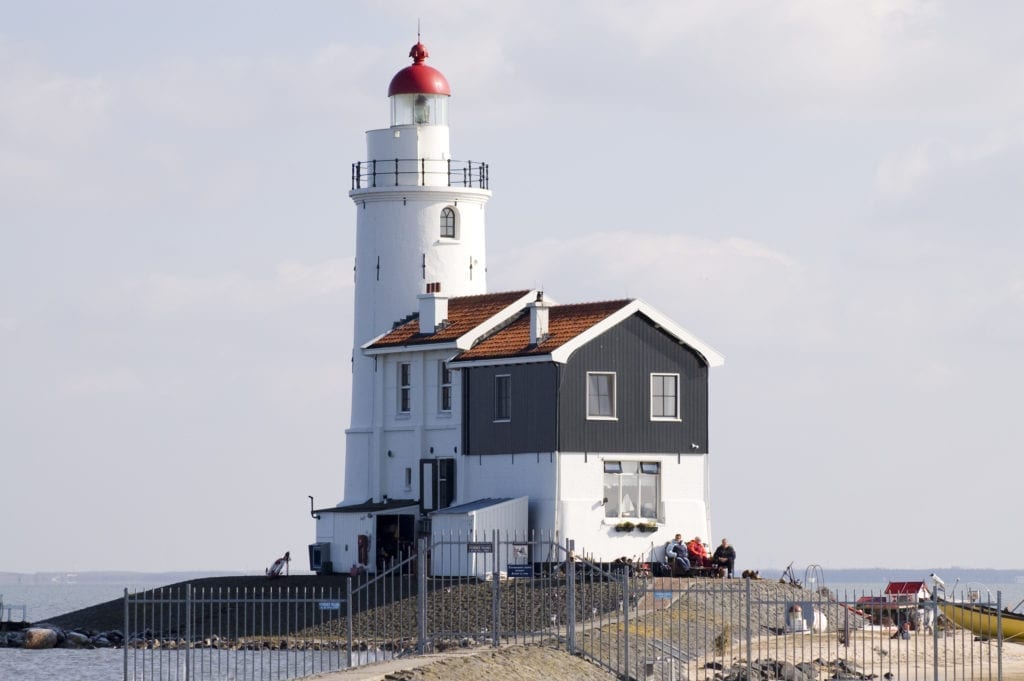 Since Marken is just a small village/island, you can easily just have a walk around it. If you decide to circle the entire island on the dike, the distance is about 9 kilometres. It's a great way to explore the village and appreciate all of its charms. The best part is that Marken is very easily reachable via reliable ferries, so no need to worry about getting there or coming back. Just enjoy the day!
Volendam — a day trip from Amsterdam showcasing the romantic (and touristic) side of Holland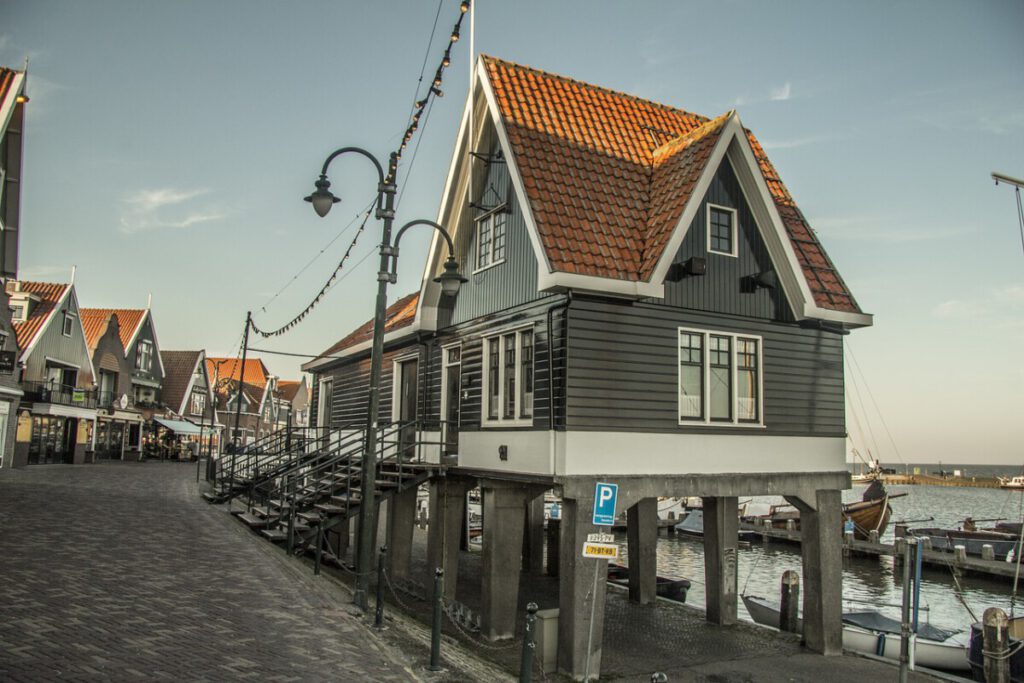 Similarly to Marken, Volendam this lovely village has preserved its typical Dutch character of over six centuries. This fishermen's village is known for its small houses, canals, drawbridges, is known to be a very romantic spot for couples who want to go on a day trip.
 In fact, this small village is so dreamy, that in the early part of the 20th century it became an artists' retreat. In fact, it is known that artists such as 
Picasso
 and 
Renoir
 spent quite some time in Volendam.
While there, you can admire the old fishing boats and the traditional clothing still worn by the older residents. Volendam also has a museum dedicated to its history and clothing style, where visitors can have their pictures taken in traditional Dutch costumes.
One great way to explore Volendam is simply by wandering its ancient streets. You can also find out more about the village's culture is through its food! Try some freshly caught seafood from the outdoor vendors. Or go to the Cheese Factory where you can try some 'authentic' Volendam cheese. And if you're feeling a bit tired and need to stretch your feet, there is a variety of cosy cafés and restaurants.
Broek in Waterland — one of those perfect day trips from Amsterdam for cyclists
Do you want to go on a cycling day trip? Well, you're in luck because Waterland is located just north of Amsterdam. Why is it called Waterland, you may wonder? Because almost half of the acreage there consists of water! This makes all the villages of Waterland perfect for a scenic cycling day trip.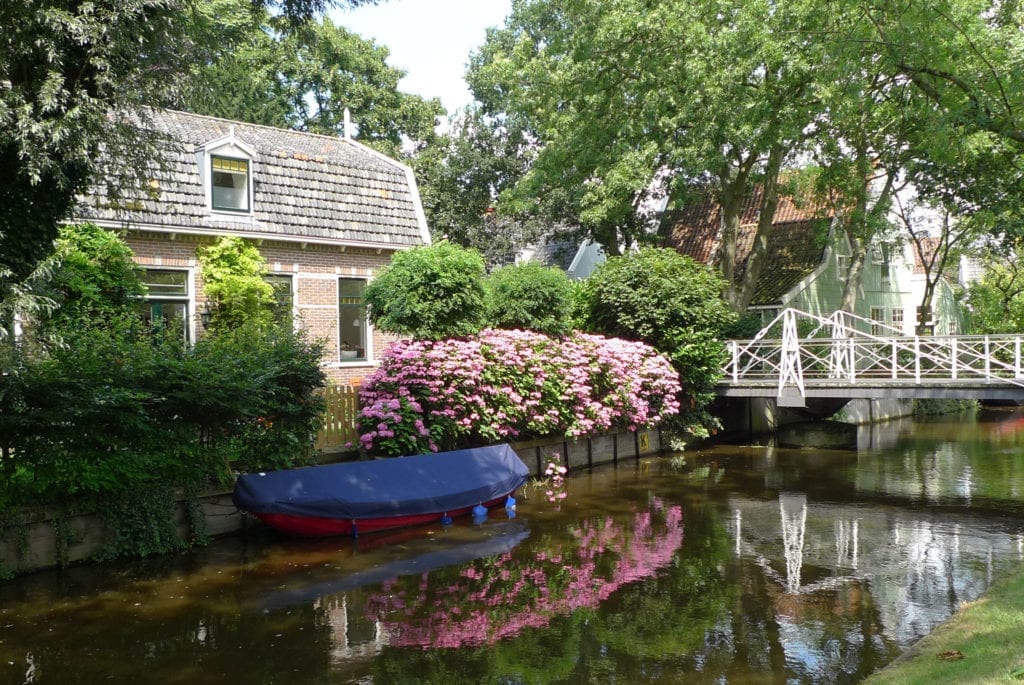 This day trip is made just for bicycles with designated cycling paths that connect the entire region. To make things better, directions are very well indicated by road signs made exclusively for cyclists. The paths stretch along a route filled with beautiful views. It is so beautiful that it is often compared with the famous Dutch 'water villages' like
Giethoorn
. We suggest you brink a blanket and stop for a picnic somewhere along the way.
The most astonishing and emblematic sight in Broek in Waterland are the old wooden houses. They preserve their original details, like ceremonial doors, carved and colourful lintels. In fact, this village was so popular in the eighteenth and nineteenth century, that it attracted many famous people, including Napoleon.
So what are you waiting for? Grab your bicycle and get on the free ferry from behind Central Station in Amsterdam. Get off at either Buiksloterweg or IJplein and start your awesome cycling day trip through Waterland.
Zaanse Schans – a very Dutch day trip for windmill lovers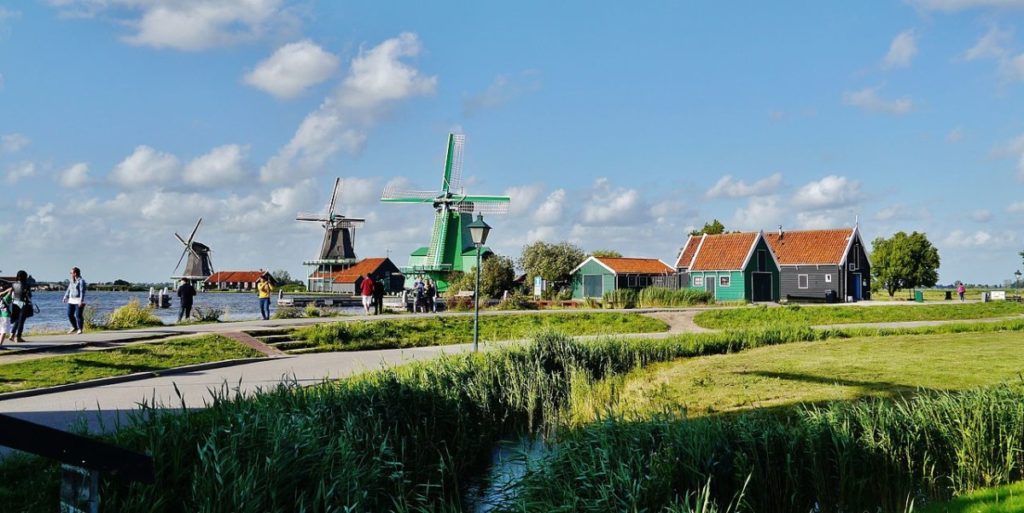 This is the most Dutch day trip you could possibly go for. In Zaanse Schans you can see plenty of authentic houses, windmills, a tinware factory, a cheese and dairy factory and other typically Dutch crafts. If there is one thing that definitely stands out in Zaanse Schans is the big amount of windmills. During the 17th century, more than 600 windmills were constructed in the area, creating the first industrial zone of Holland. The windmills were mostly used to grind spices, produce paint, saw wood, and make oil. Many of these windmills still exist to this day and are open to the public.
While there, make sure to visit the multiple museums that Zaanse Schans has to offer. Learn how raw materials were processed, how products were made and how they used to be transported. You can also have a go at operating the chocolate wrapping machine or learn more about watchmaking at the Zaanse Time Museum.
While walking through the streets you'll also encounter various different artisans. You are welcome to ask them any questions or observe as they create yet another one of their works. There is also a large amount of souvenir shops in the area, so it's the perfect place to buy some unique gifts.
Leiden – a day trip in the Netherlands you should never miss out on
Now Leiden is a very popular destination when it comes to day trips! And rightfully so, because it has some of the best views. Waterways, churches, bridges and even a windmill – this charming Dutch town has a little bit of everything! And do you know what the best part is? It's less crowded than Amsterdam, meaning you can walk around freely and take a ton of photos. So hop on a train from Amsterdam, and within 30 minutes you're going to be in the charming town of Leiden.
Leiden is one of Holland's most popular canal towns. So get on a bot and discover Leiden from the water. The town offers multiple guided tours of the canals, to ensure you get the best experience. On land, the town also offers a lot more. You can walk through the streets of the city centre and marvel upon Leiden's historic architecture. Not to mention the multiple museums or the small picturesque fort located right in the middle of Leiden.
To top it all off, Leiden is also a university town that is constantly booming with life. There are multiple events happening in Leiden throughout the year, so you have a pretty good chance of attending one during your day trip. And if you're in a shopping mood, Leiden has a whole street dedicated to that. From world-renowned brands to small local shops – you can buy anything there. And if by any chance get thirsty or hungry (because we know you will), Leiden has an impressive array of various bards, cafes, and restaurants scattered all around the town.
So there you have it! A quick guide to 5 short day trips from Amsterdam. Have you been on any of those day trips? Which ones did you enjoy the most? Let us know in the comments below! [td_smart_list_end]
Editor's Note: This article was originally published in June 2018, but was fully updated in May 2020.